2022 NFL rushing touchdown leader odds: Lions' Jamaal Williams could become most unlikely winner
Detroit's Jamaal Williams is a surprising NFL leader in rushing touchdowns.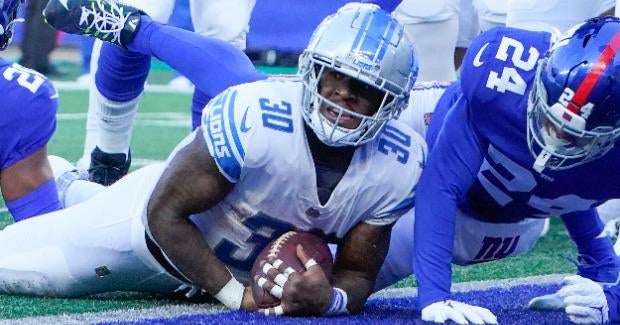 I'm not sure what the longest odds were for any player in NFL history to lead the league in rushing touchdowns was, but Detroit's Jamaal Williams could go down as one of the most unlikely champions of that statistic. Williams was +10000 to do so entering the year but currently sits first with 12 scores. Williams and Cleveland's Nick Chubb are now both +300 to lead in rushing scores at DraftKings.
The 27-year-old Williams, BYU's all-time leading rusher, wasn't even Detroit's true featured back when the season began. He and D'Andre Swift essentially shared touches – but then Swift got hurt. Swift is back now, but appears to have lost his share of the workload. Williams had a career-high three rushing scores in the Lions' third straight win Sunday, a 31-18 upset of the New York Giants. In his first five NFL seasons with the Packers and Lions, he totaled a combined 13 rushing scores.
Sunday was Williams' fifth game with multiple rushing touchdowns this season, tying the legendary Barry Sanders for the franchise record. Williams also became the first back to score multiple rushing touchdowns in at least five of his team's first 10 games since another Hall of Famer, LaDainian Tomlinson, did so in 2006. Finally, Williams is only four touchdowns short of tying the Lions' single-season record of 16 rushing touchdowns, set by Sanders in 1991. That's the last time a Lions player led the NFL in rushing scores.
Williams is on pace for 20 rushing TDs. The last time a running back had 20 or more rushing touchdowns in a season was in 2006, when Tomlinson set the single-season record with 28. Williams has seven TDs from inside the 1-yard line. That's tied for the third-most in the NFL since 2010.
"Don't tell me none of this," Williams said. "I don't want to hear it. I don't want none of it. I don't want to hear none of this." He took to social media recently to seek votes for the Pro Bowl. Voting is open now for fans at NFL.com. Detroit hosts Buffalo in the first Thanksgiving game this week.
Chubb is second with 11 rushing scores and Tennessee's Derrick Henry (+350) is third with 10. 
Get more out of your SportsLine subscription! 
Qualifying SportsLine members receive a 30-day free trial of Paramount+ premium. Sync your account right here.