Damian Lillard trade next team NBA odds: Knicks, 76ers, Heat, Warriors lead landing sports for Trail Blazers All-Star guard
Blazers All-Star guard Damian Lillard reportedly will request a trade.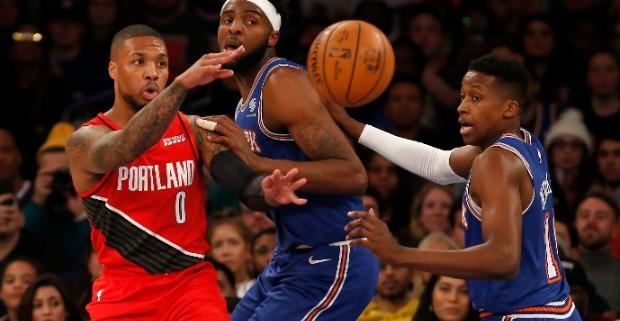 While Portland Trail Blazers point guard Damian Lillard is currently busy with Team USA ahead of the Tokyo Olympics, reports have emerged that he will officially request a trade in the coming days – frankly, not a shock if you have followed all of Lillard's offseason comments after another playoff flameout and the Blazers not hiring the head coach he wanted. SportsLine offers odds on where Lillard could land if dealt.
If Lillard does want out, he'll get out. This isn't like the Aaron Rodgers situation as the Green Bay Packers have total leverage in that regard. In the NBA, stars get what they want. What the Trail Blazers do have is leverage on where Lillard can go because he's under contract through the 2024-25 season. So, while the six-time All-Star and six-time All-NBA player reportedly may prefer the Knicks, Lakers, Warriors or Heat, Portland is going to take the best offer.
Remember, too, that in the NBA salaries need to nearly match in any trade, so that makes it crazy tough on the Lakers unless they get incredibly creative. Stranger things have happened.  
Obviously, Philadelphia trading Ben Simmons for Lillard makes the most (and simplest) sense. Simmons clearly isn't in the same stratosphere as Lillard as a scorer but is arguably better at everything else, is younger and cheaper. That trade would work straight up salary-wise, but Portland would certainly demand more than just Simmons, whose value is at an all-time low after his horrible postseason.
About a year ago today, no stars wanted to play for the Knicks because they were a mess – but that's no longer the case with a trip to the playoffs and a finally stable front office. What can the Knicks offer the Blazers, though? Portland would probably take a big package built around young forward RJ Barrett, but New York will not include the Canadian in any deals according to Ian Begley of SNY. The Knicks could get Cavaliers guard Collin Sexton for much less and they reportedly are chasing him.
Lillard is from Oakland, so the Warriors make a ton of sense even though they now obviously play in San Francisco. How much fun would a backcourt of Lillard, Steph Curry and Klay Thompson be? The Dubs would have to build a package around Andrew Wiggins for salary reasons and likely young center James Wiseman and perhaps their No. 7 and 14 picks in the first round of this year's draft. All things equal, the Blazers surely would prefer to ship Lillard to the Eastern Conference. 
Miami would have to include Tyler Herro and Bam Adebayo – with some big-salaried player added to make things work. Dallas wants a second star with Luka Doncic. Toronto reportedly is shopping All-Star forward Pascal Siakam and has the No. 4 overall pick in this year's draft. Would Boston give up Jaylen Brown for Lillard? The Blazers would demand him in any deal (Jayson Tatum is untouchable).
Via SportsLine oddsmakers: If not with Portland, which team is Damian Lillard playing for to start 2021-22 NBA season?
Knicks +250
76ers +250
Heat +300
Warriors +400
Lakers +500
Clippers +600
Mavericks +700
Celtics +900
Raptors +1000
How should you bet on every NBA game? And which teams could cost you your bankroll? Join SportsLine now to see who wins and covers every NBA game, all from the model that has returned almost $9,000 in profit on its top-rated NBA picks over the past two-plus seasons.