Rashod Bateman Fantasy Profile: An in-depth look at the rookie Baltimore Ravens receiver for 2021
Fantasy analyst Jacob Gibbs provides an in-depth breakdown of Baltimore rookie WR Rashod Bateman's outlook for both 2021 and Dynasty.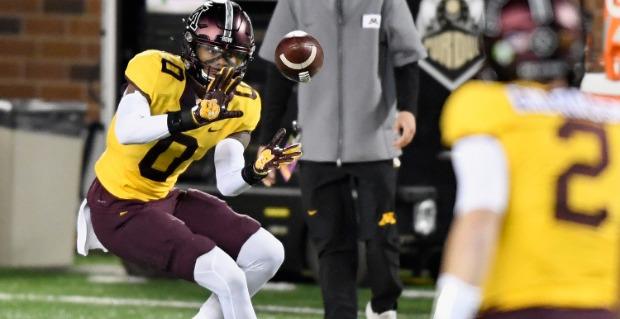 The Baltimore Ravens have been in need of another weapon for Lamar Jackson for some time now, and their use of the 27th overall pick in the 2021 NFL Draft to secure Rashod Bateman's talents sure seems to indicate that they believe he is the piece the offense has been missing. Bateman was a dominant force for Minnesota in 2019, but he played just five games before opting out of the 2020 season for COVID-related reasons. How will he complement Mark Andrews and Marquise Brown in an offense that has been among the most run-heavy in recent years?
Bateman is a consensus top-five WR for dynasty rookie draft purposes, but just how high should he be ranked at the position in season-long leagues as a rookie?
SportsLine's Fantasy analyst Jacob Gibbs provides a data-driven deep dive to answer that question and address anything that stood out from his advanced statistical profile. These player profiles are just a small part of the advanced analytical prep Gibbs is providing for SportsLine users heading into the 2021 Fantasy football season -- if you want an easy way to keep up with all of the information that will be published this spring and summer, this Advanced Fantasy Football Stat Guide will be updated with links to each article as they go live.
So what can you expect from Rashod Bateman in 2021 and beyond ... Join SportsLine right now to see the full fantasy profile from Fantasy analyst Jacob Gibbs!
GET VEGAS EXPERT PICKS FOR NFL, MLB, NBA, CBB, GOLF, NHL, HORSE RACING AND MORE - PLUS ADVANCED COMPUTER SIMULATIONS, WINNING TOOLS, AND MORE!
JOIN NOW