Fantasy Baseball 2021: Shortstop rankings, tiers, draft strategies and more to know
Get ready for your 2021 fantasy baseball draft by diving in to the shortstop position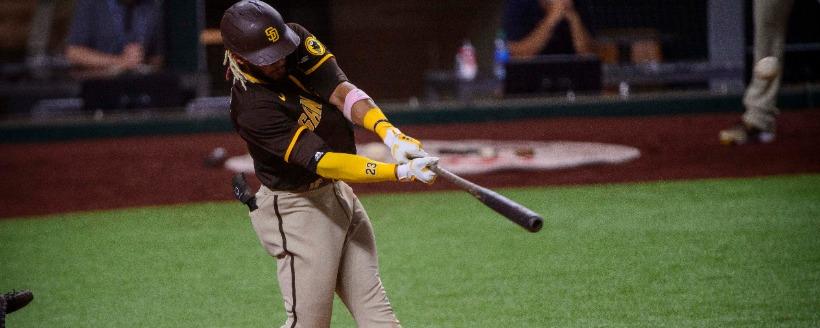 The shortstop position used to be stocked with star power, from Nomar Garciaparra to Alex Rodriguez to Derek Jeter to Miguel Tejada and plenty other superstars from the 1990s and 2000s. But the position went through a bit of a lull in fantasy baseball, to the point where many would make drafting a Troy Tulowitzki or Jose Reyes a priority in order to avoid being stuck starting the dregs of the position. Time is a flat circle, however, and 2021 brings with it plenty of star power but also the depth to leave every owner in a 12-team league pretty happy with their starter.
So how should you attack the position heading into your draft? I've done numerous mock and real snake and salary cap drafts heading into the 2021 MLB season, and I'm here to share the things I've learned so far. If you're a regular subscriber to SportsLine, you probably know me from dominating NFL picks for years, but did you know I actually got my start in sports media as a fantasy baseball analyst? I even finished No. 1 among all experts for my draft rankings the first year FantasyPros tracked MLB expert accuracy on their site.
Want more fantasy baseball tips from CBS Sports' panel of experts? Go sign up for our 2021 Fantasy Baseball Draft Kit to have our full set of rankings, strategies, tiers and more sent directly to your inbox.
More tiered rankings: C | 1B | 2B | 3B | SS | OF | SP | RP
Here's how I'm ranking and approaching the shortstop position for fantasy baseball in 2021:
Shortstop ranking tiers
1. Fernando Tatis Jr., SD
2. Trea Turner, WAS
3. Trevor Story, COL
Tatis belongs in a mini-tier of his own and should be one of the first five batters selected in every fantasy league. Turner is a must-target in Roto or H2H categories leagues for his mixture of stolen base upside (four straight 30-steal seasons before 2020) and budding power (career best .588 slugging percentage last year). Story is much like Turner but with the home runs and steals reversed, which still makes him an excellent five-category contributor.
4. Francisco Lindor, NYM
5. Corey Seager, LAD
6. Bo Bichette, TOR
7. Xander Bogaerts, BOS
Lindor is a half-step behind the top three while coming off a down 2020, but he has as much upside as anybody. He's probably in Tier 1.5, but you can make the argument Seager belongs there as well after a tremendous 2020 regular season and postseason. He's one to target starting in Round 3 if you don't land Tatis earlier. Bichette and Bogaerts are just a bit behind Lindor and Seager but certainly worthy of drafting in Round 3 as well, though I prefer Seager.
8. Tim Anderson, CHW  
9. Adalberto Mondesi, KC  
10. Gleyber Torres, NYY
11. Javier Baez, CHC
Anderson followed up his league-leading .335 average in 2019 with a .322 mark in the shortened 2020 season plus a little bit more power, so at this point he makes for a great consolation prize if you don't end up with a player from the top two tiers. This ranking is a bit of a hedge on Mondesi; he's way more valuable in Roto and H2H categories leagues where his prodigious steals numbers will put you ahead in that category, and that could move him up a few spots here. But he's an afterthought in H2H points where the steals don't cover for his deficiencies, so if I'm playing in that format, he probably doesn't even crack my top 15. Eugenio Suarez is expected to pick up shortstop eligibility soon after the season starts, so keep him in mind when planning this position; I'd take him just ahead of Torres here.
12. Dansby Swanson, ATL
13. Carlos Correa, HOU
14. Marcus Semien, TOR
Swanson has been steadily improving the last few years, and if that trend continues, he should deliver nice fantasy value around Pick No. 100. The fact that Correa doesn't crack the top 12 here even though he's just one half-season removed from a .279/.358/.568 line in 2019 tells you how incredibly deep shortstop is. Semien also had a tremendous 2019 before struggling during the shortened season, but he could deliver great profit on this mid-draft price when all is said and done. Make sure you have your starter at shortstop by this point, and if you play with a MI slot, you should think about having two of the top 14 guys here.
15. Tommy Edman, STL
16. Didi Gregorius, PHI
17. Andres Gimenez, CLE
18. Jorge Polanco, MIN
19. Paul DeJong, STL
20. Jake Cronenworth, SD
21. Wander Franco, TB
Players like Gregorius, Polanco and DeJong make up the solid middle class at shortstop, while Edman and Gimenez will likely be more useful at 2B (with Edman likely to pick up that positional eligibility soon after the season starts). All make for great MI options over the full season, but one name to stash is Wander Franco, the top prospect in the minors. He should get his shot at some point during this season.
22. Chris Taylor, LAD
23. David Fletcher, LAA
24. Ha-seong Kim, SD
25. Nico Hoerner, CHC
Shortstop strategies
There's absolutely nothing wrong with paying up for Fernando Tatis, but the shortstop I target the most is Corey Seager in Round 3. If someone beats me to him, I tend to take Bo Bichette or Tim Anderson if I can get them at a decent value, with a fallback option of Dansby Swanson, Carlos Correa and Marcus Semien, all of whom I'm fine being stuck with several rounds later.
Don't be afraid to mine for upside at the position for your bench as well, as players like Wander Franco and Bobby Witt could make an instant impact if called up this season. Another name to tuck away: Ha-seong Kim, who's coming over from KBO younger than many recent imports with a bat that could play in the majors. He'll likely have to share playing time initially, but the upside is that he could pick up eligibility at several different positions and give you a Tommy Edman-type down the road at a much cheaper cost.
Looking for the best picks against the spread, sharp action on the total and props you can take to the window? Join Jonathan Coachman on the Early Edge as he speaks with SportsLine's top handicappers to preview every day's biggest games. We promise to keep it short, sweet and to put some green in your pocket. Early Edge is under 10 minutes and in your feed every single day by 11 AM ET. Download right here or wherever you get your podcasts.
For more Fantasy baseball projections and analysis, see our season-long Fantasy baseball hub right here.
GET VEGAS EXPERT PICKS FOR NFL, MLB, NBA, CBB, GOLF, NHL, HORSE RACING AND MORE - PLUS ADVANCED COMPUTER SIMULATIONS, WINNING TOOLS, AND MORE!
JOIN NOW