Von Miller odds effect on Denver: Serious injury downgrades Broncos via SportsLine Projection Model
Broncos star pass-rusher Von Miller is expected to miss the 2020 season due to injury.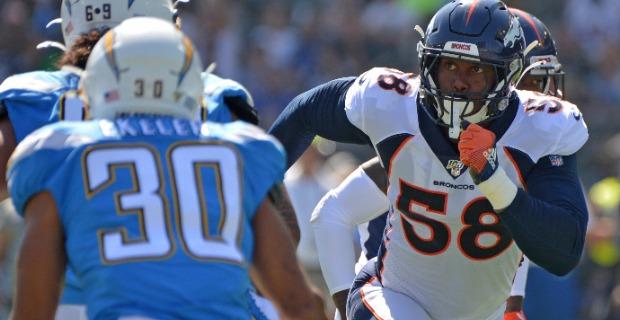 The Denver Broncos were a chic pick by many to make the playoffs this season after closing 2019 with four wins in their final five games. In fact, no team took a higher number of Over bets on their win total at William Hill sportsbook than the Broncos did on their 7.5 number. Second-year QB Drew Lock also took a huge amount of action to win NFL MVP at the site. However, much of that optimism is crumbling with the news that star pass-rusher Von Miller is expected to miss the season after an injury suffered Tuesday.
Reportedly, Miller wasn't even hurt during contact but in "freak" way on the last play of practice Tuesday; the team had to practice indoors due to a freak snowstorm hitting the Denver area just two days after some temperatures approached triple digits. An MRI later Tuesday reportedly confirmed a season-ending tendon injury, although Miller is getting a second opinion.
The 31-year-old Miller, the No. 2 overall pick in the 2011 draft, has 106 sacks in 135 career regular-season games. His career high was 18.5 in 2012. He also had one of the great defensive games in Super Bowl history in being named MVP of 50 in the Broncos' upset of Carolina. Miller had six tackles, 2.5 sacks, two quarterback hits, two forced fumbles and a pass defensed in the 24-10 win. Both forced fumbles on Cam Newton – who went No. 1 overall in the 2011 draft -- led to touchdowns.
Miller is an eight-time Pro Bowler and three-time first-team All-Pro. He and third-year Bradley Chubb looked to be one of the dominant pass-rushing duos in the NFL for the foreseeable future with Chubb the No. 5 overall pick in 2018. They combined for 26.5 sacks that year, but Chubb was limited four games in 2019 after tearing his ACL. That allowed teams to double-team Miller, and his eight sacks were his second fewest.
This could be Miller's final season in Denver considering his age and that the team holds a club option for next season at around $22 million but would have incur about $4 million in dead cap space by declining that and letting Miller walk. There's also now the concern that Miller has had two major injuries in his career – he also tore an ACL in 2013.
The SportsLine Projection Model (see below) drops the Broncos from 7.6 wins to 7.1 if Miller misses the season and from a 33.4 chance of making the playoffs – there's an added Wild Card in each conference this year – to 23.7 percent.
At William Hill sportsbook, the Broncos had been listed at 7.5 wins with the Over a -115 favorite, but now the Under is -115. To make the playoffs, Denver has shifted from +175 to +200. Miller was +2500 to win NFL Defensive Player of the Year for the first time.
The Broncos are +2.5 at home for next Monday night's opener vs. Tennessee. 
| | | | | | | |
| --- | --- | --- | --- | --- | --- | --- |
| DENVER         | WIN   | WIN%     | DIV          | PLAYOFF   | CONF      | CHAMP |
| w/ Miller | 7.6 | 47.50% | 6.00% | 33.40% | 1.50% | 0.60% |
| w/o Miller | 7.1 | 44.40% | 3.70% | 23.70% | 0.80% | 0.30% |
| Difference | -0.5 | -3.10% | -2.30% | -9.70% | -0.70% | -0.30% |
WHICH 2020 FANTASY FOOTBALL SLEEPER SHOULD YOU SNATCH IN YOUR DRAFT? AND WHICH WR1 CANDIDATE CAN YOU WAIT ON UNTIL LATE? JOIN SPORTSLINE NOW TO GET 2020 FANTASY FOOTBALL CHEAT SHEETS FROM THE MODEL THAT WAS ALL OVER DERRICK HENRY'S HUGE SEASON, AND FIND OUT.