Indianapolis Colts betting odds, Week 1 Vegas spread and Philip Rivers NFL MVP chances
The Colts hope the addition of veteran quarterback Philip Rivers makes the difference for a team that struggled to a 7-9 season after Andrew Luck's retirement. Here is how their schedule breaks down: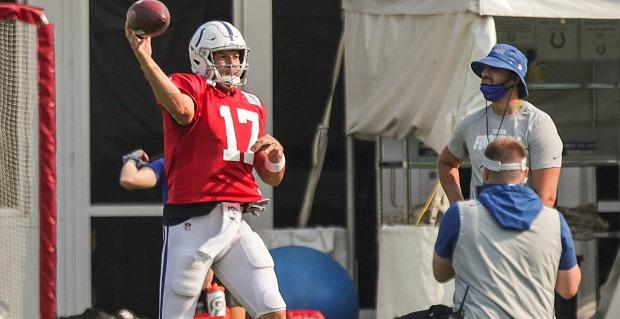 On Sunday in Jacksonville, future Hall of Fame quarterback Philip Rivers will take his first snap for a team other than the Chargers when he steps under center for the Indianapolis Colts. They are the biggest Week 1 road favorites in the NFL at -8 as the Jaguars are widely considered the league's worst team and perhaps tanking. It also will be the debut of one of the greatest NCAA running backs in history in Colts second-round pick Jonathan Taylor. 
Some trends are pointing against a Rivers-led cover against the spread, however. Indy hasn't won a season opener of any kind since 2013 and not on the road since 2006 at the New York Giants. The Colts are 1-8-1 ATS in their last 10 games vs the Jaguars and 1-10-1 ATS in their last 12 games in Week 1. 
Despite adding the Canton-bound Rivers this offseason, the Colts are scheduled for only one prime-time game in 2020: Week 10 on Thursday at AFC South rival Tennessee. Oddly, it's the sixth straight prime-time game the Colts will have played on the road. The Colts this season are one of seven NFL teams with one or fewer prime-time games. They haven't had a home prime-time game on Thursday or Monday since vs. New England on Oct. 18, 2015. 
Rivers will not get a chance to beat his former team as the Chargers aren't on the schedule. The Colts' easiest stretch appears to be Weeks 3-8 with not a single game vs. a team with a winning record from last year and the bye week mixed in. Three of Indy's final five are on the road, including a first-ever trip to Las Vegas. 
Colts fans were stunned when 2012 top overall pick and franchise quarterback Andrew Luck announced his retirement last August after a preseason game. But Jacoby Brissett took over, and the team won five of its first seven games, going 4-3 ATS. Brissett threw 14 touchdown passes in the first six games but then threw four the rest of the way as Indy won just two of his last nine games (3-6 ATS). The unpredictable Colts beat Kansas City as a 10.5-point underdog but also lost to Miami as an 11-point favorite.   
Now, with Rivers on board after 16 seasons with the Chargers, the Colts hope to get back into contention in the AFC South. Indy has NFL's best offensive lines to protect Rivers, and with running backs Marlon Mack/Taylor to take some of the load and the addition of stud defensive tackle DeForest Buckner on the other side of the ball, Indy could be a legit AFC contender.
INDIANAPOLIS COLTS BETTING PROFILE  
2019 record: 7-9 (third, AFC South)
2019 against the spread: 7-7-2 ATS
2019 ATS margin: -1.0
2019 Over-Under: 9-7 O-U
2020 strength of schedule: Tied for 16th-toughest; Colts opponents combined for a .502 winning percentage last year (128-127-1).
WHO COVERS EVERY NFL GAME? JOIN SPORTSLINE NOW TO GET PICKS FROM AN ADVANCED COMPUTER MODEL THAT'S UP MORE THAN $7,000 ON ITS TOP-RATED PICKS AND HAS NEVER HAD A LOSING SEASON!
WILLIAM HILL 2020 INDIANAPOLIS COLTS FUTURES ODDS
Win total: 9 (Under -120)
To make playoffs: Yes -160, no +140
Division: +140 to win AFC South
Conference: +1200 to win AFC
Super Bowl: +2500 to win SB 55
MVP: QB Philip Rivers +6600, RB Marlon Mack +25000
Defensive POY: DT DeForest Buckner +4000, LB Darius Leonard +6600, DE Justin Houston +10000, 
Offensive ROY: RB Jonathan Taylor +1200, WR Michael Pittman Jr. +5000, QB Jacob Eason +10000 
Coach of the Year: Frank Reich +1400
SportsLine Model's projection: 8.2 wins (lean to the Under)
INDIANAPOLIS COLTS GAME-BY-GAME BETTING TRENDS
Week 1 at Jacksonville, 1 PM ET: The Colts have lost five in a row at Jags, including once as a 10-point favorite, and failed to cover ATS each time.  
Week 2 vs. Minnesota, 1 PM ET: The Colts have won five in a row overall (4-1 ATS), dating to 2000. 
Week 3 vs. NY Jets, 4:05 PM ET: The Over is 8-1 in the past nine, and the Jets are 6-3 ATS. 
Week 4 at Chicago, 1 PM ET: The Over is 5-1 in the past six, and the Bears have won four of those (4-2 ATS).  
Week 5 at Cleveland, 4:25 PM ET: The Colts are 8-1 all-time against the Browns but just 4-5 ATS.  
Week 6 vs. Cincinnati, 1 PM ET: The Bengals have won four of the past five (3-2 ATS), with the Under only hitting in Indy's 27-0 win in 2014.  
Week 7 BYE: The Colts are 6-3-1 ATS coming off a bye week over the past 10 seasons.  
Week 8 at Detroit, 1 PM ET: Indy has won four of the last five matchups (3-2 ATS).  
Week 9 vs. Baltimore, 1 PM ET: The Colts are 8-0 ATS in the past eight overall meetings, and the Under is 7-1. 
Week 10 at Tennessee, 8:20 PM ET (Thursday): The Colts have won seven of eight (6-2 ATS) in Nashville, and the Over is 5-3.
Week 11 vs. Green Bay, 1 PM ET: The Colts are 7-2 ATS (6-3 SU) in the past nine matchups, and the Over has hit in six straight. 
Week 12 vs. Tennessee, 1 PM ET: The Titans have won and covered ATS in two of the past three home meetings after losing nine straight (1-8 ATS). 
Week 13 at Houston, 1 PM ET: Indy has won five of the past seven (6-0-1 ATS), and the Under has hit in the past three home meetings.  
Week 14 at Las Vegas, 1 PM ET: The Colts have won five of the last seven meetings, but the Raiders are 4-3 ATS and won 31-24 last season.   
Week 15 vs. Houston, TBD ET (Saturday or Sunday): The Colts are 15-3 SU (10-7-1 ATS) all-time in home matchups, and the Over has hit in both of Deshaun Watson's starts for Houston after a 0-9 run.    
Week 16 at Pittsburgh, 1 PM ET: The Steelers are 13-2 in the last 15 games against the Colts (10-5 ATS) and have won six straight (4-2 ATS).   
Week 17 vs. Jacksonville, 1 PM ET: Indy has won four of the past five at home, but last year's 33-13 win was the only time it covered ATS.
Some trends contributed by SDQL Gurus     
EXPERT PICK FROM FORMER VEGAS BOOKMAKER MICAH ROBERTS: Over 8.5 wins (-155). 
Rivers will take over the Colts' offense and the bonus here besides a nice receiving corps is having one of the best offensive lines in the league. I expect the Titans and Colts to battle for the division down to the last day with the edge to the Titans. It's a crap shoot to win the division but getting at least nine wins is very doable despite five tough non-division road games.
SO WHAT 2020 FANTASY FOOTBALL SLEEPER SHOULD YOU SNATCH IN YOUR DRAFT? AND WHICH WR1 CANDIDATE CAN YOU WAIT ON UNTIL LATE? JOIN SPORTSLINE NOW TO GET 2020 FANTASY FOOTBALL CHEAT SHEETS FROM THE MODEL THAT WAS ALL OVER DERRICK HENRY'S HUGE SEASON, AND FIND OUT.