Aaron Rodgers trade odds: Jets clear favorites as AFC landing spot after hiring Nathaniel Hackett if Packers deal four-time NFL MVP
Could four-time NFL MVP Aaron Rodgers retire this offseason?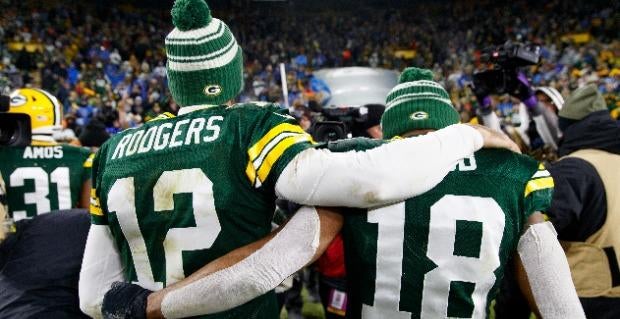 After the Green Bay Packers' 2022-23 regular season ended in massive disappointment with a home upset loss to the Detroit Lions in Week 18 with a Wild Card spot on the line, SportsLine listed odds on whether Aaron Rodgers might retire as he has threatened to do each of the past two offseasons. Rodgers has about 59 million reasons (i.e. dollars) not to do so, and that he plays next season was a -280 favorite. He just might not be playing for the Packers. SportsLine offers odds on Rodgers' 2023 team if not Green Bay, and the New York Jets are clear favorites after hiring Nathaniel Hackett as their new offensive coordinator today.
Jets fans as blowing up social media with Hackett's hiring -- it's not hard to connect the dots, as he was the Green Bay offensive coordinator from 2019-21. Hackett was not a good head coach and didn't even make it through Year 1 with the Broncos, but a big reason Denver hired Hackett in the first place last winter was to try to lure Rodgers. Hackett, it should be noted, didn't call offensive plays with the Packers but did with the Broncos -- which was an unmitigated disaster.   
At PointsBet, the Jets improved to +3500 from +4000 to win Super Bowl 58 next year after hiring Hackett, so clearly oddsmakers are having the same potential Rodgers thoughts. 
Green Bay might be ready to move on from the 39-year-old four-time league MVP. While Rodgers threw for 3,695 yards and 26 touchdowns this past season -- good numbers for most quarterbacks -- he had a career-high 12 interceptions. His 91.1 rating was his worst as a starter. Rodgers signed a three-year extension with the Packers last summer and would walk away from $58.3 million guaranteed if he retires. "Yes," Rodgers said when asked if he could really walk away from that money.
Now the rumors are flying about a possible trade and the chatter will only increase with Hackett on board: "If the Packers got the right package I think they could do a deal for Aaron Rodgers," NFL Network's Ian Rapoport reported early this week. "I think Green Bay likes what they have in [current backup] Jordan Love, so if they got the right package, I think they could do a deal." 
ESPN's Adam Schefter also reported a trade is a very real scenario and offered a twist: Green Bay "will explore" the idea of trading the QB exclusively to the AFC. It makes sense that the Packers wouldn't want Rodgers potentially facing them in the NFC playoffs over the next few seasons, perhaps with the 49ers or Buccaneers. 
NBC Sports' Peter King wrote that Jets owner Woody Johnson would "happily" acquire Rodgers in a trade. The QB's cap numbers in the next two seasons would be $48.3 million combined, which actually is quite low for a player of his caliber. Rodgers does not have a no-trade clause. New York would likely have to part with the No. 13 pick in the 2023 draft to get Rodgers.
Tom Brady's free-agent market -- he is expected to leave Tampa Bay -- certainly could overlap with a Rodgers trade market, most specifically with the Jets and Raiders, with Brady linked to Las Vegas first and foremost. He is the +100 favorite at a few books to be the Raiders' Week 1 starting QB. Of course, the Raiders and Packers made a big trade last offseason involving Davante Adams.
Via SportsLine oddsmakers: If Aaron Rodgers is traded to the AFC, which team will acquire him?
Jets -250
Titans +600
Colts +1000
Raiders +1300
Patriots +1500
DFS: Lineup Optimizer | Picks
Early Edge: YouTube | Apple Podcasts
Newsletters: SportsLine Daily | Fantasy
Qualifying SportsLine members receive a 30-day free trial of Paramount+ premium. Sync your account right here.