Tom Brady returning to Buccaneers in 2023 reportedly unlikely: Raiders, Jets, 49ers, Titans, Patriots favorites on Brady's next team odds
Which team will Tom Brady be playing with Week 1 of the 2023 season? SportsLine offers odds.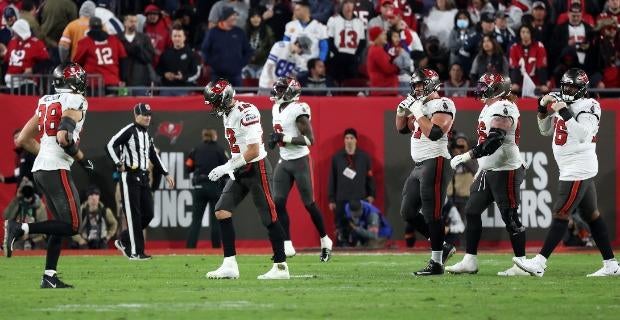 Tom Brady will go down as the greatest quarterback and winner in NFL history with his seven Super Bowl rings. But the 45-year-old looked his age when his Tampa Bay Buccaneers were routed 31-14 at home by the Dallas Cowboys to see their season end Monday in the Wild Card Round. Brady is set for unrestricted free agency, and SportsLine offers odds on his 2023 team. It most likely will not be Tampa Bay.
NFL Network's Ian Rapoport reported this morning that Brady is not expected to re-sign in Tampa, and really that's not a huge surprise as it has been the scuttlebutt around the league. Multiple Bucs players already said they didn't expect Brady back. Earlier this week, coach Todd Bowles fired offensive coordinator Byron Leftwich and TB12 was fond of Leftwich. As of now, Tampa Bay would incur a massive $35.1 million cap hit when Brady's contract automatically voids March 15. He can't be franchise tagged.    
On the surface, Brady's numbers looked solid in Monday's loss. He totaled 351 yards and threw for two scores, but it took him 66 attempts to get there, and much of that production came with the game already decided. With the Bucs down 6-0 at the start of the second quarter, they were facing second and-goal at the Dallas 5, and Brady threw a horrendous interception in the end zone.
The Cowboys drove down the field and scored a TD, and the game was essentially over then. It was Brady's first red zone interception with the Buccaneers. He had 86 TDs and zero picks on those throws entering Monday. It was just the third time in Brady's 23-year career that he lost in the opening round of the postseason.
It sounded like Brady was done as a member of the Bucs afterwards. "I love this organization," he told the media. "It's a great place to be. Thank you everybody for welcoming me. Just very grateful for the respect and I hope I gave it back to you guys."
Brady added he'll "take it one day at a time, truly." Several teammates took turns thanking Brady in the locker room. ESPN's Joe Buck said the post-game show that "people inside the league believe" Brady will return for a 24th season in 2023. He has a nice landing spot regarding potential retirement: A reported 10-year, $375 million deal with Fox Sports to become the network's lead analyst on NFL broadcasts.
The Raiders nearly lured Brady when he first left New England. Las Vegas is now coached by Josh McDaniels, Brady's former long-time offensive coordinator with the Patriots. The Raiders are moving on from 2022 starting QB Derek Carr and reportedly will pursue Brady very aggressively. Brady is all about marketing and playing in Las Vegas would only raise his profile. The Raiders have some terrific offensive talent, led by receiver Davante Adams, tight end Darren Waller and reigning NFL rushing champion Josh Jacobs (if he re-signs).
The New York Jets arguably have a championship-caliber roster but lack a quarterback. Imagine Brady's legacy if he goes to the Big Apple and wins the Jets' first Super Bowl since Joe Namath.
Brady is from the San Francisco area, but why would the 49ers break the bank to sign him when they might have the next Brady in seventh-round rookie Brock Purdy? Trey Lance is still under contract too. The Niners' interest may depend on how Purdy fares Sunday vs. Dallas.
Tennessee could move on from Ryan Tannehill this offseason and Malik Willis clearly isn't ready to take over. Brady going to Nashville would reunite him and Titans head coach Mike Vrabel, who were teammates in New England from 2001-2008.
Miami owner Stephen Ross previously pursued Brady and did so against NFL tampering rules, leading to severe punishment for Ross personally and the franchise. Might the Dolphins try again given Tua Tagovailoa's concussion problems? ESPN's Adam Schefter has reported Tagovailoa is expected to return as their starter in 2023.
There's no way Brady returns to New England. Right? Right? The Baltimore Ravens could be in the market if Lamar Jackson is traded.
There's also the Rob Gronkowski factor as Gronk called the Bucs during the 2022 season inquiring about possibly playing but changed his mind, saying his "mindset" wasn't there. He hasn't ruled out a return to the field, though. Gronkowski has started working with Fox as an NFL analyst and Brady could join in there.
"I'm hoping that he comes and joins me very soon," Gronkowski said. "It's a lot of fun. Fox has just great people. We have such a great team in the studio. We've got Michael Strahan. We've got Howie Long. We've got Terry Bradshaw. They're just such great guys to be around. They get the job done but at the same time, they're always cracking jokes and having a blast, which I love."
Gronk did add this about Brady back in New England: "I would 100% be surprised if he went back to New England, no doubt."
Which team will Tom Brady be playing for Week 1 of the 2023 season if he doesn't retire and if not Bucs?
Raiders +200
Jets +500

49ers +500
Titans +700
Patriots +900
Dolphins +1000
Colts +1100
Ravens +1200
DFS: Lineup Optimizer | Picks
Early Edge: YouTube | Apple Podcasts
Newsletters: SportsLine Daily | Fantasy
Qualifying SportsLine members receive a 30-day free trial of Paramount+ premium. Sync your account right here.