Magic vs. 76ers Monday NBA injury report, odds: Rising MVP candidate Joel Embiid questionable, could actually sit this time
The Sixers are listing star Joel Embiid as questionable for tonight's game vs. Orlando.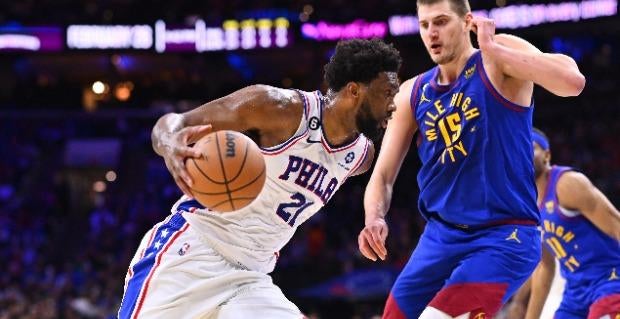 A photo was trending on social media Sunday afternoon showing Philadelphia 76ers star Joel Embiid standing next to Philly comedian Kevin Hart (see below) at the 49ers-Eagles NFC title game with everyone commenting (including Embiid himself) about the amusing height difference between the two. Embiid's Sixers, title contenders themselves, return to the court Monday night against the visiting Orlando Magic with Embiid listed as questionable. Oddsmakers aren't buying that Embiid will sit as the Sixers are -9, although they were as high as -10. Tall odds indeed.
Embiid has seemingly been listed as questionable for weeks with a sore right foot, but by and large the issue hasn't kept him off the court. He had the same designation Saturday but wasn't going to miss an MVP-caliber matchup against Nikola Jokic and the Denver Nuggets. Embiid was historically good with 47 points, 18 rebounds, five assists, three steals and two blocks in the 126-119 win.
The 7-footer became only the third player in NBA history with at least 47 points, 18 boards, five assists, three steals and two blocks in a game, joining Chris Webber (Jan. 5, 2001) and Bob McAdoo (March 18, 1975). It was Embiid's 33rd career game with at least 40 points and 10 rebounds, the second most in the league since 1976-77 behind Shaquille O'Neal's 43. It was Embiid's fourth career game with at least 45 points, 15 rebound and five assists, the most in the NBA since the start of the 2016-17 campaign.
That monster outing now has Embiid +260 at DraftKings to win his first MVP, up from +1000 a week ago. Jokic is the -115 favorite to win a third in a row.
No books have Embiid props up for Monday's game yet, and it might make sense for him to sit after playing 38 minutes in a highly charged national TV game vs. Denver. Philadelphia is facing a bad Orlando team on Monday. The Sixers host the Magic again Wednesday and back-to-back games against the same club can sometimes led to chippy play. While Orlando has been pretty solid at home, it is 6-18 on the road, and the Sixers probably don't need Embiid to beat them.
Philadelphia isn't listing anyone else of note on the injury report, nor is Orlando. The 76ers lead the season series, winning a double-set in Florida on Nov. 25 & 27. Embiid didn't play in either game. Philly is on a 10-game overall winning streak in the series and has won nine in a row at home. 
Qualifying SportsLine members receive a 30-day free trial of Paramount+ premium. Sync your account right here.