Denver Broncos betting odds, Week 1 Vegas spread and Drew Lock NFL MVP chances
The Broncos suffered from injuries and inconsistency at quarterback last season, but they like their chances with Drew Lock. Here is how their schedule breaks down: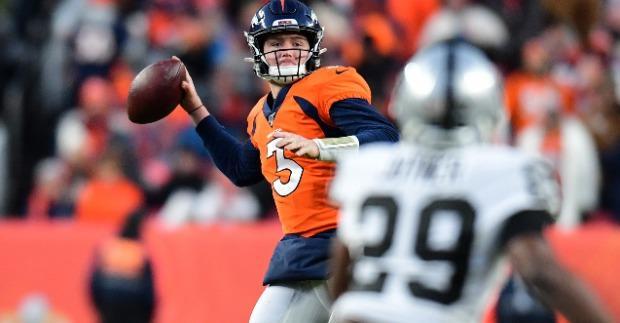 The Denver Broncos will play without eight-time Pro Bowler and three-time first-team All-Pro linebacker Von Miller this season as he reportedly suffered a major tendon injury on practice this week without contact. Huge loss considering Miller has been one of the NFL's top pass rushers since entering the league as the No. 2 overall pick in the 2011 NFL Draft. That Miller is out has helped shift the Broncos' Week 1 line vs. visiting Tennessee in a major way, as Denver opened at -2 and is now +2.5 on the NFL odds. 
For the first time since 2017, the Broncos will be featured in a Sunday night game this NFL season: Week 13 at AFC West rival Kansas City, although it could be flexed out in theory. The Broncos haven't won at Arrowhead Stadium since a Thursday night in Week 2 of the 2015 season, 31-24. Bradley Roby returned a fumble 21 yards for a score in the final seconds. 
Denver has three prime-time games scheduled, hosting Tennessee Week 1 in the late game of the Monday doubleheader and at the New York Jets on Thursday in Week 4. The Broncos are scheduled to face four quarterbacks this season who are among the league's Top 10 all-time in passing yards: the Saints' Drew Brees, Bucs' Tom Brady, Steelers' Ben Roethlisberger and Falcons' Matt Ryan. In a bit of an oddity, Denver doesn't play an AFC West game until Week 7.
The Broncos got off to a rough start in 2019 as former Super Bowl MVP Joe Flacco (now gone) failed to find his rhythm. The team started 0-4, covering only in a 16-14 loss to the Bears in Week 2. Flacco was 2-6 (4-4 ATS) in eight starts before he went on injured reserve with a neck injury. With rookie Drew Lock recovering from a preseason thumb injury, Brandon Allen played the next three games, going 1-2 SU and 2-1 ATS. After Lock returned in Week 13 and took over as starter, the Broncos went 4-1 SU and 3-2 ATS, with the Over going 3-2.         
The Broncos lost five of their nine one-possession games, falling on last-second field goals vs. Chicago and Jacksonville in the first four weeks. The Under was 6-2 in the weeks under Flacco then hit in five of the last eight.
With Lock showing promise and the addition of receiver Jerry Jeudy and running back Melvin Gordon, the Broncos should be able to put points up this season.    
DENVER BRONCOS BETTING PROFILE  
2019 record: 7-9 (second in AFC West)
2019 against the spread: 9-7 ATS
2019 ATS margin: +0.5
2019 Over-Under: 7-9 O-U
2020 strength of schedule: 12th-toughest; Broncos opponents combined for a .512 winning percentage last year (131-125).
WHO COVERS EVERY NFL GAME? JOIN SPORTSLINE NOW TO GET PICKS FROM AN ADVANCED COMPUTER MODEL THAT'S UP MORE THAN $7,000 ON ITS TOP-RATED PICKS AND HAS NEVER HAD A LOSING SEASON!  
WILLIAM HILL 2020 DENVER BRONCOS FUTURES ODDS
Win total: 7.5 (Over -115)
To make playoffs: No -210, yes +175
Division: +900 to win AFC West
Conference: +2500 to win AFC
Super Bowl: +5000 to win SB 55
MVP: QB Drew Lock +6000, RB Melvin Gordon +20000
Defensive POY: LB Von Miller +2500, LB Bradley Chubb +3300
Offensive ROY: WR Jerry Jeudy +1600, WR K.J. Hamler +2800
Comeback POY: Chubb +4000
To lead NFL in rushing: Gordon +4000
SportsLine Model's projection: 7.1 wins (Under) 
DENVER BRONCOS GAME-BY-GAME BETTING TRENDS
Week 1 vs. Tennessee, 10:10 PM ET (Monday): The Broncos are 5-2 SU and 6-1 ATS overall in series since the Titans moved to Nashville.
Week 2 at Pittsburgh, 1 PM ET: Denver is 7-3 SU (6-3-1 ATS) in the past 10 meetings, dating to 1991.   
Week 3 vs. Tampa Bay, 4:25 PM ET: Denver is 7-2 SU but just 4-4-1 ATS all-time against the Bucs.  
Week 4 at NY Jets, 8:20 PM ET (Thursday): The Jets (+1) won 34-16 in the last meeting in 2018, but Denver was 5-1 SU and ATS in the previous six.    
Week 5 at New England, 1 PM ET: The Patriots are 5-0 SU and ATS, and the Over is 4-1 in the past five in Foxborough. 
Week 6 vs. Miami, 4:05 PM ET: Including a 38-3 win by Denver (-12.5) in the last John Elway-Dan Marino matchup in the 1998 playoffs, Denver is 2-8 ATS (4-6 SU) in the past 10 meetings.  
Week 7 vs. Kansas City, 4:25 PM ET: The Broncos are 0-5 SU and ATS in the past five home matchups.
Week 8 BYE: Denver is 7-3 SU and 8-2 ATS after a bye over the past 10 seasons.  
Week 9 at Atlanta, 1 PM ET: The Falcons are 3-2 SU and ATS since losing to the Broncos 34-19 as 7.5-point underdogs in Super Bowl XXXIII.
Week 10 at Las Vegas, 4:05 PM ET: The Raiders are 4-0 SU and ATS, and the Under is 3-1 in their past four meetings as the host. 
Week 11 vs. LA Chargers, 4:05 PM ET: Denver is 6-2 SU but 3-4-1 ATS in the past eight home matchups, and the Under is 6-2.  
Week 12 vs. New Orleans, 4:05 PM ET: The Broncos are 5-0 SU (4-1 ATS) in the past five, dating to 2000.   
Week 13 at Kansas City, 8:20 PM ET: Chiefs have won four straight (3-1 ATS) at home against the Broncos.  
Week 14 at Carolina, 1 PM ET: Denver is 7-3 SU and ATS in its past 10 games against NFC South teams.  
Week 15 vs. Buffalo, TBD ET (Saturday or Sunday): The Bills are 4-2 SU and 6-0 ATS in the past six, dating to 2007.   
Week 16 at LA Chargers, TBD ET (Saturday or Sunday): Denver is 7-2 SU and ATS in the past nine road meetings, and the Under is 8-1.   
Week 17 vs. Las Vegas, 4:25 PM ET: Denver is 7-1 SU but 4-4 ATS in the past eight in series at home, and the Under is 6-2.   
EXPERT PICK FROM NO. 1 NFL EXPERT MIKE TIERNEY: Over 7.5 wins (-120). 
The Broncos have progressed from five victories in 2017 to six in '18 to seven last year. Maintaining the pattern would take them Over. Lock will be surrounded by fleet WRs and can hand off to a newly-acquired bruiser in Gordon. Experienced newcomers A.J. Bouye at CB and Graham Glasgow at OG sweeten the pot. A stretch run that featured four wins in their last five games in 2019 offers hope for the necessary one-win improvement. They must negotiate back-to-back matchups in the Northeast against the Jets and Patriots.
SO WHAT 2020 FANTASY FOOTBALL SLEEPER SHOULD YOU SNATCH IN YOUR DRAFT? AND WHICH WR1 CANDIDATE CAN YOU WAIT ON UNTIL LATE? JOIN SPORTSLINE NOW TO GET 2020 FANTASY FOOTBALL CHEAT SHEETS FROM THE MODEL THAT WAS ALL OVER DERRICK HENRY'S HUGE SEASON, AND FIND OUT.