Cleveland Browns betting odds, Week 1 Vegas spread and Baker Mayfield NFL MVP chances
The Browns are loaded with weapons, and they hope new coach Kevin Stefanski can finally pull it all together after a 6-10 season. Here is how their schedule breaks down: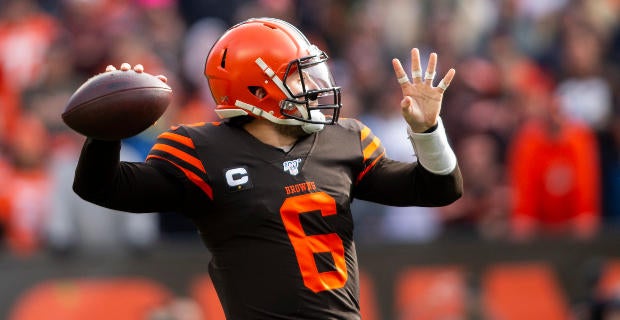 Losing a game in Week 1 isn't going to keep a team from the playoffs, but it clearly doesn't help. There are many reasons why the Cleveland Browns have made the playoffs just once (2002) since returning to the NFL in 1999, but one big one is that the franchise is a near-impossible 1-19-1 straight up in Week 1 games -- not much better from a betting perspective as the Browns have covered the spread in only five of those 21. 
New head coach Kevin Stefanski has arguably the toughest opening game in the NFL on Sunday, too, with Cleveland a 7.5-point under at Baltimore, which enters on a franchise-record 12-game winning streak. The last team to win there? The Browns in Week 4 last year. Cleveland is 7-3 ATS in its past 10 trips to Baltimore.
Looking at the overall schedule, Cleveland has back-to-back road games three times, including oddly consecutive weeks at the New York Giants and Jets (Weeks 15-16). It's the first time since 1975 that the Browns will face both the Giants and Jets on the road in the same season. Certainly one of the most hyped games in the league in Week 15 will be the Giants matchup as Odell Beckham Jr. faces his former team for the first time since being traded to Cleveland.  
The Browns have two scheduled prime-time games, both at home and in the AFC North. No surprise that Cleveland faces Pittsburgh in Week 17 as the teams have ended nine of their past 13 seasons against one another.
Cleveland has been talked about as the next big thing for a few years now, but the dysfunction continued in 2019 as the team went 6-10 and coach Freddie Kitchens was fired. Stefanski takes over, and the former Minnesota Vikings offensive coordinator has tons of weapons to work with. The Browns were 5-0-1 ATS in their victories, beating playoff teams Baltimore and Buffalo but losing six times as a favorite. 
And despite the perceived firepower on offense, the unit ranked 22nd in the league in both scoring and total yards and put up less than 21 points per game. Five of the eight games that went Over were Browns losses, in which they gave up an average of almost 30 points per game.            
The Browns were aggressive in free agency (Jack Conklin, Austin Hooper) and added more key pieces in the draft, including offensive tackle Jedrick Wills Jr., and could be poised to finally play extra football again.
CLEVELAND BROWNS BETTING PROFILE
2019 record: 6-10 (third, AFC North)
2019 against the spread: 5-10-1 ATS
2019 ATS margin: -4.3
2019 Over-Under: 8-8 O-U
2020 strength of schedule: Fourth-easiest; Browns opponents combined for a .461 winning percentage last year (118-138).
WHO COVERS EVERY NFL GAME? JOIN SPORTSLINE NOW TO GET PICKS FROM AN ADVANCED COMPUTER MODEL THAT'S UP MORE THAN $7,000 ON ITS TOP-RATED PICKS AND HAS NEVER HAD A LOSING SEASON!
WILLIAM HILL 2020 CLEVELAND BROWNS FUTURES ODDS
Win total: 8.5 (Under -120)
To make playoffs: No -155, yes +135
Division: +500 to win AFC North
Conference: +2000 to win AFC
Super Bowl: +4000 to win SB 55
MVP: Baker Mayfield +5000, Nick Chubb +12500, Myles Garrett +20000, Odell Beckham +20000
Defensive POY: LB Myles Garrett +2500
Offensive ROY: TE Harrison Bryant +10000
Defensive ROY: LB Jordan Elliott +2800, S Grant Delpit +3300 
Comeback POY: LB Myles Garrett +2500, QB Baker Mayfield +3300 
Coach of the Year: Kevin Stefanski +1500 
SportsLine Model's projection: 8.6 wins (Pick is Over)
CLEVELAND BROWNS GAME-BY-GAME BETTING TRENDS
Week 1 at Baltimore, 1 PM ET: The Browns won 40-25 at Baltimore last year, one of two wins in the past 12 (7-5 ATS) at M&T Bank Stadium.    
Week 2 vs. Cincinnati, 8:20 PM ET (Thursday): Last year's 27-19 win as a 6.5-point favorite broke an 0-5 ATS (1-4 SU) skid against Cincy at home. 
Week 3 vs. Washington, 1 PM ET: Cleveland is 2-8 all-time at home against the NFC East but is 5-5 ATS.  
Week 4 at Dallas, 1 PM ET: The Browns are 2-17 SU and 7-12 ATS at NFC East teams since 1999. 
Week 5 vs. Indianapolis, 4:25 PM ET: The Colts are 8-1 SU but 5-4 ATS in all-time meetings since 1999. 
Week 6 at Pittsburgh, 1 PM ET: The Steelers are 19-2 SU (12-8-1 ATS) at home since the Browns resumed play in 1999.   
Week 7 at Cincinnati, 1 PM ET: The Bengals are 9-2 in the past 11 home meetings (6-4-1 ATS), and the Over is 7-4.  
Week 8 vs. Las Vegas, 1 PM ET: The Browns are 2-9 SU but 5-5-1 ATS in the past 11 against the AFC West.  
Week 9 BYE: The Browns are 2-7 ATS in games before the bye week since 2011. 
Week 10 vs. Houston, 1 PM ET: The Texans are 7-3 SU and ATS against the Browns, and the Under is 8-2.   
Week 11 vs. Philadelphia, 1 PM ET: The Browns are 0-5 against Philly since their resurrection, but they're 3-2 ATS. 
Week 12 at Jacksonville, 1 PM ET: The Browns have lost seven straight (2-5 ATS) against AFC South teams. 
Week 13 at Tennessee, 1 PM ET: The Browns are 1-7 SU and 1-6-1 ATS in the past eight road games against AFC South teams.  
Week 14 vs. Baltimore, 8:15 PM ET (Monday): The Ravens are 10-2 SU and ATS in the past 12 in Cleveland.  
Week 15 at NY Giants, 1 PM ET: Cleveland is 1-9 SU & 4-6 ATS in past 10 December road games. 
Week 16 at NY Jets, TBD ET (Saturday or Sunday): The Browns are 2-0 SU and ATS in past two meetings after losing the previous five (0-5 ATS). 
Week 17 vs. Pittsburgh, 1 PM ET: The Under is 6-1 in the past seven home matchups vs. Steelers. 
Some trends contributed by SDQL Gurus     
EXPERT PICK FROM LEGENDARY ODDSMAKER KENNY WHITE: Under 8.5 wins (-120). 
The Brownies have back-to-back road games three times with a four games in five stretch during December when the team could be worn down. 
SO WHAT 2020 FANTASY FOOTBALL SLEEPER SHOULD YOU SNATCH IN YOUR DRAFT? AND WHICH WR1 CANDIDATE CAN YOU WAIT ON UNTIL LATE? JOIN SPORTSLINE NOW TO GET 2020 FANTASY FOOTBALL CHEAT SHEETS FROM THE MODEL THAT WAS ALL OVER DERRICK HENRY'S HUGE SEASON, AND FIND OUT.