Timberwolves vs. Suns Wednesday NBA injury report, odds, props: Kevin Durant, Devin Booker, Bradley Beal to play first regular season game together
Phoenix will be at full strength Wednesday against Minnesota.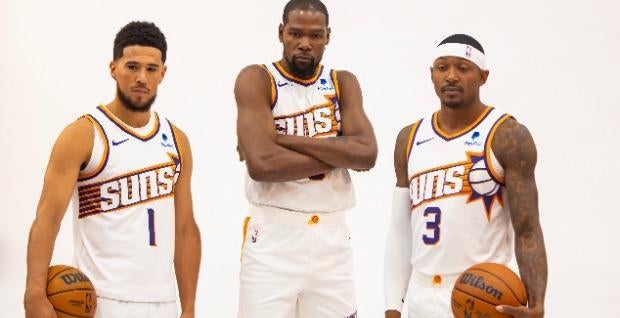 How good can the Phoenix Suns' superstar trio of Kevin Durant, Devin Booker and Bradley Beal be? No one knows because the All-Stars haven't played a regular-season game together yet, and that's why Phoenix is a disappointing 4-6. But it will finally happen on Wednesday against the visiting Minnesota Timberwolves. Minnesota is a very good team but already at a disadvantage due to playing the second game of a back-to-back and is thus a 5.5-point underdog on the SportsLine consensus.
The trio played together on a few occasions in the preseason. Durant had been the more injury-prone of the three in recent seasons but has played in all 10 games and been typically great at 30.0 points, 7.1 rebounds and 4.6 assists per game in nearly 37 minutes per night. The Suns would surely like to shave a few minutes off his workload, but coach Frank Vogel hasn't had much choice but to play Durant a lot. Durant is fourth in the league in scoring overall and ranks second in first quarter scoring at 9.3 points per game. Obviously, Durants scoring is going to drop a bit when Booker and Beal are around because he'll get the ball less often.
Beal has played in only the past three games – in which the Suns are 1-2, and were very fortunate to get the victory in overtime in Chicago last Wednesday. Beal is averaging just 17.3 points on 39.1% shooting from the field, which would easily be a career low. But a bit of rust and a learning curve was to be expected with Beal playing on a team other than the Wizards for the first time in his career.
Booker has had a few injury issues and only played in the season-opening win at Golden State and a home loss to San Antonio on Nov. 2. He was great, averaging 31.5 points, 10.5 assists and 7.5 rebounds. Booker's latest malady had been a calf strain. Remember, NBA players must see action in 65 regular-season games to qualify for end-of-season awards such as MVP and All-NBA. That rule was put in place to prevent stars from resting all the time, and not for injuries like Booker's.
Durant is set at over/under 26.5 points for Wednesday at DraftKingts. Booker is at 24.5 and Beal is at 18.5. The Suns' team total is 114.5, which frankly seems low.  
With Booker back, that should send Grayson Allen to the bench. The former Duke star has been a nice surprise. After totaling just six points in the first two games of the season, Allen is averaging 14.5 points, 5.4 rebounds and 3.1 3-point field goals per game over the last eight . The Suns also will get sixth man Eric Gordon back after he missed Sunday's loss. He's averaging 13.6 PPG.
Phoenix has won 10 of the last 12 meetings against Minnesota, including four in a row in the desert. T-Wolves star Karl-Anthony Towns and Booker were teammates at Kentucky in 2014-15. That Wildcats team memorably started 38-0 before finally falling in the Final Four to Wisconsin.
Minnesota is the hottest team in the West as it won a seventh straight game Tuesday, 104-101, at Golden State to complete a two-game sweep in San Francisco. However, there was a brawl early on that almost surely will see starter Jaden McDaniels suspended for at least Wednesday (he was ejected). It's also possible a key sits for the second of a back-to-back, the first of the season for the Timberwolves. For example, Towns played 42 minutes Tuesday. Anthony Edwards played 36 and Rudy Gobert played 35. It's also Minnesota's third game in four nights. 
Get more out of your SportsLine subscription! 
Qualifying SportsLine members receive a 30-day free trial of Paramount+ premium. Sync your account right here.