Oregon's Bo Nix new 2023 Heisman Trophy odds favorite; LSU's Jayden Daniels taking heaviest action
The Heisman Trophy race appears to be down to four players.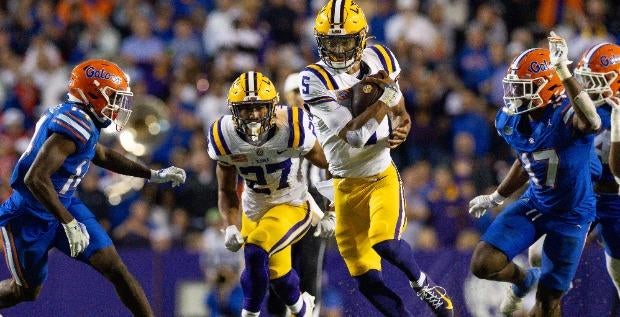 Those Heisman Trophy oddsmakers can be a tough bunch. Washington quarterback Michael Penix Jr. had been the betting favorite entering college football's Week 11 and all he did was keep the Huskies unbeaten with 332 passing yards, two touchdowns and a rushing score in a win over a good Utah team. Yet he has now been passed on the DraftKings Heisman Trophy board by Oregon's Bo Nix, and the two QBs could be on a crash course for the Pac-12 title game. Yet no player in the country had a better Week 11 than LSU's Jayden Daniels, and he has made the biggest Heisman move.
In the Tigers' 52-35 win over Florida on Saturday, Daniels was utterly unstoppable. The former Arizona State transfer threw for 372 yards and three scores and rushed for 234 yards and two touchdowns on just 12 carries. That's 606 yards and five scores. Daniels became the first quarterback in FBS history to have at least 350 passing yards and 200 rushing yards in a game. He also moved past 12,000 career passing yards while also surpassing 3,000 career rushing yards -- the first FBS player to eclipse both marks in his career.
"If he didn't win (the Heisman) tonight, then he's got to be the leading candidate," said coach Brian Kelly postgame. "He did something tonight that nobody has ever done. If that doesn't make you the leading candidate, then maybe the Heisman isn't for the best player. … He's the best quarterback in the country. He's the best playmaker in the country. I've watched them all. We're 7-3. That doesn't mean anything. It matters who the best player is and he's the best player."
It's not like Daniels is doing this against cupcakes. He has now played six top-50 defenses by ESPN's SP+ metric. Against those teams, he's completed 68% of his passes for 21 touchdowns, three interceptions and an average of 453 yards of offense per game. Daniels has accounted for 76 plays of at least 20 yards this season. Penix is second, way down at 57.
Daniels, who is not considered a first-round NFL prospect and ranked as the No. 7 QB in the potential 2024 class by Mel Kiper Jr., is now the +350 third favorite for the Heisman when just two weeks ago he was around +3000 and +1800 pre-Week 11. Since Saturday, he is taking the most action at DraftKings with 45% of the handle and 39% of the bets.
What coach Kelly said, though, is going to matter to voters. LSU is not playing any games of major relevance the rest of the way due to that 7-3 record. The Tigers are out of the SEC West race. They'll have a home matchup against Georgia State on Saturday and then close at home against a post-Jimbo Fisher Texas A&M. There's not much national buzz for either of those games.
The Ducks' Nix is the new +100 leader and taking 19% of the handle but just 7% of the bets. In Saturday's 35-27 win over USC and 2022 Heisman winner Caleb Williams (now +20000 to repeat), Nix threw for 415 yards and four touchdowns. His first two passes of the game went for touchdowns of 77 and 84 yards. He became the first FBS quarterback to throw touchdowns of at least 75 yards on first two pass attempts since at least 2012. The only other player to throw 75-plus yards on his first two attempts was Baylor's Jacob Zeno in 2019, who did not start, and one of his passes was not a touchdown.
Oregon is at Arizona State this week and closes with what could be the final Civil War at home vs. No. 12 Oregon State before a likely rematch with Washington in the Pac-12 title game. The Huskies' Penix is now +340 and taking just 4% of the handle and 6% of the bets.
The only other legit candidate is Ohio State receiver Marvin Harrison Jr., who jumped from +1500 to +450 after Saturday when he had seven catches for 149 yards and two scores and a rushing TD vs. Michigan State. He is now taking 19% of the handle and 21% of the bets, behind only Daniels in both categories. Harrison is first Buckeye receiver with multiple 1,000-yard receiving seasons. That's a surprise considering some of the receiving talent to come out of Columbus.
Michigan's JJ McCarthy went from +950 to +9000 even though the Wolverines won impressively at Penn State, but McCarthy threw for only 60 yards on eight attempts as the Wolverines ran the ball all day. 
DraftKings Heisman Trophy favorites:
Bo Nix: +110
Jayden Daniels: +320
Michael Penix Jr.: +380
Marvin Harrison Jr.: +475
Rest of field: +4000 or higher
Get more out of your SportsLine subscription! 
Qualifying SportsLine members receive a 30-day free trial of Paramount+ premium. Sync your account right here.