Lakers vs. Nets Monday NBA injury report, odds: LeBron James' chase of Kareem Abdul-Jabbar's scoring record gets night off; Anthony Davis also out
The Lakers will rest LeBron James and Anthony Davis in Brooklyn.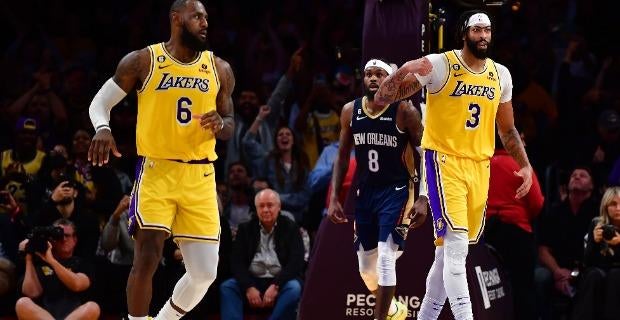 When the 2022-23 NBA schedule was released last summer, Monday's national TV matchup between the Los Angeles Lakers and Brooklyn Nets at the Barclays Center was one game everyone circled. Now it's all but meaningless as the Lakers have ruled out both LeBron James and Anthony Davis, while the Nets remain without Kevin Durant and are listing Ben Simmons as questionable – not that he's a star-level player any longer. L.A. had opened at -1 at Caesars Sportsbook early Sunday, but Brooklyn is now -9.
James has been listed questionable on the injury report for weeks but has been playing through left ankle soreness. Davis only returned last week from his foot injury. It's not a huge shock they are both sitting out Monday after a highly charged overtime loss in Boston on Saturday and with a trip to storied Madison Square Garden to face the Knicks scheduled for Tuesday. James wasn't going to miss that one.
James is 116 points away from catching Kareem Abdul-Jabbar as the NBA's all-time leading scorer with Abdul-Jabbar at 38,387 points and James at 38,271. James had 41 points in Saturday's loss and was clearly fouled at the end of regulation on a missed layup – had it been called, he likely would have won the game at the free-throw line. Instead, the Celtics wound up winning the game in overtime, 125-121.
"Like everyone else, referees make mistakes," the National Basketball Referees Association admitted Sunday in a tweet. "We made one at the end of last night's game and that is gut-wrenching for us. This play will weigh heavily and cause sleepless nights as we strive to be the best referees we can be."
James is averaging 34.3 points per game this month and is up to 30.2 on the season. DraftKings favors James to break Abdul-Jabbar's record on Feb. 7 vs. Oklahoma City at +110, which would be four games away (not including Monday's game), and you know James wants to do it at home. That James does it Feb. 9 vs. Milwaukee is +130, and then the Lakers go on their annual Grammy road trip. I assure you that James will not sit out again before that trip if he's healthy so he can try and break the mark in Los Angeles.
As for Davis, he has looked great in the two games since his return with a combined 37 points, 22 rebounds, five assists and four blocks. He probably won't play in both ends of a back-to-back the rest of the way. That spread shift of 10 points at Caesars is the biggest of the season.
Brooklyn lost 116-103 at the Lakers on Nov. 13. James, Irving and Simmons all missed that one. Davis had 37 points and 18 rebounds, and Durant logged 31 points, nine rebounds and seven assists. 
Qualifying SportsLine members receive a 30-day free trial of Paramount+ premium. Sync your account right here.