Nationals vs. Royals Friday MLB probable pitchers: Jordan Lyles has lost most money for bettors this season
Royals starter Jordan Lyles has not good to bettors this year – unless you faded him.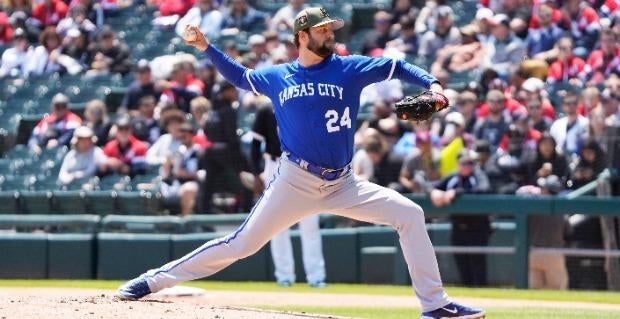 The casual baseball fan likely won't pay much attention to Friday's series opener from Kansas City between the Nationals and Royals, two rebuilding and largely anonymous teams. Yet the game features a fascinating starting pitching matchup. Washington's Patrick Corbin had been arguably the worst pitcher in the majors over the previous two seasons but has been much better in 2023. No pitcher, meanwhile, has been a bigger money loser in MLB this year than the Royals' Jordan Lyles. He is a slight favorite at Caesars Sportsbook tonight.
Kansas City isn't playing for anything this season, but at what point does the team stop putting the 32-year-old journeyman Lyles out there instead of giving a young prospect a look in the rotation? Lyles is 0-8 with a 7.15 ERA and has allowed 14 homers, tied for the most in the league. He has been worth -0.9 WAR. In May alone, Lyles is 0-3 with an 8.86 ERA and has allowed at least four runs in each start.
If you had bet $100 to win every Royals game that Lyles has started this year, you'd be down $1000 because they have lost all 10 times he's taken the mound. It's the first time the Royals have ever lost a pitcher's first 10 starts of a season in franchise history (the team had never lost a pitcher's first eight). That minus-$1,000 number is by far the worst of any starting pitcher in MLB.
Kansas City signed Lyles to a two-year, $17 million free-agent deal this past winter with the hopes the team could flip him at the trade deadline, but the Royals are all but surely stuck with him at that salary.
Corbin combined for 35 losses and an ERA north of 6.00 the previous two seasons for Washington and was the No. 1 money loser among starters in 2022 at minus-$1,624.  This year, the lefty is a respectable 3-5 with a 4.47 ERA.
Since back-to-back outings in which he allowed 10 runs over 11 innings at the start of April, Corbin hasn't given up more than three in seven straight and has allowed exactly two earned runs in each of his past four outings. He's 2-1 with a 2.88 ERA this month. Overall this year, Corbin has returned $294 if you bet $100 on Washington to win every time he took the mound. 
Get more out of your SportsLine subscription! 
Qualifying SportsLine members receive a 30-day free trial of Paramount+ premium. Sync your account right here.