Brewers vs. Reds Monday MLB probable pitchers, odds: Big-league debut for top Cincinnati pitching prospect Andrew Abbott
The Reds have called up their top pitching prospect, Andrew Abbott.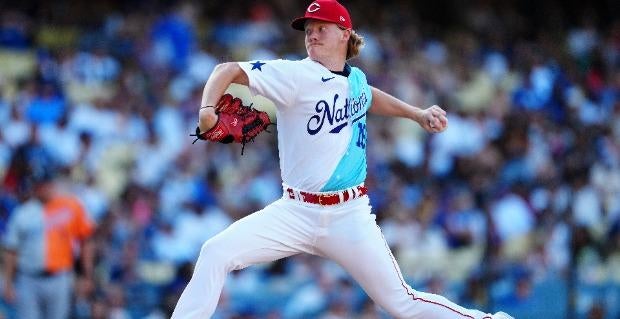 The Reds finish a four-game series in Milwaukee on Monday, and fireballing young right-hander Hunter Green was originally slated to start. The team has now pushed him back due to hip stiffness (the ailment is not expected to be a major concern). Starting in Greene's place today is lefty Andrew Abbott, Cincinnati's top pitching prospect, in his major league debut. He's set at over/under 5.5 strikeouts at Caesars Sportsbook, and Cincinnati is a short favorite.
Abbott, who turned 24 last week, is ranked as the No. 95 overall prospect in the sport by MLB.com and No. 6 in the Reds organization. The 6-foot-1, 195-pounder is given an overall grade of 55 on a scale of 20-80 with no individual pitch above 55. He's not a power pitcher like Greene -- Abbott's fastball is generally 91-94 mph -- but still strikes hitters out. The southpaw will join infielder Matt McLain (No. 5 in organization, No. 90 overall) and lefty starter Brandon Williamson (No. 10 in organization) as recent Reds call-ups.
Abbott spent his first three years at Virginia as a reliever and then showed enough his lone season as a starter to be a second-round pick in 2021. In 10 starts between Double-A Chattanooga and Louisville this year, he's 4-0 with a 2.50 ERA, 0.93 WHIP and 90 strikeouts.
"He's got a very mature approach even though he's not been here before," Reds manager David Bell said. "He pitched in college and just kind of handles himself like he belongs, in a good way. That always gives you more confidence in getting a guy to the Major Leagues, maybe a little bit quicker just because he hasn't pitched a lot in Triple-A, but he has a lot of experience pitching, which gives you confidence."
The Reds have assigned Abbott the No. 41, the same worn by Tom Seaver. The team will go with a six-man rotation for now. Bell has said that that Abbott's call-up is not a spot start and that the team won't stick with a six-man rotation long term. Abbott is set at O/U 15.5 outs recorded, 4.5 hits allowed, 2.5 earned runs and 1.5 walks.
There are no odds to win NL Rookie of the Year yet at Caesars for Abbott – McLain is +2000 to win it. So is a player some consider the top prospect in the minors, Reds shortstop Elly De La Cruz. 
The baseball world is waiting for the Reds to call De La Cruz up. He's 6-foot-5 and on pace for a possible 45 homer/45 steal season in Triple-A. He almost certainly won' be there long enough to accomplish that. First baseman Spencer Steer is +3000 to win NL ROY and won NL Rookie of the Month for May. The Reds could be contenders in the not-too-distant future.
Milwaukee starts veteran Julio Teheran (1-1, 0.82). The right-hander was plucked from the scrap heap last month after he opted out of a minor-league deal with San Diego. He is 3-4 with a 4.14 ERA in nine career starts against the Reds.
 Get more out of your SportsLine subscription! 
Qualifying SportsLine members receive a 30-day free trial of Paramount+ premium. Sync your account right here.