Albert Pujols 2022 MLB odds, props: Cardinals Hall of Famer betting long shot to reach 700 home runs; universal designated hitter debuts
Albert Pujols is 21 homers from 700 career. Will he get there?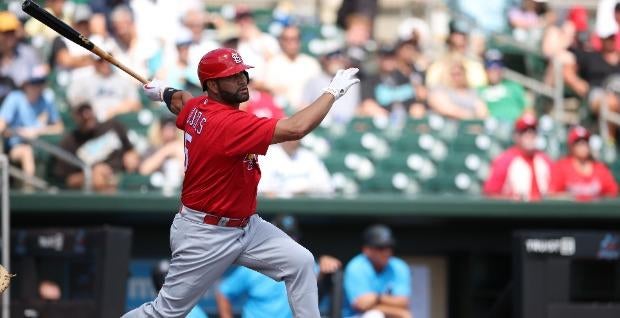 One of the highlights of Thursday's Opening Day will be Albert Pujols' return to the St. Louis Cardinals as the three-time MVP and 42-year-old is back with the team where he built a first-ballot Hall of Fame career from 2001-11 before taking big money from the Los Angeles Angels. DraftKings has a special Pujols prop for this year: Will he reach 700 career homers? No is a heavy -1200 favorite with yes at +800.
If he stays healthy and productive, Pujols could be the Cardinals' designated hitter for a majority of games but certainly not every day – lefty-hitting Corey Dickerson will get some platoon time against right-handed pitching and the Cards will "rest" other guys at DH occasionally.
Remember, the universal designated hitter is here to stay. Thus, Pujols on Thursday will be a DH in St. Louis for the first time in his Cardinals career. DH is a job that he is very familiar with from his time with the Angels. Pujols will wear his familiar No. 5.
"Early on, when I was at DH several times, I had to call David Ortiz to walk me through everything and help me out. I talked to Edgar Martinez when I went to Seattle, so I'm pretty comfortable doing it," Pujols said earlier this spring about being a full-time DH. "It's something you have to have the mindset for, and you have to train yourself for. It's not something that's easy, but when you know it's your job to be ready, it helps. You have to find a little routine to prepare yourself."
Pujols has 679 career homers, fifth all time and 18 from passing Alex Rodriguez for No. 4. Obviously, that means Pujols needs 21 to join Babe Ruth (714), Henry Aaron (755) and Barry Bonds (762) in the 700 club.
The last season in which Pujols hit at least 21 dingers was in 2019 when he played in 131 games for the Angels and hit 23. He was limited to 39 games in 2020 and had only six homers. Last year split with the Angels and Dodgers, Pujols had 17 homers. Over the past three seasons, he has a combined 4.6 percent home-run rate, meaning that he would need approximately 457 plate appearances to reach the 700 home-run mark this season should that rate continue.
Another book has a handful of Pujols Over/Under season specials: 8.5 home runs (Over -165 favorite), .240 average (both -115), 40.5 hits (Over -125 favorite), 19.5 runs (both -115), 165.5 at-bats (both -115) and 27.5 RBIs (Over -150).
The Cardinals host the Pittsburgh Pirates on Thursday -- I backed St. Louis -- and Pujols has never faced Bucs starter JT Brubaker in a regular-season game. It will be Pujols' 22nd consecutive Opening Day start. That matches Aaron and Carl Yastrzemski for second most behind only Pete Rose, who made 23 straight during his career. Pujols and Cards catcher and fellow future Hall of Famer Yadier Molina already have said this will be their final big-league season.
Looking for the best picks against the spread, sharp plays on the total, and props you can take straight to the pay window? Join Jonathan Coachman on the Early Edge as he speaks with SportsLine's top handicappers to preview the day's biggest games. We promise to keep it short, sweet and to put some green in your pocket. Early Edge is in your feed every single day by 11 a.m. ET. Subscribe right here on YouTube to watch daily, plus don't miss the Early Edge specials and live shows!