USC vs. UCLA Week 12 college football odds: Bettors crushing home underdog Bruins in Battle of Los Angeles
Bettors have a huge lean in Saturday's USC at UCLA matchup.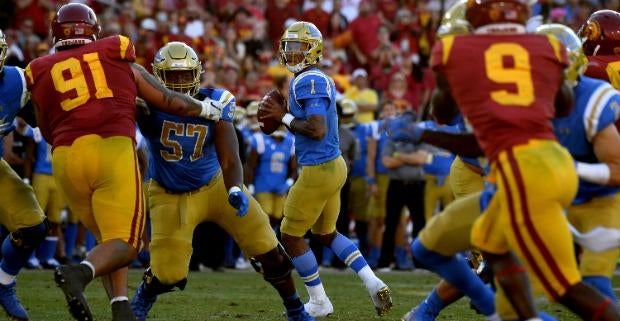 The Victory Bell, bragging rights in Los Angeles and a potential spot in the Pac-12 Championship Game are on the line Saturday night from the Rose Bowl when No. 7 USC visits No. 16 UCLA. The Trojans are realistically the only Pac-12 team with a shot at making the College Football Playoff and are 2.5-point favorites. However, bettors at Caesars Sportsbook are crushing the Bruins against the spread.
UCLA has drawn the most money of any FBS team to cover its respective Week 12 spread, and head coach Chip Kelly's squad has received more than eight times as much money as Lincoln Riley's side. That's quite interesting, because USC is easily the more "public" team.
Southern Cal is atop the Pac-12 standings at 7-1 and would clinch a spot in the title game with a victory. The Trojans would likely face the winner of Saturday's Utah-Oregon game for the title on Dec. 2. UCLA wouldn't clinch with a win but would remain very much in the running for a spot. Remember, there are no divisions in the Pac-12 this season or going forward. The teams with the two best league records are placed in the title game.
This is USC's conference finale and it closes home to No. 18 Notre Dame next Saturday. Pac-12 officials won't say so, but they have to be rooting for the Trojans this week and to run the table to reach the CFB. No Pac-12 team has done so since Washington in the 2016 season. USC is a +600 playoff long shot at Caesars and are -900 to miss out.
USC quarterback Caleb Williams is on the fringes of the Heisman Trophy race at +1000. The Oklahoma transfer has totaled 37 touchdowns and is No. 3 in the nation in passing TDs with 31 (No. 1 in the conference) and No. 4 in points responsible for with 222. Williams has accounted for five total TDs in four straight games and has been picked off just twice all year.
The Trojans got some bad news in last week's win over Colorado as one of the Pac-12's top running backs, Oregon transfer Travis Dye, suffered a season-ending injury. Dye had 26 yards on nine carries before going down, giving him 884 rushing yards this season, second-best in the Pac-12. He also is averaging 6.1 yards per carry and has nine touchdowns.
UCLA's chances of reaching the playoff vanished last week in a stunning 34-28 home loss to Arizona as nearly a three-TD favorite. To reach the Pac-12 title game, UCLA needs wins over USC and California. Then the Bruins want Washington to lose at least once to Colorado or Washington State for complicated tiebreaker purposes. UCLA can survive a multiteam tiebreaker that includes Utah or Oregon, but not both.
USC has won 17 of the past 23 in the series but was blown out 62-33 at home last year when the Trojans weren't nearly as good as they are now. Current Bruins star QB Dorian Thompson-Robinson passed for 349 yards and four touchdowns while rushing for two more scores. The Bruins' 62 points tied the record for the most allowed in USC history.
Get more out of your SportsLine subscription! 
Qualifying SportsLine members receive a 30-day free trial of Paramount+ premium. Sync your account right here.