Iowa vs. Minnesota Week 12 college football odds: Total of 32.5 points is lowest on record nationally for crucial Big Ten West game
Oddsmakers have posted an historic total for Saturday's Iowa-Minnesota game.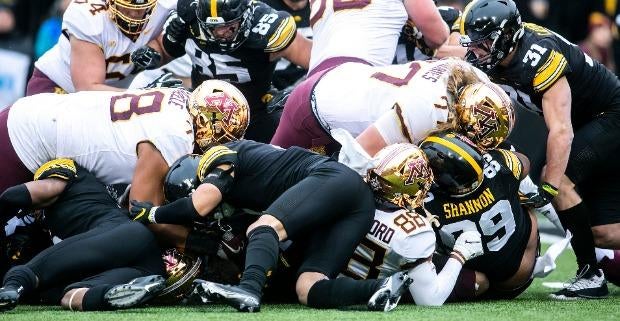 The lowest FBS college football total on record – which have been tracked since 1995 – is over/under 33 points. Saturday's Big Ten West game featuring Iowa at Minnesota has a number of just 32.5 (both -110), which is almost laughable. It will be cold in Minneapolis for the 4 p.m. ET kickoff but the weather otherwise shouldn't be a factor.
Just for a point of comparison, there are 39 teams in the nation averaging more than 32.5 points offensively this season. Tennessee and its top-ranked offense had a 52-point first half earlier this year.
Minnesota ranks eighth in the country by allowing 274.0 total yards per contest. The Golden Gophers also have the No. 4 defense in terms of scoring (13.1 points per game), No. 8 in passing yards allowed (167.3) and the No. 13 rush defense (106.8). Minnesota joins Illinois, Iowa, Iowa State and Michigan as the only teams in the nation that rank 13th or better in each of those categories. During a three-game winning streak, head coach PJ Fleck's team has allowed a combined 16 points.
The Gophers have a stellar running back. Mohamed Ibrahim leads the nation in rushing touchdowns (18) and points per game (12.0). He's fourth in rushing yards per game (140.1) and eighth in all-purpose yards per game (144.9). Ibrahim will be the focus of an Iowa defense that has held seven opponents to 10 points or less this season, including three with three or fewer points. It is the first time since 1991 that the Iowa defense has held seven opponents under 10 points.
The Hawkeyes defense has scored 28 points via four touchdowns – second-most nationally -- and two safeties this year. Iowa's 3.8 yards per play allowed is the best in FBS since Alabama in 2011. Iowa beat visiting Minnesota 27-22 last year and has won the past seven in the series.
The game is huge in the Big Ten West as these two schools, Purdue and Illinois are all tied for first at 4-3 with the eventual champion getting the honor of being smashed in the conference title game by either Ohio State or Michigan. The Boilermakers are 2-1 against the other three and so are the Illini. The Gophers are 0-2, having lost to Illinois and Purdue, while the Hawkeyes are 1-1, having lost to Illinois but beating Purdue.
The Boilermakers are the likely West champions as they are solid favorites vs. Northwestern this week and will be favored again in the regular-season finale at hugely struggling Indiana. 
Get more out of your SportsLine subscription! 
Qualifying SportsLine members receive a 30-day free trial of Paramount+ premium. Sync your account right here.