Bronny James reportedly to make NCAA basketball debut with USC vs. Kansas State on November 6 in Las Vegas
USC will open the 2023-24 college basketball season vs. Kansas State.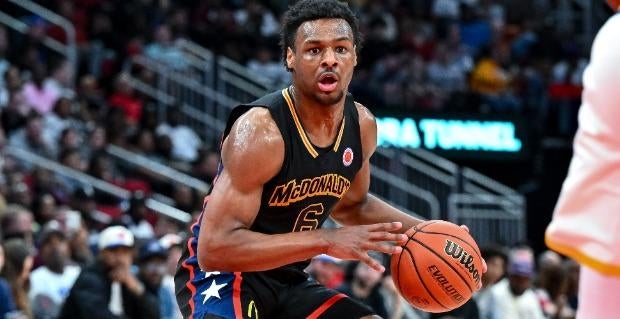 CBS Sports' Jon Rothstein just reported on his College Hoops Today site that the NCAA basketball debut of Bronny James, touted freshman son of LeBron James, for USC will come on Nov. 6 against Kansas State at T-Mobile Arena in Las Vegas. Oregon will face Georgia in the event as well, but there is no timetable on an official announcement.
Bronny James' recruitment was quite an event because of his last name, his massive social media presence, big-time NIL money and the likely inscreased security measures that will need to be put in placed because of the celebrities likely to be courtside at many of James' games -- most notably his father.
Thus, it made some sense for Bronny to commit to USC. Celebrities won't be as much of a distraction in Los Angeles as they could have been at Ohio State or Memphis, other schools Bronny considered. In addition, USC is sponsored by Nike, which has invested heavily in his father since he entered the NBA as a generational talent in 2003.
Bronny, a 6-foot-3 guard, is a potential first-round pick in the 2024 NBA Draft and ranked as the No. 22 overall player in the Class of 2023 by sister site 247Sports. Bronny already has endorsement deals with Nike and Beats by Dre. LeBron has said he hopes to play in the NBA with his son in the 2024-25 season. That they are on the same team to open that season is +170, with No at -250 via an offshore book.
Bronny James isn't the highest-ranked recruit for USC. That honor belongs to Isaiah Collier, a five-star prospect from Marietta, Ga., who is rated as the No. 1 point guard in the class and No. 2 overall player via 247Sports. Bronny has an over/under scoring average of 9.5 this season. James averaged 13.8 points, 5.5 rebounds, 2.7 assists and 1.8 steals per game during his senior season at Sierra Canyon School in Chatsworth, Calif.
Another son with a famous last name also will debut for USC on Nov. 6: Graduate transfer DJ Rodman, son of former NBA All-Star and rebounding legend Dennis Rodman. The 6-6 forward DJ Rodman averaged 9.6 points and 5.8 rebounds in 31 games for Washington State during the 2022-23 season. He was second among the Cougars with 180 rebounds. 
USC is +3300 to win the national title. It likely will be favored against KSU, even though the Wildcats reached the Elite Eight of the 2023 NCAA Tournament. They lost their two best players, Keyontae Johnson and Markquis Nowell, to the NBA Draft.
Get more out of your SportsLine subscription! 
Qualifying SportsLine members receive a 30-day free trial of Paramount+ premium. Sync your account right here.