Odell Beckham Jr. next team NFL odds: Saints, Raiders, Ravens, Patriots, Rams favorites for released Browns receiver
The Cleveland Browns are releasing former Pro Bowl receiver Odell Beckham Jr. Where might he land?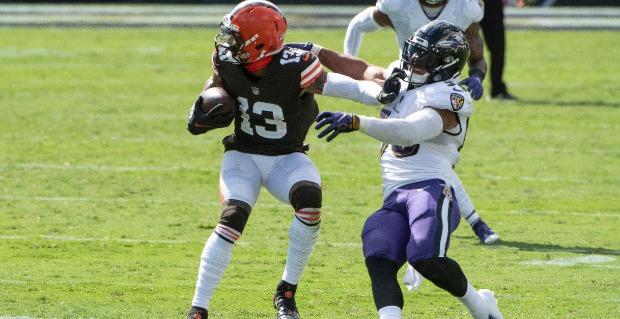 The Odell Beckham Jr. era – such that it was – is over in Cleveland as the Browns are releasing the three-time Pro Bowl receiver who never lived up to Pro Bowl form with the team after being acquired in trade from the New York Giants. Cleveland could not find a taker for OBJ's contract ahead of Tuesday's NFL Trade Deadline and had excused him from practice all week. His release should be official later today. SportsLine offers NFL odds on Beckham's next team.
Any team could claim Beckham on waivers and waiver claims go in reverse order of the league standings … so winless Detroit would have first claim. However, Beckham is owed about $8 million the rest of this season and no team is going to take on that much salary – only a handful even have $8 million of salary cap space.
Cleveland has some motivation to pay off some of Beckham's salary and lower that $8 million number in the hopes a team does claim him and then that club would be on the hook for the remainder of this year's salary. Beckham Jr., though, would have motivation to not lower his salary too much and help the Browns so he can avoid being claimed, become an unrestricted free agent and pick his next team instead of having it picked for him.
For these purposes, we are going to assume OBJ is a free agent. While Beckham has just 17 receptions for 232 yards in six games, he will definitely be in demand by contenders.
The New Orleans Saints have to be considered favorites as they spoke to the Browns about OBJ before the Trade Deadline, have a major need at wideout with former NFL Offensive Player of the Year Michael Thomas out for the season, and Beckham went to high school in the Big Easy and starred at LSU. The Saints have the least amount of salary-cap room in the NFL, but surely they can move some things around.
The Las Vegas Raiders are badly in need of wideout help after releasing 2020 first-round pick Henry Ruggs III this week as he faces multiple felony charges for a DUI fatality early Tuesday morning. Are the Raiders legitimate Super Bowl contenders? Does that matter to Beckham? They don't play the Browns.
If Beckham wants to play for a contender and stick it to the Browns, the Ravens would be a perfect fit – Baltimore hosts the Browns in Week 12 and visits Cleveland Week 14. New England coach Bill Belichick is well-known for taking chances on talented veterans who wore out their welcome elsewhere, Randy Moss being an obvious comparison to Beckham.
OBJ is a diva, and where better to draw attention to himself than in Los Angeles with the absolutely loaded Rams? Wideout isn't a huge need for L.A., but the team is clearly all-in for Super Bowl 56, which will be played in SoFi Stadium, and loves to star-hunt.
Beckham Jr., Davante Adams and Aaron Rodgers in Green Bay? How fun would that be? We have to include the Bucs because of the Tom Brady factor, although Tampa Bay does not need a receiver with Mike Evans, Chris Godwin and Antonio Brown.
Needless to say, Beckham Jr. won't be playing for his new team this week. Cleveland is at New England in Week 10 if you were wondering.
Via SportsLine oddsmakers: Favorites as Odell Beckham Jr.'s next team
Saints +300
Raiders +350
Ravens +400
Patriots +500
Rams +600
Bills +700
Colts +800
49ers +900
Packers +1000
Chiefs +1200
Bucs +1500
Who wins every NFL game? And which teams will sink your bankroll? Join SportsLine now to get NFL picks every week, all from the model that simulates every game 10,000 times and is up almost $8,000.