Julio Jones Ravens trade odds, forecast: Baltimore passes Buffalo as AFC's second-best team by adding Falcons receiver
Could run-first Baltimore trade for Falcons receiver Julio Jones? The SportsLine Projection Model forecasts Jones' effect on the Ravens.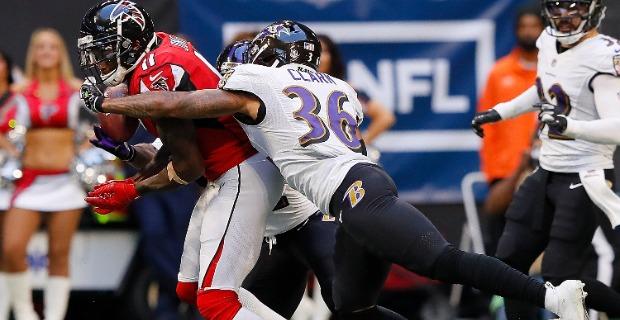 On the eve of the 2021 NFL Draft, SportsLine oddsmakers listed the Baltimore Ravens as the betting favorites to be the team that traded for Atlanta Falcons Pro Bowl receiver Julio Jones due to reports that the Ravens had made inquiries. No deal happened and the Ravens added two receivers in the draft, but Baltimore is still a potential landing spot for the future Hall of Famer. Via the SportsLine Projection Model, the Ravens would jump the Buffalo Bills as the AFC's second-best team by adding Jones.
Baltimore is no longer among the top favorites to deal for Jones because the Ravens simply don't have to the cap space to make that work unless they were to do serious restructuring or moving of players. The Ravens also aren't the type of franchise to deal away draft picks; they acquire them through compensation selections when their free agents sign elsewhere.
There's also the fact Baltimore took University of Minnesota wideout Rashod Bateman in the first round of the draft and stole Oklahoma State receiver Tylan Wallace in Round 4. It's a pretty deep group now with those two, Marquise Brown, free-agent addition Sammy Watkins, Miles Boykin and others.
Would Jones make the Ravens better? Without question as none of those above guys are a clear No. 1 (yet), and the team is clearly all-in to win Super Bowl 56. Baltimore's wide receivers have ranked last in the NFL in catches and receiving yards in each of the past two seasons.
Ravens cornerback Marlon Humphrey has tweeted about adding Jones, using a hashtag #CometotheRavens and saying Falcon … Raven … a bird forever. Star quarterback Lamar Jackson responded with a happy sweat emoji.
ESPN recently ran a potential trade package from the Ravens to Falcons for Jones and it was a 2022 second-rounder and the Chiefs' 2022 fifth-rounder acquired in Orlando Brown Jr. trade. Atlanta would have to pick up some of Jones' $15.3 million guaranteed salary for this year. Others have speculated Boykin could be part of a package with a draft pick.
At William Hill Sportsbook, the Ravens are currently +1400 fourth-favorites to win Super Bowl 56, which is behind Kansas City (+525) and Buffalo (+1300) among AFC teams. To win the conference, the Chiefs are +260, Bills +600 and Ravens +650. Baltimore is given an Over/Under win total of 11.
The SportsLine Projection Model (see below) forecasts a healthy Jones to bump the Ravens from 11.0 wins to 11.3, their chances to win the AFC from 17.1 percent to 20.8 percent and to win the Super Bowl from 9.5 percent to 12.0 percent, behind only Kansas City (14.5 percent) and Tampa Bay (13.5).
Atlanta reportedly does prefer to ship Jones to the AFC – Tennessee maybe? – and the Falcons don't play Baltimore this year, which is a minor added bonus. Jones could be traded as soon as next Wednesday (June 2).
Via SportsLine oddsmakers: Julio Jones' next team
Patriots +200
49ers +300
Titans +400
Raiders +600
Ravens +700
Chargers +900
Colts +1000
Packers +1200
Dolphins +1400
Jaguars +1500
Cowboys +2000
| | | | | | | |
| --- | --- | --- | --- | --- | --- | --- |
| BALTIMORE              | WIN     | WIN%       | DIVISION      | PLAYOFF     | CONF       | CHAMP |
| Current Forecast | 11 | 64.70% | 51.10% | 82.40% | 17.10% | 9.50% |
| w/ Julio Jones | 11.3 | 66.50% | 56.40% | 86.80% | 20.80% | 12.00% |
| Difference | 0.3 | 1.80% | 5.30% | 4.40% | 3.70% | 2.50% |
Where does every player appear in our 2021 Fantasy football rankings? And which rookie quarterback will provide shocking value? Join SportsLine right now to get 2021 Fantasy football rankings, all from the model that simulated the entire season 10,000 times.