2023 NBA Rookie of Year odds: Chet Holmgren takes big jump after stellar Summer League debut for Thunder
Thunder rookie Chet Holmgren looked great in his Summer League debut.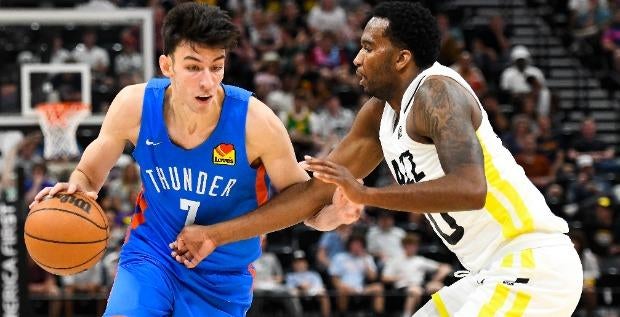 Even five years ago, most casual NBA fans didn't pay attention to Summer League action, but nowadays it's quite popular because there's a bit of a sports void with the NBA/NHL regular seasons over and NFL training camps not opening for a few more weeks. Former Gonzaga star Chet Holmgren was the No. 2 overall pick in this year's NBA Draft by Oklahoma City, and he made his Summer League debut Tuesday. It was so good that Holmgren's odds to win Rookie of the Year at Caesars Sportsbook have changed and Twitter is still buzzing.
The 7-foot-1 string bean Holmgren led the Thunder to a 98-77 win over Utah in Salt Lake City with 23 points (7-foot-9 shooting, including 4-for-6 from deep), seven rebounds, four assists and a Summer League-record six blocked shots in just 24 minutes.
"That's the record?" Holmgren asked in a post-game interview. "Oh, well I'm coming to break it again."
Oklahoma City Mayor David Holt tweeted this after the game, already preparing for next year's NBA Finals: "I will not overreact to a summer league game … I will not overreact to a summer league game … I will not overreact to a summer league game … I will not overreact to a summer league game … :: clears June 2023 calendar ::"
Holmgren is expected to be a dominant defensive force from the get-go in the NBA -- as a freshman at Gonzaga, he recorded six blocks on five occasions and a career-high seven blocks twice -- but his offense was expected to be a work in progress simply because he's so thin and could get pushed around. But he was raining jumpers and looked like a point guard at times Tuesday.
It's important to note that history is littered with rookies blowing up in Summer League and then amounting to nothing in the actual NBA, but Holmgren's Rookie of the Year odds at Caesars Sportsbook moved from +550 to +375 – he's now the second-favorite behind Orlando No. 1 overall pick Paolo Banchero (+350).
From Tuesday's game to 9 this morning, 65 percent of the handle on all NBA bets at Caesars came on Holmgren to win Rookie of the Year or Defensive Player of the Year, where he moved from +10000 to +5000.
Oklahoma City plays again tonight in Salt Lake City against Memphis with the Thunder as 2-point favorites. Neither Banchero's Magic nor Jabari Smith's Houston Rockets are playing in the Utah league, but those two teams will meet in Las Vegas on Thursday. Smith is +400 for Rookie of the Year. 
Looking for the best picks against the spread, sharp plays on the total, and props you can take straight to the pay window? Join Jonathan Coachman on the Early Edge as he speaks with SportsLine's top handicappers to preview the day's biggest games. We promise to keep it short, sweet and to put some green in your pocket. Early Edge is in your feed every single day by 11 a.m. ET. Subscribe right here on YouTube to watch daily, plus don't miss the Early Edge specials and live shows!