Washington Football Team next NFL nickname odds: RedWolves slight favorite over keeping Football Team
The Washington Football Team has announced a supposed list of finalists for its new nickname.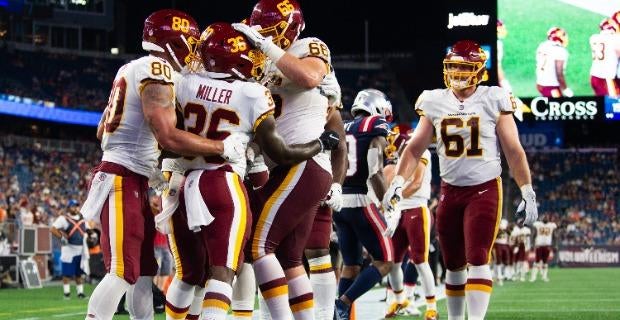 Earlier this week, the Washington Football Team announced it had finally whittled down a list of potential nicknames for the franchise going forward to eight – although the change won't take place until the 2022 NFL season. The team was still considering about 30 names as recently as April. It's actually not a sure thing that the final choice will be among the eight, but it would be an upset if not. Expect an announcement after the Super Bowl but before the draft for merchandising reasons. SportsLine offers NFL odds on what the nickname will be.
In some clever marketing, the WFT narrowed its list of potential options for a new name to three choices via the team's YouTube series "Making the Brand." While the club listed eight potential name options to a group of fans watching the names and logos on the scoreboard from inside FedExField, it bleeped out the three finalists.
"So the three that will go through are, [bleep], [bleep] and [bleep]," said Jason Wright, team president, on the video that was filmed last month.
The options were: Presidents, Brigade, RedHogs, Washington Football Team, Commanders, Armada, Defenders and RedWolves (it is believed RedHogs and RedWolves will be used in that grammatical format). Coach Ron Rivera and Wright appeared to have a name that they both really liked.
"We have a very diverse fan base and what we're seeing emerge as we engage folks is a commonality that is beautiful. Resilience. Grit. Tradition. Nobility. History. A sense of pride. These are things that unite us," Wright said. "So our new name and logo should allow that spirit to continue. That is our commitment going forward and our promise to our fan base. Wherever we go from here, we will go together."
Rivera said the final name suit fans from all three corners of the DMV, not just D.C. DMV stands for the "District of Columbia, Maryland, Virginia." The team's color scheme will remain the same regardless. The 2021 Washington Football Team opens the season Sept. 12 at home as an early 1-point underdog vs. the Chargers. 
Warriors was an early favorite among fans, but the team wanted to stay away from anything involving Native American likenesses after dumping Redskins. Guardians was an early possibility, too, but that was taken recently by the Cleveland Indians starting in 2022.
Red Tails/RedTails also was a very popular choice among fans as that would have honored the Tuskegee Airmen. A group of those men known as the Red Tails -- because of the paint on the tails of their planes -- made up the 332nd Fighter Group during World War II. A few of those pilots were also from Washington, D.C.
RedWolves is a very unique nickname and would allow Washington to use an R on its helmets as it did years ago. RedHogs would do the same and Hogs of course refers to that famous former Washington offensive line during the 1980s and early 1990s when the team won three Super Bowls under former coach Joe Gibbs.
The rest of the nicknames are pretty self-explanatory and the easiest choice might be to stick with Washington Football Team as no other NFL/NBA/MLB/NHL club has used that "soccer" format. Defenders would be higher on this list but there technically is an XFL team in D.C. with that nickname. Presidents is too political.
Via SportsLine oddsmakers: What will be the next nickname of the Washington Football Team?
RedWolves +200
Football Team +300
Commanders +600
RedHogs +700
Defenders +900
Armada +1000
Brigade +1200
Presidents +3000
Which Fantasy Football sleepers, breakouts and busts should you target and fade? And which QB shocks the NFL with a top-five performance? Join SportsLine now to get 2021 Fantasy Football cheat sheets for every single position, all from the model that called Josh Allen's huge season.