Trey Lance next NFL team odds: Falcons, Vikings, Buccaneers favored to land QB after losing 49ers backup job to Sam Darnold
Trey Lance is now the third-string quarterback for the 49ers.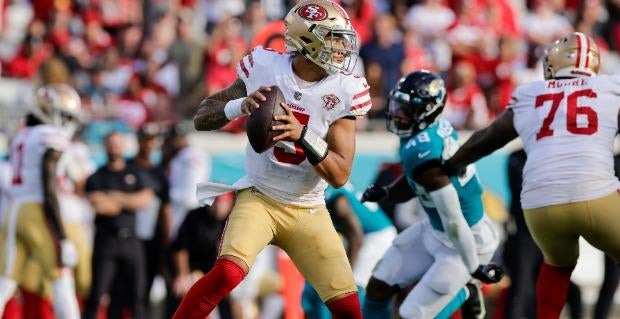 Is Trey Lance's time with for the San Francisco 49ers over after just four NFL starts? The Niners gave up three first-round picks to move up to the No. 3 overall spot in the 2021 draft to take Lance, but the team announced Wednesdau that he couldn't even beat out Sam Darnold for the backup job behind Brock Purdy. Thus, Lance may be a goner and SportsLine offers odds on his next team.
Darnold (himself a former No. 3 overall pick bust from the 2018 draft) and Lance had consistently alternated reps in training camp, which carried over to the preseason. Lance is 22-for-33 for 285 yards with two TDs, a pick and four sacks taken in the preseason with one game to go. Darnold is 16-for-22 for 193 yards with a TD, pick and one sack.
The NFL Network reports that the 49ers are exploring their trade options with Lance. As a first-round pick, the first four seasons of his contract are guaranteed so there's not much point in releasing him, but his value will only go down sitting on the bench. Think how costly that Lance pick might end up being, with the lone saving grace for San Francisco finding Purdy at the end of the 2022 draft.
The Niners gave Miami the 12th overall pick in 2021, first- and third-round picks in 2022, and a first-round pick in 2023 to move up and take Lance out of North Dakota State. Lance is one of only five players traded for three first-round picks in the common draft era. If that wasn't bad enough, here are the 10 excellent players drafted immediately after Lance in 2021:
Kyle Pitts
Ja'Marr Chase
Jaylen Waddle
Penei Sewell
Jaycee Horn
Patrick Surtain II
DeVonta Smith
Justin Fields
Micah Parsons
Lance is 2-2 as an NFL starter and certainly showed some signs of his dual-threat ability, but also hasn't been able to stay healthy. San Francisco can gain $3.76 million in salary cap savings this year by trading Lance but has to do nothing for the time being unless it wants to open a roster spot before Week 1. The team could hang on to Lance and wait for another team to lose a QB to injury, thereby creating a position of leverage for San Francisco. The Niners were in a similar situation in October 2017 when they traded for Jimmy Garoppolo.
Could Lance go somewhere and start today? Almost surely not, especially this close to the start of the year. But Tampa Bay most likely doesn't have its QB of the future on the roster with Baker Mayfield (starter) and Kyle Trask. New England (Mac Jones current starter), Minnesota (Kirk Cousins), Washington (Sam Howell) and Atlanta (Desmond Ridder) may not, either. 
The Commanders are expected to give Howell every chance this year, though. And there's mega-touted QB prospect Caleb Williams waiting atop the 2024 draft for the worst of the worst team. Lance is from Minnesota, for what it's worth, and could replace Kirk Cousins at much cheaper price in 2024.
Via SportsLine oddsmakers: Which will be Trey Lance's next team?
Falcons +300
Vikings +350
Buccaneers +500
Rams +750
Commanders +1000
Patriots +1200
Titans +1500
Packers +1800
SportsLine's 2023 Fantasy Football Draft Bible has the best sleepers, breakouts, busts, rookie breakdowns, target analysis, rankings and so much more -- all in one place!