Ryan Jensen injury: Buccaneers' playoff chances drop nearly 5 percent via SportsLine Projection Model if Pro Bowl center lost for season
The Bucs are holding their breath on an injury to Pro Bowl center Ryan Jensen.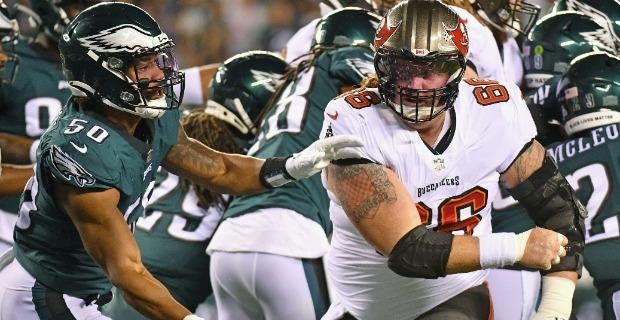 The Tampa Bay Buccaneers could be absolutely dominant offensively this season with Tom Brady under center, Mike Evans, Chris Godwin, Julio Jones and Russell Gage at receiver, and Leonard Fournette at running back. As good as that skill position group looks on paper, it won't matter if the offensive line struggles, and that unit might have taken a major hit Thursday when Pro Bowl center Ryan Jensen went down injured at camp. The SportsLine Projection Model has run a simulation on the 2022 Bucs without Jensen, and they are downgraded.
Jensen's lefty knee injury happened during a drill and resulted in the whole club gathering around Jensen – never a good sign. General Manager Jason Licht said the team might not have a diagnosis for a few days due to swelling.
Let's be clear that Jensen's injury could be nothing, but as CBS Sports' Pete Prisco tweeted: "He threw his helmet, which is not a good sign." And as ESPN's Jenna Laine tweeted: "Ryan Jensen absolutely doesn't like being carted off. Even if he's in significant pain, he will attempt to walk. It's telling that he can't."
The 31-year-old Jensen was named to his first Pro Bowl last year. He was one of three players selected for the Pro Bowl from Tampa Bay's offensive line after the Buccaneers allowed the fewest sacks in the NFL in 2021 and led the league in passing yards.
Jensen surrendered only two sacks in both the 2021 regular season and playoffs combined and produced a 93.1 percent pass block win rate from the center position -- regular season and playoffs combined -- the past two years while protecting Brady. Not only did Jensen start all 71 games over the past four seasons -- including the playoffs -- since signing as an unrestricted free agent in 2018, but he was on the field for 98 percent of the team's offensive snaps in that span.
Jensen was considered the top free agent on the market this winter but took what was considered to be a below-market three-year deal to return once Brady cut his retirement short. In fact, Jensen re-signed literally the day after Brady announced his comeback. While Brady is a legendary quarterback, his one perceived weakness is a pass rush coming right up the middle at him. A good center like Jensen is the key to addressing that.
The SportsLine Projection Model drops the Bucs from 10.4 wins to 10.1 if Jensen misses the full season. Their playoff chances fall from 82.1 percent to 77.6 percent, and their title chances from 10.5 percent to 8.7 percent – that latter number converts to about +1050 to win Super Bowl 57. Caesars Sportsbook still lists the Bucs at +750. There are only a few offensive linemen in the NFL that would force a book to change futures odds if they got hurt. 
| | | | | | | |
| --- | --- | --- | --- | --- | --- | --- |
| TAMPA BAY               | WIN     | WIN%        | DIVISION       | PLAYOFF     | CONF     | CHAMP |
| w/ Ryan Jensen | 10.4 | 61.20% | 64.20% | 82.10% | 19.80% | 10.50% |
| w/o Jensen | 10.1 | 59.40% | 58.70% | 77.60% | 16.90% | 8.70% |
| Difference | -0.3 | -1.80% | -5.50% | -4.50% | -2.90% | -1.80% |
Looking for the best picks against the spread, sharp plays on the total, and props you can take straight to the pay window? Join Jonathan Coachman on the Early Edge as he speaks with SportsLine's top handicappers to preview the day's biggest games. We promise to keep it short, sweet and to put some green in your pocket. Early Edge is in your feed every single day by 11 a.m. ET. Subscribe right here on YouTube to watch daily, plus don't miss the Early Edge specials and live shows!