NFL Trade Deadline Stephon Gilmore odds: Would Patriots really deal away 2019 NFL Defensive Player of the Year?
Could the struggling Patriots trade star defensive back Stephon Gilmore with a year left on his contract?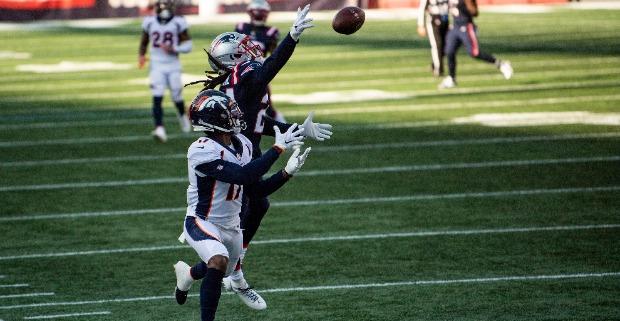 Last season, New England's Stephon Gilmore was named the NFL Defensive Player of the Year, the first-ever member of the Patriots to win that honor and first cornerback to do so since Charles Woodson in 2009 with the Green Bay Packers. However, if some reports are to be believed, Gilmore might not be with the Patriots much longer as the team is listening on trade talks. The 2020 NFL Trade Deadline is the afternoon of Nov. 3.
When Gilmore left Buffalo for New England in free agency before the 2017 season, the Pats handed him a five-year, $65 million deal that at the time was the among the richest ever for an NFL cornerback. However, that was since surpassed by a large amount so the team gave him a $5 million raise on the eve of this season instead of a new deal.
Gilmore was scheduled to earn a base salary of $10.5 million in 2020, but the club increased the salary to $15.5 million. It was a deserved raise as he tied for the league lead in 2019 with six picks, returning two for touchdowns, and his 20 passes defended tied his career high. He was also a Pro Bowler for the third time and first-team All-Pro for the second year in a row.
According to Spotrac, Gilmore's final year of his contract is 2021 has a cap hit of $17.2 million and a dead cap hit of $7.67 million. The Pats entering Week 8 are on their first three-game skid in 18 years and may want to get something for the 30-year-old before having to hand him another huge contract.
Gilmore has not been near as good in 2020 with 20 tackles, two passes defensed and a pick. He tested positive for COVID-19 early in October but didn't end up missing a game.  Gilmore's current overall score of 61.0 by Pro Football Focus is his lowest since 2013.
The Patriots also at least tested the market with other teams during the draft and in camp on potentially trading Gilmore. They are pretty deep at cornerback with the likes of Jason McCourty, JC Jackson, Jonathan Jones and JoeJuan Williams.
"They absolutely did have conversations with other teams about dealing Stephon Gilmore," Albert Breer of the MMQB said recently on Patriots Pregame Live. "If you're not going to compete for a championship, which I think is always going to be the bar here as long as Bill Belichick is here, see what you can get for someone like Stephon Gilmore. Because I think chances are he's not going to be on the team in 2021. They had to move some money 2021 to '20 to make him happy this year. He'll want another raise next year, so I think when they did make that move to move the money up, it was an acknowledgment that he might not be around next year."
Breer speculated that the Pats couldn't get a first-round pick for Gilmore but perhaps a second or a third. Before last year's trade deadline, the Jaguars sent All-Pro cornerback Jalen Ramsey to the Los Angeles Rams for two first-round picks. Ramsey is four years younger, though.
Still, it's hard to imagine Bill Belichick essentially admitting defeat and waiving the white flag on 2020 by dealing Gilmore before Tuesday. Then again, if the Pats lose again this Sunday in Buffalo as 3.5-point underdogs on the NFL odds, Belichick's thinking could change.  
Pretty much every playoff-hopeful team would have some interest, but the Detroit Lions make a ton of sense considering the Lions head coach is former Pats defensive coordinator Matt Patricia. Detroit already made one trade, landing defensive end Everson Griffen from Dallas. The Miami Dolphins also are coached by a former Pats DC in Brian Flores, but it's not likely the Pats would deal Gilmore inside the AFC East.
Via SportsLine oddsmakers: Will the Patriots trade Stephon Gilmore by the Nov. 3 Trade Deadline?
So which teams should you back in Week 8 of the 2020 NFL season? And which Super Bowl contender goes down HARD? ... Join SportsLine right now to see who wins and covers every single NFL game this week, plus get the exact final score, all from the acclaimed model that has returned over $7,300 on its top-rated NFL picks!