Mitchell Trubisky next team odds: Commanders, Giants, Panthers, Broncos, Steelers favored to sign former NFL No. 2 overall pick
Where will former No. 2 overall pick Mitchell Trubisky land this offseason?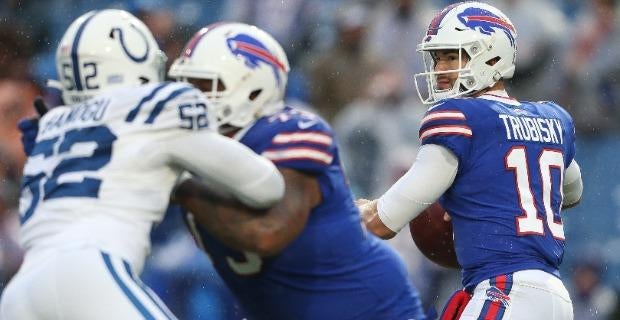 NFL teams can officially free agents March 16, but we are going to learn where many bigger-name guys are going March 14. I'm not sure if former Bears and Bills quarterback Mitchell Trubisky qualifies as a bigger-name player, but he has been trending all week on social media because there's obviously some talent there as the former No. 2 overall pick in the draft. The biggest "buzz" at the NFL Combine this week wasn't on the QBs there but instead Trubisky and where he will sign. SportsLine offers odds on his 2022 team.
"I've talked to more NFL teams this week about Mitchell Trubisky than the '22 QB class. I think that says a lot," Matt Miller, ESPN NFL draft analyst, tweeted on Tuesday.   
Yes, the Bears obviously blew it big time by trading up from No. 3 to No. 2 in the 2017 draft to take the raw Trubisky out of North Carolina when they could have stayed put and had Patrick Mahomes or Deshaun Watson. It was a career-defining mistake for general manager Ryan Pace, which is why he's no longer the GM of the Bears.
Are you aware, though, that among quarterbacks with at least 1,000 pass attempts since 2018 that Trubisky's winning percentage of .658 is fourth best in the NFL? Only Mahomes (.790), Lamar Jackson (.755) and Aaron Rodgers (.711) have been better. Here's another wild if meaningless stat: Nearly 200 quarterbacks have started at least 50 games in the NFL since 1950. Just one has never thrown a pick-six in his career: Trubisky.
Trubisky was a Pro Bowler in 2018 when he completed 66.6 percent of his passes for 3,223 yards, 24 TDs and 12 picks while rushing for 421 yards and three scores. The Bears won the NFC North and should have won in the wild-card game vs. Philadelphia if not for Cody Parkey's double-doink. The problem is Trubisky regressed from that point forward, but so did the entire Chicago offense and most around the NFL believe that Trubisky was simply a product of bad coaching by Matt Nagy, which is why neither is no longer in Chicago.
This past season, Trubisky sat and learned behind one of the NFL's best dual-threat quarterbacks in Buffalo's Josh Allen. Trubisky often served as the scout-team QB and when asked whether Trubisky should still start in the NFL, Bills safety Jordan Poyer (who had to deal with Trubisky in those practices as the scout-team QB), said: "One thousand percent."
"I'm in a confident space right now," Trubisky recently told ESPN. "Going to Buffalo really opened my eyes. After being in Chicago for four years, there was only one way I knew how to do things. [Being] in Buffalo and [having] a different way of doing things, you learn what's possible. It helped me get back to instinctual football and using my talents rather than overthinking."
Bills general manager Brandon Beane has expressed interest in bringing Trubisky back but admitted that another team will sign him with a chance to possibly start.
New York Giants ownership and new coach Brian Daboll have said all the right things about Daniel Jones as their 2022 starter but bringing in Trubisky as competition would make logical sense because Daboll was his OC in Buffalo. Daboll also hired Shea Tierney as quarterbacks coach, and he was the assistant QB coach in Buffalo last year. New York's new GM is Joe Schoen, who also came from the Bills. Note that Jones has turned the ball over 12 more times career than Trubisky in three fewer games played.
Trubisky could have an immediate path to starting with the Commanders, Panthers and Broncos. He wouldn't be a Day 1 starter in Cleveland, but Baker Mayfield hasn't exactly been great at times and was very banged up last season. For what it's worth, the previous Browns front office reportedly had Trubisky rated No. 1 in their 2017 QB class, ahead of Mahomes and Watson. Cleveland took Myles Garrett at No. 1 in 2017.
The Colts likely are moving on from Carson Wentz; is Trubisky an upgrade? He would seem to be an upgrade in Pittsburgh on Mason Rudolph. New Orleans may or may not re-sign Jameis Winston. Coach Sean Payton stepping away muddled that team's plans. Tampa Bay needs a Tom Brady replacement … unless Brady unretires.
Potential trades of the 49ers' Jimmy Garoppolo, Packers' Aaron Rodgers and Seahawks' Russell Wilson also would affect Trubisky's market – although it's now looking as if the latter two will stay put. Some teams on this list will take a QB in the first round of the 2022 draft, but Trubisky could serve as a bridge QB.
Via SportsLine oddsmakers: Which team will Mitchell Trubisky sign with?
Commanders +300
Giants +400
Panthers +500
Broncos +600
Steelers +700
Colts +800
Saints +900
Browns +1000
Bucs +1100
Seahawks +1500
Looking for the best picks against the spread, sharp plays on the total, and props you can take straight to the pay window? Join Jonathan Coachman on the Early Edge as he speaks with SportsLine's top handicappers to preview the day's biggest games. We promise to keep it short, sweet and to put some green in your pocket. Early Edge is in your feed every single day by 11 a.m. ET. Subscribe right here on YouTube to watch daily, plus don't miss the Early Edge specials and live shows!