Joe Burrow out for season odds fallout: Bengals now playoff afterthoughts; Steelers could benefit most
Bengals quarterback Joe Burrow will not play again this season due to a wrist injury.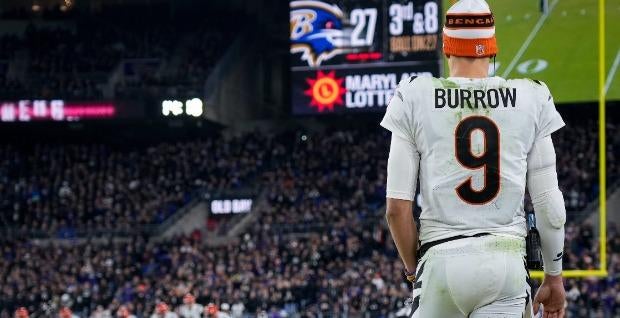 Devastating news has emerged for the Cincinnati Bengals and the NFL overall as quarterback Joe Burrow will miss the remainder of the season with a wrist injury suffered in Thursday night's loss in Baltimore, which Burrow was forced out if the second quarter. It's been a rough week for quarterbacks in Ohio, with Cleveland QB Deshaun Watson also done for the year with a shoulder inury. Needless to say, Cincinnati futures odds at the sportsbooks all dramatically dropped, and the SportsLine Projection Model has also downgraded the Bengals.
Cincinnati was almost surely not going to capture its third straight AFC North crown after Thursday's 34-20 loss -- it is now 0-3 in divisional play and in last place at 5-5 -- but Burrow's injury is all but the finishing blow for the season. The Bengals were swept by the first-place Ravens, who lost star TE Mark Andrews to a season-ending injury Thursday as well.
Cincy's playoff chances dropped about 27% with Thursday's loss, and that was with Burrow theoretically being ready to play Week 12 vs. Pittsburgh. The SportsLine Projection Model had the Bengals' playoff chances at 38% overall post-game and down to 25% if Burrow only missed the next two just to give an idea of the sliding scale. Now? The Bengals make the postseason just 1.3% of the time.
The initial two-game forecast was in the wake of Bengals coach Zac Taylor announcing immediately after the game that Burrow's injury was a sprained wrist. Taylor announced today that the star QB has a torn ligament that will likely require surgery. The NFL was already investigating the team's reporting of Burrow's injury status in the lead-up to Thursday's game because the Bengals had posted a video on Twitter on Wednesday night of Burrow getting off the team bus wearing a medical device on his right hand. They later deleted the post. Burrow was not listed on the injury report. 
Every sportsbook is recalculating with this surprising news, but Cincinnati did shift from +3000 to +10000 to win Super Bowl 58 and it is now +4500 to win the North at DraftKings. For perspective, Denver (4-5) is last in the AFC West and three games behind first-place Kansas City but is +3500 to win that division – about the closest approximation. Houston now has shorter odds to win the Super Bowl at +8000. So does Minnesota (+9000) even though it lost starting QB Kirk Cousins to a season-ending injury a couple of weeks ago, and Cousins was having a much better season than Burrow was.
Journeyman Jake Browning, 27, saw his first meaningful career regular-season action (he had attempted one previous pass in a game) in relief of Burrow on Thursday and completed 8-of-14 for 68 yards and a touchdown – that looks decent on paper, but the TD was in garbage time. Presumably, Browning will be the starter going forward, but Cincinnati almost has to add a veteran. Cleveland is working out Joe Flacco this week in the wake of Watson's injury and probably signs him just to keep away from its divisional rival.
Since Taylor took over as Bengals coach, they are 34-24-1 with Burrow as the starting QB, averaging 24.4 points and 347.1 yards per game -- that includes when Burrow was a bit inconsistent as a rookie before tearing his ACL. The Heisman winner has been one of the league's top QBs over the past two seasons. Without Burrow, Cincinnati is 4-19 under Taylor, averaging 17.1 PPG and 303.3 YPG.
Pre-Burrow, the Bengals were 5-14 all-time in the playoffs, 0-7 on the road and had made two conference title games. With Burrow, they are 5-2 in the postseason, 3-1 on the road and made back-to-back AFC title games and one Super Bowl.
Other than Week 14 vs. Indianapolis, the Bengals' remaining schedule is all playoff contenders. 
Pittsburgh truly finds itself in excellent position here because it still has two games remaining vs. Cincinnati. The Steelers already caught a major break with Watson ruled out because they are in Cleveland on Sunday. In fact, Pittsburgh is slated to face just two true starting quarterbacks -- Kyler Murray and Mac Jones -- over its next six games. Needless to say, New England hasn't exactly looked dangerous with Jones at the helm.
| | | | | | | |
| --- | --- | --- | --- | --- | --- | --- |
| CINCINNATI | WINS | WIN% | DIVISION | PLAYOFF | AFC NORTH | CHAMP |
| Burrow Healthy | 9.2 | 54.10% | 2.40% | 37.60% | 3.60% | 1.70% |
| Burrow Out For Season | 6.8 | 40.00% | 0.10% | 1.30% | 0.00% | 0.00% |
| Difference | -2.4 | -14.10% | -2.30% | -36.30% | -3.60% | -1.70% |
Looking for even more Black Friday deals? Fashion, beauty, sports fan gear, fitness equipment, furniture, appliances, mattresses, toys – no matter the category, our friends at ET, CBS Sports, and CBS News have your holiday shopping needs covered.