Falcons 2021 NFL Draft odds: Atlanta reportedly has settled on Kyle Pitts, who would make tight end history as No. 4 overall pick
According to reports, the Atlanta Falcons will take Florida tight end Kyle Pitts with the No. 4 overall pick tonight.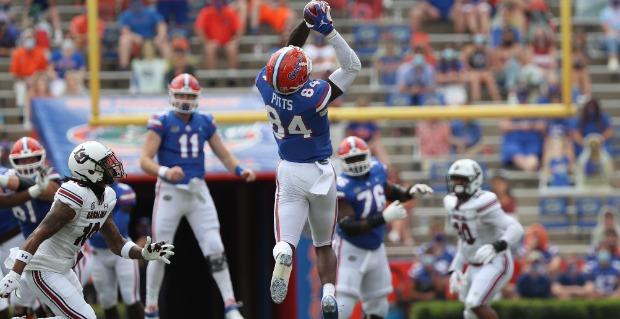 The first round of the 2021 NFL Draft begins at 8 p.m. ET from Cleveland and will be televised by ABC, ESPN and the NFL Network. Quarterbacks are going in the first three picks and have never gone in the first four. Apparently, that will not happen tonight, either, as there are reports that Atlanta Falcons will take Florida tight end Kyle Pitts at No. 4 overall barring a massive offer to trade down. Pitts is the -320 favorite at William Hill Sportsbook to be the first non-quarterback off the board.
ESPN's Jeremy Fowler and Dan Graziano are reporting that "Falcons owner Arthur Blank was pushing, early in the process, for the team to draft a quarterback, on the premise that teams don't often get to pick this high in a draft with so many good quarterback prospects. But coach Arthur Smith and new general manager Terry Fontenot would prefer to try to build a winning team in the short term around Matt Ryan, and Blank ultimately decided he wouldn't overrule the two guys he just hired to make these decisions for him. … So while obviously things could change if San Francisco pulls a surprise at No. 3 or if someone offers the Falcons a major haul to move up to No. 4, Atlanta is expected to stay put and take Pitts."
Pitts was unstoppable last year for the Gators, had a spectacular Pro Day and probably will not be limited to just the tight end position in the NFL – he could be a Fantasy Football superstar if he qualifies at both tight end and receiver. At 6-foot-6, 245 pounds, Pitts has drawn some comparison to former Detroit Lions wideout and Hall of Famer Calvin Johnson. Pitts runs a 4.44 in the 40-yard dash, has a 33.5-inch vertical and hit 22 reps on 225 pounds.
NFL.com gives Pitts a grade of 7.19, which equates to Pro Bowl talent. From a tight end perspective, he is given a comp of the Raiders' Darren Waller, who had 107 catches for 1,196 yards and nine scores in 2020 and is at worst the third-best tight end in the NFL behind Kansas City's Travis Kelce and San Francisco's George Kittle.
Pitts is given an Over/Under draft position at William Hill of 5.5, but the Under is a heavy -300 favorite. The favored position of the player drafted with Atlanta's first pick is tight end at -250, with quarterback next at +300.
There have been 56 tight ends selected in Round 1 since 1967, the year of the first common draft. The highest was Riley Odoms at No. 5 overall in 1972 to Denver. Thus, Pitts would make history at his position. No tight ends went in Round 1 last year, but TJ Hockenson was picked No. 8 in 2019 by Detroit and has become a good player.
Atlanta hasn't picked a tight end anywhere since Eric Saubert out of Drake in the fifth round four years ago. He has done nothing in the NFL. The Falcons have taken tight end in Round 1 once: Junior Miller at No. 7 overall in 1984 out of Nebraska. He made two Pro Bowls. 
Who wins the 2021 Kentucky Derby? And which massive long shot is a must-back? Join SportsLine right now to get Jody Demling's Kentucky Derby winner, see which huge long shot contends, and get the finish positions for every single horse, all from the expert who's nailed nine Derby-Oaks doubles!