Earl Thomas free agency odds: Where the Pro Bowl safety lands for the 2020 NFL season
Pro Bowl safety Earl Thomas suddenly is on the free-agent market. Which team will sign him? Previous possible suitors like the Falcons and 49ers have said they aren't interested.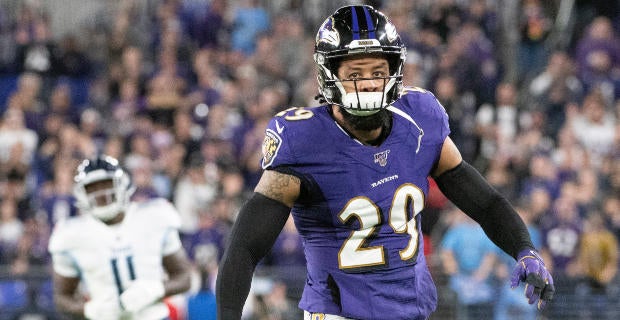 It's definitely not every day that a Hall of Fame-caliber player in his prime (or close to so) hits the open market in the NFL less than three weeks before a season is to start, but that's what happened over the weekend when the Baltimore Ravens released seven-time Pro Bowl safety Earl Thomas. The 31-year-old fought teammate Chuck Clark at practice Friday, and the team cut Thomas for conduct detrimental to the team.
Thomas was the No. 14 overall pick in the 2010 draft by the Seattle Seahawks out of the University of Texas and became an anchor of that legendary Legion of Boom secondary in Seattle that helped the team reach two Super Bowls and win one (it should have been two titles but not for the worst offensive play-call in league history vs. New England, but that's for another day).
However, Thomas had worn out his welcome in Seattle by the 2018 campaign and was nearly traded during it before suffering a season-ending injury. When leaving the field on a cart after that injury, Thomas flashed the middle finger toward his head coach, Pete Carroll.
In free agency before the 2019 season, Thomas initially agreed to a one-year, $12 million contract with the Chiefs before the Ravens swooped in with a four-year deal worth $55 million and $32 million in guaranteed money.
In 15 games last season, Thomas had 49 tackles, two sacks, two interceptions, a forced fumble, and fumble recovery in being named to a seventh Pro Bowl. Why would the Ravens cut such a productive player simply for an on-field fight? There reportedly were other issues with Thomas, including missing or being late to several meetings.
But even though Thomas has now worn out his welcome at two of the NFL's most respected organizations, there will be a robust market for him. Despite being without a team currently, William Hill sportsbook does offer Thomas at +10000 to win NFL Defensive Player of the Year.
The Dallas Cowboys are the clear-cut favorites to sign Thomas, who grew up in Orange, Texas, as Cowboys fan and was nearly traded there in 2018. Dallas had offered Seattle a second-round pick for Thomas, but the Seahawks wanted more. In addition, following a Seattle win at AT&T Stadium in Week 16 of the 2017 season, Thomas attempted to enter Cowboys locker room and told then-Dallas coach Jason Garrett, "If y'all have the chance, come get me."
Afterward, Thomas explained as such: "When Seattle kicks me to the curb, please, the Cowboys, come get me. You know? This is the place where I want to be when they kick me to the curb."
Per overthecap.com, the Cowboys have nearly $15 million of space. They recently gained $3 million by releasing defensive tackle Gerald McCoy after he suffered a season-ending injury. Coach Mike McCarthy was asked about Thomas on Sunday and said: "We're very confident in where we are [with] the 80-man roster. ... I have nothing really to report." Sounds like a non-denial denial -- and it's not up to McCarthy but owner Jerry Jones, who loves to star hunt. Jones didn't close the door on Thomas. 
The San Francisco 49ers were expected to be a suitor. Thomas could reunite in the Niners' secondary with former Legion of Boom teammate and fellow future Hall of Famer Richard Sherman – plus, Thomas could potentially stick it to the NFC West-rival Seahawks twice this season. San Francisco has about $13 million in cap space. Coach Kyle Shanahan has said the team has no interest. 
Atlanta has around $8.5 million in cap space, and Thomas could have been reunited with his former Seattle defensive coordinator in Falcons head coach Dan Quinn – although Quinn might be on the hottest seat in the NFL in terms of job status. On Monday morning, Quinn said the Falcons wouldn't be bringing Thomas in because he feels good with the safeties he has. 
Might New England have interest? Bill Belichick is never averse to taking risks on players with checkered pasts, and he lost starting safety Patrick Chung to an opt-out. Belichick has spoken glowing of Thomas in the past, comparing him to Hall of Famer Ed Reed.
Some reports have mentioned the Houston Texans, with Thomas sharing an agent with star QB Deshaun Watson. Watson pushed the team to sign Thomas before the 2019 season, but Houston Chronicle Texans beat writer John McClain has tweeted the team wouldn't have interest. Beat writers have been wrong before. 
Thomas will not be returning to Seattle after he how burned that bridge, plus the Seahawks just traded two first-round picks to land a younger version of Thomas in former Jet Jamal Adams. The Philadelphia Eagles also were in the Adams sweepstakes and could go after Thomas as a fallback and keep him from the Cowboys. Philly might prefer a trade for Jaguars defensive end Yannick Ngakoue, however. 
The Cleveland Browns have the most salary-cap space in the NFL and Thomas would be an upgrade on starting safety Andrew Sendejo. Thomas might be giddy to get a chance to stick it to the Ravens twice this season too. In addition, rookie safety Grant Delpit, who was to start, suffered a season-ending injury in practice Monday. 
The Los Angeles Chargers seem set in the secondary, but current defensive coordinator Gus Bradley was Thomas' DC in Seattle from 2010-12. Quinn replaced Bradley when Bradley took the Jaguars' head coaching job. 
Via SportsLine NFL oddsmakers: Which team will Earl Thomas sign with?
Cowboys +150
Patriots +300

Browns +450
Texans +700
Chargers +900
Eagles +1000
WHICH 2020 FANTASY FOOTBALL SLEEPER SHOULD YOU SNATCH IN YOUR DRAFT? AND WHICH WR1 CANDIDATE CAN YOU WAIT ON UNTIL LATE? JOIN SPORTSLINE NOW TO GET 2020 FANTASY FOOTBALL CHEAT SHEETS FROM THE MODEL THAT WAS ALL OVER DERRICK HENRY'S HUGE SEASON, AND FIND OUT.