Dwayne Haskins trade odds: Steelers and Colts betting favorites to land Washington quarterback
Washington has reportedly made QB Dwayne Haskins available in trade. SportsLine has odds on where he could be dealt.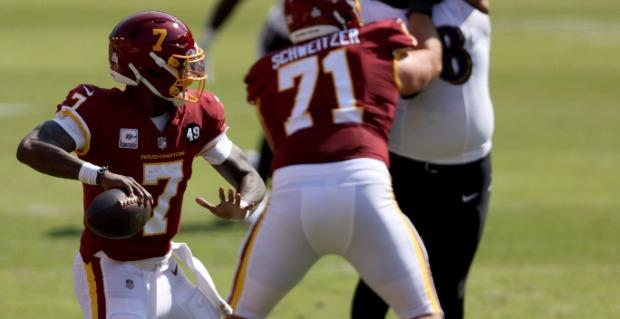 CBS Sports NFL Insider Jason LaCanfora reported on Sunday morning that recently-benched Washington Football Team quarterback Dwayne Haskins, the No. 15 overall pick in the 2019 NFL Draft, was likely to be dealt by the Nov. 3 Trade Deadline because he has fallen out of favor with the power brokers in that organization. Current coach/de facto general manager Ron Rivera had nothing to do with selecting Haskins. SportsLine oddsmakers have listed Haskins' potential landing spot.
La Canfora wrote in part that Haskins is "not a fit in their system, and his personality has rubbed them the wrong way since early on." Haskins, a Maryland native, was essentially drafted out of Ohio State by team owner Daniel Snyder because one of Snyder's sons went to high school with Haskins, who is 3-8 as an NFL starter.
That Rivera made Alex Smith the backup to Kyle Allen for this past Sunday's game over Haskins – who as it turned out wasn't even at the loss to Rams because he was told to stay home due to an illness (not COVID-19 – spoke volumes. Haskins hasn't been at practice yet this week for the same illness reason. That seems fishy. Allen will start this week again with Smith as the backup.
So where might Haskins land if he is dealt? Outspoken former Washington tight end Chris Cooley said on an area radio show this week of what the team might be able to get in trade: "You're not getting a second. I doubt you're getting a third. I doubt you're getting a conditional third. I think you start to entertain what comes up in the fourth." But: "He'll get traded. He'll absolutely get traded."
Let's rule out a few really bad teams like the New York Giants and Jets and Jacksonville for now. They all likely will take a quarterback very early in the 2020 Draft. Teams with promising young QBs who won't need Haskins include Arizona, Cincinnati, Cleveland, Miami, the LA Chargers and Denver.
Obviously, Kansas City and Baltimore don't need Haskins. Neither does Buffalo. Nor Dallas as long as Dak Prescott comes back 100 percent. It's highly doubtful Washington would even send Haskins to its bitter rival.
The Chicago Bears immediately come to mind because they won't get in the Top 10 of the draft. Mitchell Trubisky, the No. 2 overall pick in the 2017 draft, didn't have his fifth-year rookie option picked up and already has lost his starting job to Nick Foles, who most certainly isn't a long-term option. GM Ryan Pace has been very aggressive in the past. He gave up a fourth-round pick for Foles; isn't Haskins worth at least that type of risk?
Never rule out New England. Cam Newton has been a terrific fit so far but hasn't exactly been durable of late and isn't signed past this season. Indianapolis needs a long-term answer because Philip Rivers and/or Jacoby Brissett aren't it and neither is signed after this season. The Saints' Drew Brees is expected to retire after this year; does Sean Payton really love Taysom Hill that much? How about Jameis Winston?
Could Haskins be Ben Roethlisberger's eventual replacement in Pittsburgh? (Haskins would immediately be a better No. 2 than Mason Rudolph.) How about Kirk Cousins' eventual replacement in Minnesota? (Haskins would surely be a better No. 2 than Sean Mannion.) Matthew Stafford's in Detroit? Tom Brady's in Tampa? Matt Ryan's in Atlanta? Ryan may well be traded himself this offseason as the Falcons rebuild (they could take a QB with their first-round pick).
Washington could hang on to Haskins through the Nov. 3 Trade Deadline, but he seems likely to be gone this offseason if that's the case.
Via SportsLine NFL oddsmakers: If not Washington, which team will Dwayne Haskins be with Week 1 of the 2021 season?
Pittsburgh +300
Indianapolis +500
Chicago +700
Las Vegas +800
Atlanta +1000
New England +1200
Detroit +1500
Minnesota +1800
New Orleans +2000
So which teams should you back in Week 6 of the 2020 NFL season? And which Super Bowl contender goes down HARD? ... Join SportsLine right now to see who wins and covers every single NFL game this week, plus get the exact final score, all from the acclaimed model that has returned over $7,300 on its top-rated NFL picks!