Deshaun Watson trade odds: Vikings, Bucs may be high on Watson's list, but Panthers, Broncos, Eagles still favored landing spots
The NFL silly season has begun with a new report involving Deshaun Watson.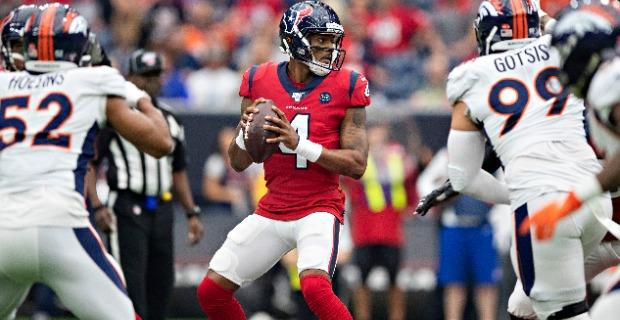 The NFL's silly season (i.e. trade and free-agent rumors) is upon us with Super Bowl 56 in the rearview mirror and really nothing much happening in the league until the new league year March 16 – although trades can be agreed to before then. ESPN's Jeremy Fowler is reporting that the Vikings and Buccaneers are now among the teams that Texans QB Deshaun Watson is interested in being traded to this offseason, but SportsLine oddsmakers still don't favor either of those clubs as Watson's next team.
No team is trading for Watson until all those civil lawsuits have been resolved in one way or another. Watson's deposition date is next Tuesday, so perhaps that's the start of the end of this whole saga. If it goes to trail, it wouldn't happen before early May. Most believe Watson will settle all 22 cases.
Watson was inactive the entire 2021 season and while there was a small chance that Watson might have been OK sticking with the Texans if Brian Flores was named coach, Lovie Smith got the job instead. Smith was asked about Watson's status recently and when he'd like to see resolution.
"As soon as possible, Smith said. "There are things that need to be taken care of before the football part comes into play."
Watson does have a no-trade clause and was reportedly close to being dealt with his approval to the Dolphins (then coached by Flores) at the 2021 Trade Deadline, but new Miami coach Mike McDaniel is all-in on current Fins QB Tua Tagovailoa: "My job is to coach you, to get all of that greatness out of you," McDaniel said on a call with Tua notably shared by the team on social media.
The Vikings also have a new head coach in Kevin O'Connell, and he is very "high" on current QB Kirk Cousins and has a great relationship with the QB as O'Connell served as Washington's quarterbacks coach in 2017, Cousins' final year with the team. Cousins has publicly praised O'Connell for helping him to develop in 2017.
Cousins has a $45 million cap hit for the 2020 season and a $35 million guaranteed salary. Houston will not be taking Cousins in any Watson trade. Caesars Sportsbook already opened 2022 NFL MVP odds and Watson is +7500 – Cousins is the same.
The Tampa Bay situation all comes down to how long the Bucs wait on whether Tom Brady changes his mind, and Brady already has not ruled out returning – he just may not want to with Tampa. The Bucs own the 27th overall pick in this year's draft, and that's not close to enough to get Watson. Tampa Bay has also been linked to the Seahawks' Russell Wilson. The Bucs may be looking at a rebuild with 22 free agents. 
Carolina, Denver and Philadelphia thus remain the favorites for Watson – the Broncos may target Aaron Rodgers first after hiring former Packers OC Nathaniel Hackett as head coach, but Rodgers is more likely than not to stay in Green Bay -- and all have a lot more draft capital than the Bucs, for example.
The Panthers pick sixth overall in the 2022 first round and Broncos ninth. Watson surely would be OK being traded to Carolina as he grew up in in Georgia and starred collegiately at Clemson. Houston surely would prefer to send him to the NFC.
The Eagles have three 2022 first-round picks: 15, 16 and 19. GM Howie Roseman has said that Jalen Hurts has done enough to be the team's starter in 2022, but Watson is clearly an upgrade.
The New York Giants have the fifth and seventh overall picks, but ownership already has declared Daniel Jones will be the 2022 starter. We are including the Cardinals only on the remote possibility of a blockbuster Kyler Murray for Watson trade.
Via SportsLine oddsmakers: Which roster will Deshaun Watson be on Week 1 of the 2022 season (if not Houston)?
Panthers +300
Broncos +400
Eagles +500
Commanders +600
Vikings +700
Steelers +1000
Bucs +1200
Saints +1500
Dolphins +1800
Cardinals +2000
Looking for the best picks against the spread, sharp plays on the total, and props you can take straight to the pay window? Join Jonathan Coachman on the Early Edge as he speaks with SportsLine's top handicappers to preview the day's biggest games. We promise to keep it short, sweet and to put some green in your pocket. Early Edge is in your feed every single day by 11 a.m. ET. Subscribe right here on YouTube to watch daily, plus don't miss the Early Edge specials and live shows!