2023 NFL Comeback Player of the Year odds: Jaguars receiver Calvin Ridley taking heaviest early action
Jaguars receiver Calvin Ridley has been cleared to play in the 2023 season.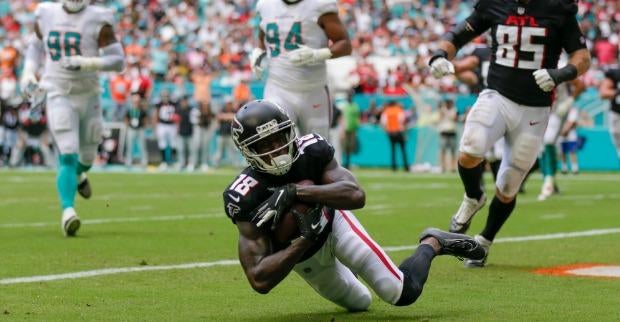 The Jacksonville Jaguars took a giant step forward in the 2022 NFL season, improving from three wins the year before to nine to claim the AFC South title and their first playoff birth since 2017. Trevor Lawrence was one of the NFL's best quarterbacks in the final few months and now adds former Pro Bowl receiver Calvin Ridley, who has made a bold prediciton for his 2023 campaign. Perhaps bettors at Caesars Sportsbook believe him, as Ridley is taking tons of early action to win Comeback Player of the Year.
It's easy to forget how good Ridley was as recently as 2020, when he was named second-team All-Pro with the Atlanta Falcons, catching 90 passes for 1,374 yards and nine touchdowns. However, in 2021 he was dealing with lingering injuries and depression, which prompted him to step away from the team after five games.
Ridley said that depression and essentially nothing else to do prompted him to start gambling on the NFL when he was away from the club's facility on the non-football illness list. Last March, he was suspended by the league indefinitely. He's now been reinstated and is eligible to participate in all team activities.
In a rather sneaky trade on Nov. 1, the Jaguars acquired Ridley from Atlanta for a 2023 fifth-round pick and a conditional fourth-round pick in 2024 that could rise as high as the second round if the Jaguars sign Ridley to an extension.
He could make the Jacksonville offense scary around Lawrence alongside fellow wideouts Christian Kirk (84 catches, 1,108 yards, eight TDs) and Zay Jones (82 catches, 823 yards, five TDs) and tight end Evan Engram (73 catches, 766  yards, four TDs), who was franchise-tagged this week by the team. As it was, the 2022 Jags finished 10th in the NFL in scoring (23.8 points per game) and total offense (357.4 yards), and that was with Lawrence struggling in the first half of the season.
Ridley recently posted a letter The Players' Tribune, which included this: "Right now, I feel stronger than I've ever felt -- mentally and physically. On the field, I'm flying. Believe me, I'm flying. That GPS band don't lie. On my daughter's name, if I'm healthy? With Trevor Lawrence? I'm giving Jacksonville 1,400 yards a season, period." 
Only five NFL receivers accumulated at least 1,400 yards last season.
Ridley opened at +3000 to win Comeback Player of the Year at Caesars, but is down to +2000 because he has taken 48.6% of the tickets and 42.8% of the handle among all wagers on that prop. One New Jersey bettor put down $500 on Ridley at +3000 for a potential win of $15,000.  
"There's no reason why Ridley can't put up big numbers," said Adam Pullen, Assistant Director of Trading at Caesars Sportsbook. "But is him breaking the rules something that voters will hold against him for a little while? Even if he does put up numbers, it's going to be hard for some people to pick him over a guy like Damar Hamlin or Trey Lance or someone else coming back from a major injury."
Hamlin, the Buffalo safety who collapsed on the field in Week 17 in Cincinnati and nearly died, is the +125 favorite. He's healthier now, but it's not clear if Hamlin will play again. 
So which 2023 Fantasy baseball busts, breakouts, and sleepers should you target or fade in your drafts? Visit SportsLine's Fantasy baseball cheat sheets now to get rankings for every single position, all from the model that called Joey Votto's disappointing season, and find out.