2020 NFL schedule release: Notable games and projected odds
There are 256 games in a usual NFL season, but we've narrowed it down to 10 intriguing matchups with the release of the 2020 schedule on Thursday.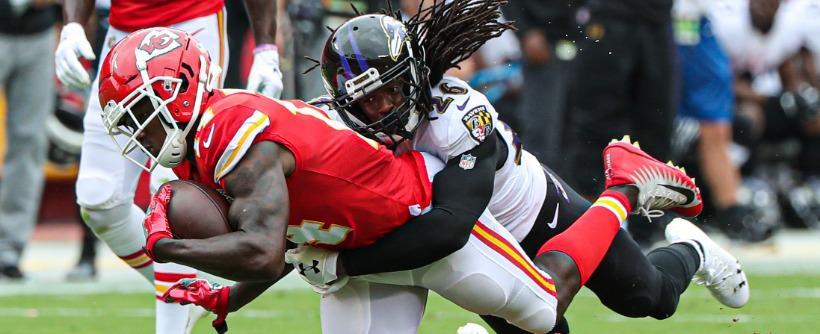 The 2020 schedule was released Thursday night, and this will be the last year where there are 256 games in the regular season as owners have approved a 17-game slate starting in 2021. Here's a look at 10 of the most interesting matchups this year, at least on paper, and projected spreads for each from SportsLine NFL oddsmakers. Also see Top 10 highlights from the season. 
Week 3 -- Chiefs at Ravens (-2):  Clearly the marquee game of the year and a potential if not likely AFC Championship Game preview. These also are the two Super Bowl favorites at William Hill sportsbook with the Chiefs at +400 on the moneyline odds to repeat and Ravens at +650. The two MVP favorites also face off in 2018 winner Patrick Mahomes of Kansas City and 2019 winner Lamar Jackson of Baltimore.
Interestingly, only two teams in the past five years have been given season win totals higher than 11, but both these clubs are set at 11.5. The Ravens have improved each year since 2015, going from five wins to eight to nine to 10 and then a league-high 14 in 2019. Baltimore's only road loss last year was 33-28 Week 3 in Kansas City. The Chiefs outscored the Ravens 23-0 in the second quarter and held on. Mahomes threw for 374 yards and three scores, while Jackson ran for one but was relatively quiet.
Week 13 -- Cowboys at Ravens (-7): Could be a Super Bowl 55 preview. The teams have met just five times in the regular season. The Ravens won the first four but lost in Dallas 27-17 in 2016. Many NFL experts believe these two franchises had the best drafts of any teams last month. Cowboys quarterback Dak Prescott is 6-9 straight up and 8-7 against the spread in his career as an away dog (including playoffs) with an average spread of 4.2 points.
Week 15 -- Chiefs at Saints (-1.5): A more likely Super Bowl 55 preview over Cowboys-Ravens. It's also the first time that Mahomes and Drew Brees will ever face off and potentially the last if they don't meet Feb. 7 in Tampa. Brees is expected to retire after this season. Brees is going to own every regular-season NFL passing record when he does hang them up, but Mahomes is already on pace – it's early, of course – to shatter them all. Mahomes is 5-0-1 ATS in his career as an underdog.
Week 12 -- Chiefs at Bucs (+2.5): The last time that Tom Brady and Mahomes ever face off? It surely will be in the regular season as Brady won't be playing in four more years when the Bucs and Chiefs would meet again. They had some very entertaining duels the past two years in the AFC, including the conference title game following the 2018 season. Brady is 34-17-1 ATS in his career as an underdog and 9-2 ATS as one at home.
Week 1 -- Dolphins at Patriots (-6): Speaking of Brady, Bill Belichick and New England begins life without the GOAT and presumably with second-year fourth-round pick Jarrett Stidham the guy trying to fill his shoes – at least for this season. Perhaps the Pats are really "Tanking for Trevor" by being lousy this season and selecting Clemson quarterback Trevor Lawrence atop the 2021 NFL Draft.
This will be the Pats' first game without Brady as a starter since Week 4 of the 2016 season. That was the last game of Brady's four-game Deflategate suspension and New England lost 16-0 at home to Buffalo with Jacoby Brissett under center. This also could be Tua Tagovailoa's NFL debut for Miami, but most believe he will start the year on the bench.
WHO COVERS EVERY NFL GAME? JOIN SPORTSLINE NOW TO GET PICKS FROM AN ADVANCED COMPUTER MODEL THAT'S UP MORE THAN $7,000 ON ITS TOP-RATED PICKS AND HAS NEVER HAD A LOSING SEASON!  
Week 2 – Saints at Raiders (+5): The first-ever NFL game that counts in the city of Las Vegas (who knows if there will actually be preseason games this year). I'd be willing to bet no location gets more fans backing the visiting team; if you are going to one road game per season as a fan of the Steelers or Packers, whatever, aren't you going to Las Vegas? Could be a bit of a trap game for the Saints already after hosting Tom Brady and the Bucs in Week 1.
Week 9 -- Packers at 49ers (-6.5): Rematch of last season's NFC Championship Game won by the 49ers 37-20 despite just 77 yards passing from Jimmy Garoppolo. Raheem Mostert rushed for 220 yards and four touchdowns in one of the great playoff performances ever. Green Bay also was crushed at Levi's Stadium 37-8 in Week 12 when Aaron Rodgers, who is from the San Francisco area, had one of the worst games of his Hall of Fame career in throwing for just 104 yards on 33 attempts.
Week 10 -- 49ers at Saints (-2): These are the two NFC favorites with the Niners at +325 to repeat as conference champions and the Saints at +550. New Orleans might have had the No. 1 overall seed in last year's NFC playoffs instead of the No. 3, but it couldn't hold a 46-45 lead in the final minute at home vs. the 49ers in Week 14. San Francisco won 48-46 on a Robbie Gould field goal as time expired in maybe the most entertaining game of 2019. Jimmy Garoppolo threw for 349 yards and four scores, while Drew Brees threw for 349 and five TDs.
Week 6 -- Packers at Bucs (-2.5): Just the third-ever matchup between Tom Brady and Aaron Rodgers. Each has a home win against the other. "It will be strange to not see him in a Patriot jersey," Rodgers said this offseason of Brady's move to the NFC. "We played them a couple of years ago (2018) and thought that was probably the last time we'd play each other. Now, we get another chance." Brady and Rodgers have combined to win five NFL MVP Awards.
Week 12 -- Seahawks at Eagles (-3): Rematch of last season's Wild-Card Round game in Philadelphia, which Seattle won 17-9 as a 1-point underdog. Jadeveon Clowney – who is still out there in free agency – knocked out Carson Wentz in the first quarter with a dirty helmet-to-helmet hit (Clowney wasn't even flagged), and Wentz wasn't able to return. If Clowney was to re-sign with Seattle, that would add even more spice for this matchup. Seattle is on a six-game straight up and ATS winning streak vs. Philadelphia including playoffs. 
Which teams sail past their projected win totals? What is the SportsLine model's stunning Packers prediction? And how many wins will every NFL team have this season? ... See every projected win total, including the shocking prediction for the Packers, all from an uncanny computer model that crushed its NFL win total picks last year!