Next Phoenix Suns head coach odds: Nick Nurse favored over fellow finalists Kevin Young, Doc Rivers, Jordi Fernandez
The Phoenix Suns have narrowed their coaching search to four names.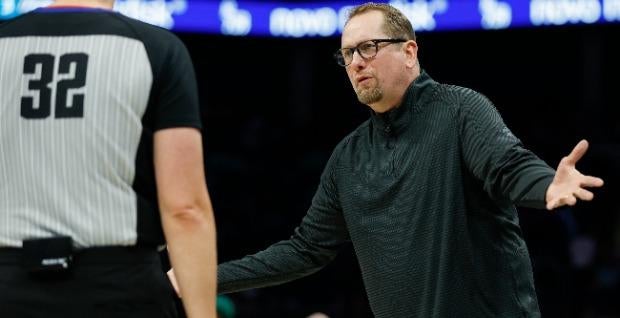 The Phoenix Suns head coaching job comes with immediate championship expectations thanks to the presence of Kevin Durant and Devin Booker, even after the Suns flamed out in Round 2 this postseason against Denver and fired coach Monty Williams. The Suns are reportedly down to four finalists to replace Williams, and SportsLine oddsmakers favor former Toronto Raptors coach Nick Nurse as the leading candidate over Doc Rivers, Kevin Young and Jordi Fernandez.
If the Suns want Nurse, who led Toronto to the NBA title in 2019, they'd better act fast, as the Milwaukee Bucks also are looking at him for their opening. Overall, Nurse went 277-163 in five seasons with Toronto and was the NBA Coach of the Year in 2019. Nurse had the best winning percentage in team history (.582), made three playoff appearances, won two Atlantic Division titles, an Eastern Conference title and that NBA title. He is known to grind heavy minutes out of his players, much like the Knicks' Tom Thibodeau.
Philadelphia fired Rivers after it blew a 3-2 series lead in the Eastern Conference semifinals vs. Boston. Rivers has had 16 straight winning seasons as a head coach and had a 154-82 (.653) record in his three seasons with Philly, including 54 victories in 2022-23 -- the franchise's most since 2000-01. Rivers does have a terrible postseason record in elimination games and has just one title, won in 2008 with Boston, despite landing in some cushy situations since then.
Nurse and Rivers would cost a lot salary-wise, not that billionaire new Suns owner Mat Ishiba likely cares, while current assistants Young and Fernandez would come much cheaper. If the Suns want to keep largely the status quo, Young will be the pick. He coached for eight years in the G League and previously interviewed for head coaching jobs with the 76ers, Utah Jazz and Washington Wizards in recent seasons.
Young was moved up to associate head coach in Phoenix when Willie Green took the head coaching job in New Orleans in 2021. NBA teams typically interview a coach on the staff for a vacant head coaching position, but Young has drawn the praise of Booker.
Fernandez, a native of Spain, spent this season as the associate head coach with the Sacramento Kings under NBA Coach of the Year Mike Brown. Fernandez previously spent six seasons as an assistant under Mike Malone in Denver.
Via SportsLine oddsmakers: Who will be the Suns' next head coach?
Nick Nurse: Even
Kevin Young: +200
Doc Rivers: +500
Jordi Fernandez: +1000
Get more out of your SportsLine subscription! 

Qualifying SportsLine members receive a 30-day free trial of Paramount+ premium. Sync your account right here.