Treylon Burks Fantasy NFL Draft Profile: An analytical look of the Tennessee Titans receiver for 2022 and beyond
Fantasy analyst Jacob Gibbs provides an in-depth breakdown of Arkansas WR Treylon Burks' outlook for both 2022 and Dynasty.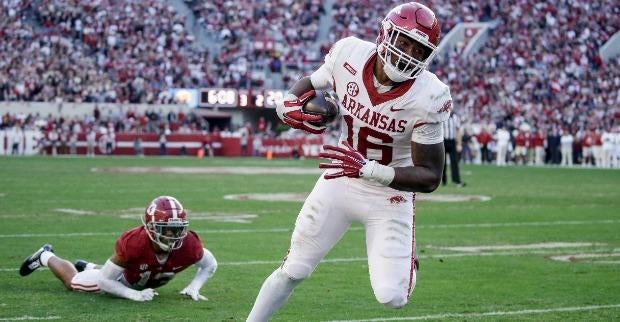 Even in a wide receiver class full of one-year wonders and players with injury concerns, Treylon Burks stands out as bringing an especially wide range of outcomes. Burks was a remarkably efficient playmaker in his final two seasons with the Arkansas Razorbacks, but his backfield usage and route tree raise some questions as to how his game will translate at the NFL level.
While Burks doesn't have a large sample of NFL-level routes to draw conclusions from, the efficiency at which he converted when given those opportunities is hard not to get excited about. The advanced analytics behind his 2020 and 2021 seasons are attention-grabbing. Will his efficiency as a catch-and-run creator translate with a different route tree at the NFL level?
SportsLine's Fantasy analyst Jacob Gibbs provides a data-driven deep dive to answer that question and address anything that stood out from his advanced statistical profile. These player profiles are just a small part of the advanced analytical prep Gibbs is providing for SportsLine users heading into the 2022 Fantasy football season -- if you want an easy way to keep up with all of the information that will be published this spring and summer, SportsLine's 2022 Fantasy Bible (coming soon!) will be updated with links to each article as they go live.
So what can you expect from Treylon Burks in 2022 and beyond ... Join SportsLine right now to see the full fantasy profile from Fantasy analyst Jacob Gibbs!
GET VEGAS EXPERT PICKS FOR NFL, MLB, NBA, CBB, GOLF, NHL, HORSE RACING AND MORE - PLUS ADVANCED COMPUTER SIMULATIONS, WINNING TOOLS, AND MORE!
JOIN NOW