2022 SportsLine NCAA Tournament Upset Bracket Full of Surprises
SportsLine simulated every possible matchup 10,000 times and the team that won over half the simulations was selected to advance. In order to "simulate the madness," we also assumed that the Nos. 3-6 seeds with the lowest win percentage when compared to other teams of the same seed would be upset. With this approach, we've nailed 17 double-digit seed upsets in the first round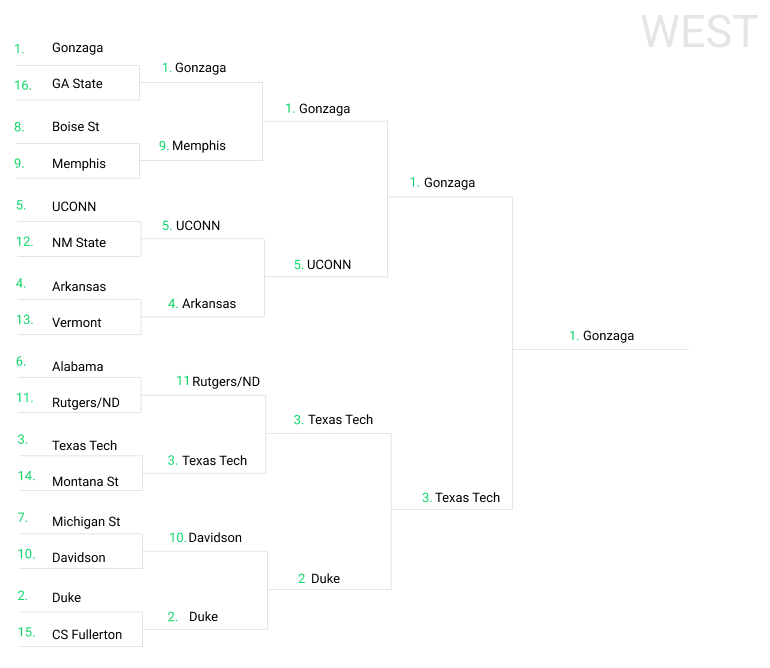 WEST REGION UPSETS: No. 10 Davidson beats No. 7 Michigan State in the first round. No. 3 Texas Tech reaches the Elite Eight after upsetting No. 2 Duke. Pick No. 9 Memphis over No. 8 Boise State in the critical 8-9 first-round matchup. No. 6 Alabama, which beat overall 1-seed Gonzaga by nine this season, falls to the winner of the First Four game between Rutgers and Notre Dame.
Get every pick, every play, every upset and fill out the rest of your bracket with our help! ... Join SportsLine here to see which No. 11 seed and No. 5 seed make the Final Four, plus which 12- and 10-seeds are a MUST-BACK, all from the model that's nailed 17 double-digit seed upsets in the first round!
GET VEGAS EXPERT PICKS FOR NFL, MLB, NBA, CBB, GOLF, NHL, HORSE RACING AND MORE - PLUS ADVANCED COMPUTER SIMULATIONS, WINNING TOOLS, AND MORE!
JOIN NOW