Next Texas A&M coach odds: Jeff Traylor, Mike Elko, Kalen DeBoer favored; Deion Sanders, Urban Meyer longshots to replace fired Jimbo Fisher
One of the most unique jobs in college football has come open with Texas A&M firing Jimbo Fisher.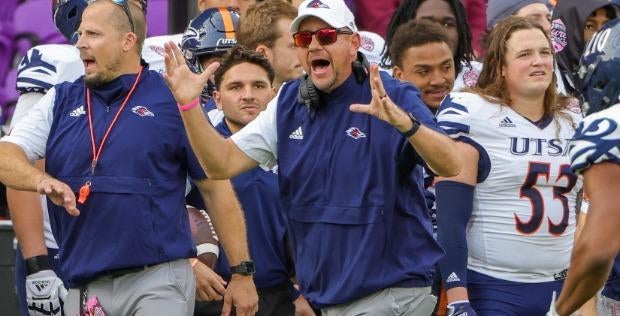 So as it turns out, both head coaches were fired in the wake of Texas A&M's 51-10 home blowout win against Mississippi State on Saturday. The Aggies canned Jimbo Fisher on Sunday despite a record $76 million contract buyout, and MSU fired coach Zach Arnett on Monday after just 11 total games in charge. We'll deal with some Bulldogs candidates at a future date, but SportsLine offers odds on the next full-time A&M head coach.
Texas A&M prints money thanks to its oil-rich boosters, but a $76 million buyout is going to be felt and may limit what the school can pay to another coach to get out of his contract and come to College Station. For example, one major rumored candidate that the school will chase is Oregon's Dan Lanning, but his contract includes a $20 million buyout. Combined with assistant buyouts and new staff hires, the total price for Texas A&M could exceed $150 million.
That the school gave Fisher a new 10-year contract with $95 million guaranteed in 2021 will go down as one of the worst decisions in college football coaching history and was motivated in part because of the potential at the time of Fisher leaving for LSU – Brian Kelly got that job. Fisher was 45-25 in six seasons at Texas A&M. Another reason why the school might have done this now? Bitter rival Texas enters the SEC next season, and you know A&M doesn't want to fall further behind the Longhorns now that they will start playing again.
Fisher had no ties to Texas when hired and by most accounts didn't really fit in. That would not be the case for the two co-favorites to replace him in UTSA's Jeff Traylor and Duke's Mike Elko. The latter is about as Texas-centric as coach can get. The East Texas native got his start at Gilmer High, leading it to three state championships and two runner-up finishes while winning Texas high school coach of the year honors four times.
Traylor has led UTSA to back-to-back Conference USA titles, winning league coach of the year honors in 2021 and 2022. The Roadrunners are now in the AAC and are tied for first in the league. There's no question Traylor would jump at the job, whereas not everyone on the below list would. His buyout is $7 million.
Elko was a former defensive coordinator under Fisher at Texas A&M, which propelled him to the top job at Duke. The Blue Devils have lost four of six but also have been dealing with a lot of injuries, led by star quarterback Riley Leonard. Would A&M want a coach with ties to Fisher? Elko's buyout is only $5 million, chump change for A&M.
Kalen DeBoer has unbeaten Washington poised to potentially win the Pac-12 title and reach the College Football Playoff. DeBoer is an offensive-minded coach like Fisher who has turned QB Michael Penix Jr. into a top Heisman contender. The Huskies are 21-2 in DeBoer's two seasons. He doesn't have any ties to Texas and neither does Oregon's Lanning – although Lanning does have SEC roots. Would either really leave now that their programs are headed to the Big Ten?
Lane Kiffin seems to come up for every SEC job and manages to make Ole Miss pay him more money to stay – he makes around $9 million now and it's not clear what his buyout might be. Kiffin would definitely bring a level of visibility that some of these other coaches would not.
Florida State's administration has made no secret it might want to leave the ACC; maybe coach Mike Norvell feels the same way after this season with FSU on track to reach the playoff. Would A&M really go the Florida State route again? Penn State's James Franklin can't beat Michigan or Ohio State and might be ready for a new challenge.
Aggies fans would be beside themselves with happiness if the school could lure Urban Meyer or Deion Sanders, but Meyer seems content to stay on TV and Sanders isn't leaving Colorado while his sons are playing there. 
Via SportsLine oddsmakers: Who will be the next full-time Texas A&M football coach?
Jeff Traylor +300
Mike Elko +300
Kalen DeBoer +500
Dan Lanning +600
Eli Drinkwitz +900
Lance Leipold +1000
Chris Klieman +1200
PJ Fleck +1500
Kliff Kingsbury +1700
James Franklin +2000
Lane Kiffin +2500
Mike Norvell +3000
Urban Meyer +5000
Deion Sanders +5000
Qualifying SportsLine members receive a 30-day free trial of Paramount+ premium. Sync your account right here.