Next Indiana basketball coach odds: John Beilein, Scott Drew, Chris Beard, Steve Alford favorites to replace fired Archie Miller with Hoosiers
Indiana has fired basketball coach Archie Miller despite a monster buyout. SportsLine offers odds on his replacement.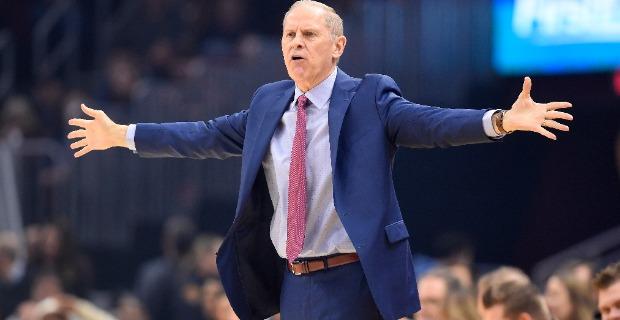 There are only a handful of Power 5 schools that put basketball ahead of football, and Indiana is certainly one of those with the Hoosiers' rich hoops tradition. There's not much patience from that fan base for missing the NCAA Tournament, and doing so yet again this year cost Coach Archie Miller his job Monday despite a mega-buyout owed to Miller of $10.3 million. SportsLine offers odds on Miller's potential replacement.
Miller finishes his IU career with a 67-58 record, never reaching the NCAA Tournament, and went 33-44 in Big Ten play – finishing .500 in Big Ten play once in Miller's four seasons and never higher than a tie for sixth. The Hoosiers closed this season on a six-game losing streak. It has to burn Indiana fans that the entire 2021 NCAA Tournament is being played in the greater Indianapolis area, including on campus in Bloomington, and the Hoosiers aren't even in it.
There's no question that Indiana will swing big – the general feeling is that Miller would have been brought back for one more season unless the school believed it could upgrade on the bench. It's also very much in question whether Indiana is that great of a job these days. Bobby Knight isn't walking through that door.
Get every pick, every play, every upset and fill out your bracket with our help! Join SportsLine now to see which teams will make and break your bracket, and see who cuts down the nets, all from the model that beat nearly 90 percent of brackets last tournament, one year after finishing in the top 5 percent!
CBS Sports Matt Norlander tweeted this today: "Source tells CBS Sports that Indiana informally reached out to potential candidates to gauge their interest for the job as far back as a few weeks ago. Wheels have been quietly, if not hesitantly, in motion on this for a little while."
The grand slam hire and the guy most Hoosiers fans want is current Celtics and former Butler head coach Brad Stevens, but why would Stevens leave a marque franchise like the Celtics for a move backward? Virginia's Tony Bennett was linked to the job in 2017 before Miller got hired, but Bennett has a great thing going where he is.
Indiana pursued Gonzaga's Mark Few back in 2006 when it searched for Mike Davis' replacement, but Few has never given an indication he's willing to leave Spokane. Sure, Rick Pitino is trending on Twitter right now and he would surely take the job if offered after leading Iona to the Big Dance in his first year there, but Pitino has a lot of NCAA baggage and still might be facing a lengthy suspension for all that happened on his watch at Louisville.
The easy call would appear to be former Michigan coach John Beilein. He reportedly wants to get back into coaching college basketball after his short NBA stint with the Cavaliers was an utter disaster. Beilein also was a top candidate for the Indiana job in 2006 when he was at West Virginia. The one knock on Beilein is that he's 68. On the plus side, Indiana wouldn't have to pay another school a buyout for Beilein.
Scott Drew has worked wonders at Baylor, which is the +500 second favorite to win the 2021 national title at William Hill Sportsbook. Drew has deep Indiana ties as he played at Butler and succeeded his dad at Valparaiso. If IU can't lure Drew (rather hilariously, Drew's Wikipedia page already says he's the IU coach) from a football-first school in Texas, maybe it can with Texas Tech's Chris Beard.
Former IU legendary player Steve Alford has been a successful coach wherever he has been – Nevada finished 16-10 this past season. If the Hoosiers want to stay in the family, Alford would be a natural choice.
Other possible candidates: Alabama coach Nate Oats, Eric Musselman of Arkansas, Oregon's Dana Altman, BYU's Mark Pope, former Ohio State coach Thad Matta, Loyola of Chicago's Porter Moser (although Indiana may be hesitant to go the mid-major route again) and Michigan State assistant Dane Fife, who played at IU and was an assistant there from 2003-05.
Via SportsLine oddsmakers: Who will be the next Indiana basketball coach?
John Beilein +300
Scott Drew +350
Chris Beard +500
Steve Alford +700
Dana Altman +900
Thad Matta +1200
Dane Fife +1400
Eric Musselman +1500
Porter Moser +1700
Nate Oats +2000
Mark Pope +2500
Rick Pitino +3000
Mark Few +4000
Brad Stevens +5000
Get every pick, every play, every upset and fill out your bracket with our help! Join SportsLine now to see which teams will make and break your bracket, and see who cuts down the nets, all from the model that nailed 15 of the 26 double-digit upsets the last four tournaments!