2022 NFL schedule: Chiefs vs. Bucs, possibly last Patrick Mahomes vs. Tom Brady matchup, set Week 4 Sunday night; Tampa Bay opens short favorite
One of the best AFC-NFC matchups of the 2022 NFL season will be Chiefs-Bucs and a date has been set.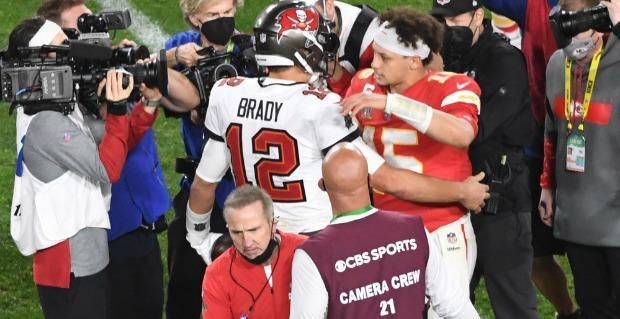 The full 2022 NFL schedule will be released tonight, but the way things are trickling out we might know at least half of that by the 8 p.m. ET official release. One of the marquee interconference matchups on the slate is Kansas City Chiefs at Tampa Bay Buccaneers, and that will be played Sunday night in Week 4 (NBC). It could be the last matchup between future Hall of Fame QBs Patrick Mahomes and Tom Brady with the Bucs opening as 2.5-point favorites.
Brady retired for about a month this offseason so it's not clear whether he will do so after the 2022 campaign, but he has a financial reason to do so now: He has agreed to a reported 10-year, $375 million contract with Fox Sports to take over as that network's top NFL analyst whenever he does step aside. That's by far a record-breaking contract for an announcer (almost Judge Judy money), and Brady has only just surpassed $300 million in NFL contract pay for his career.
The seven-time Super Bowl champion tweeted that he is excited to eventually join Fox but noted that he still has "unfinished business" as a player. Many believe that if the Bucs were to win their second Super Bowl in three seasons – and they are +800 second favorites at Caesars Sportsbook – that Brady will finally call it quits. He will be 45 in August and isn't signed beyond this season.
If the Bucs and Chiefs don't make Super Bowl 57, Week 4 most likely will mark the final matchup between Brady and Mahomes. The two have faced off five times, including the playoffs, and Brady leads the series 3-2 dating to his Patriots days. Brady's Bucs upset Mahomes' Chiefs 31-9 in Tampa in Super Bowl 55 in their most recent tilt.
We know one other set game for each team: The Chiefs will host the Chargers on Thursday night in Week 2 on Amazon, and the Bucs will take on the Seahawks in Week 10 in the NFL's first regular-season game in Germany.
While the full schedule will be out at 8 p.m. ET, two hours prior teams will release the dates, times and opponents for their season openers.
Looking for the best picks against the spread, sharp plays on the total, and props you can take straight to the pay window? Join Jonathan Coachman on the Early Edge as he speaks with SportsLine's top handicappers to preview the day's biggest games. We promise to keep it short, sweet and to put some green in your pocket. Early Edge is in your feed every single day by 11 a.m. ET. Subscribe right here on YouTube to watch daily, plus don't miss the Early Edge specials and live shows!