Nuggets vs. Heat Friday NBA Finals Game 4 odds, trends: Bettors backing Denver to cover again, props on stars Nikola Jokic, Jamal Murray
Denver tries for a 3-1 lead over Miami in the NBA Finals.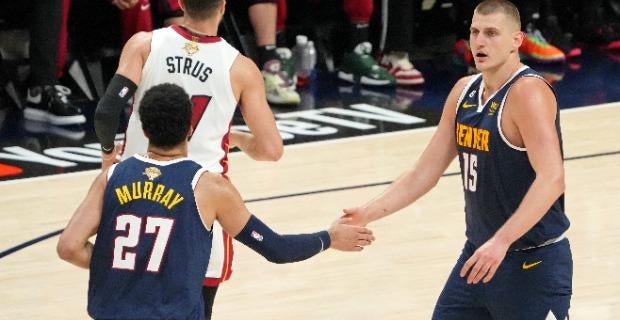 Championship Weekend in the Miami area continues tonight with Game 4 of the NBA Finals -- Game 4 of the Stanley Cup Final is Saturday up the road in Sunrise -- and the Denver Nuggets as 3.5-point favorites over the Heat to take a commanding 3-1 series lead. The Heat started the playoffs 6-0 at home but have lost their past three in Miami, and were largely dominated in Game 3. No Heat players are among the most-wagered player props as of this writing, as much of the action is on Nuggets stars Nikola Jokic and Jamal Murray. Click here for model picks.
Denver opened at -3.5 at BetMGM and there's been no movement with 62% of the bets and 66% of the money coming on the Nuggets against the spread. The total of 210.5 points is the lowest of the series, with 70% of the bets and 69% of the money on the Over. Miami has moved from +125 on the money line to +140, taking 58% of the bets and 50% of the money. The Heat were taking bigger ML leans in each of the first three games.
Expect Miami to come out with serious intensity in the first quarter after franchise player Jimmy Butler called out his teammates' energy and effort in the 103-94 loss Wednesday. Denver shot 51.2% from the field and out-rebounded Miami by a whopping 58-33 margin.
"Maybe we're at home; we think we did something," he said late Wednesday. "I don't know. It just can't happen. It won't happen again. It starts with myself. I have to lock in on the defensive end. I have to go up and get loose balls. I think if I start playing and doing that, then everybody else has to follow suit."
Butler played pretty well with 28 points but shot 11-for-24 and was minus-11. Bam Adebayo had 22 points and 17 rebounds – thus his teammates combined for only 16 boards – but was 7-for-21 from the floor. Fellow starters Kevin Love, Gabe Vincent and Max Strus were mostly non-factors.
Jokic and Murray made history in Game 3 as each had 30-point triple-doubles. Never before had teammates done that in the same game, in the regular season or the playoffs. They also became the first teammates to each have 30 points and 10 assists in the same playoff game since Clyde Drexler & Terry Porter did so in 1992 for Portland. Jokic had the first 30-20-10 game (32-21-10) in NBA Finals history. There have only been two other 30-20-10 games in NBA postseason history, one each by Kareem Abdul-Jabbar & Wilt Chamberlain.
Jokic has scored exactly 100 points in the 2023 NBA Finals and is the fifth player to score 100 or more points through his first three career Finals games. He needs nine rebounds to become the first player in NBA history with 500 points, 250 rebounds and 150 assists in a postseason. Denver is crushing Miami in the paint, scoring 48 more points there than the Heat in the series.
Murray had 34 points, 10 rebounds (a lot by his standards) and 10 assists in Game 3. It was his third straight game with exactly 10 helpers, which is pretty surprising itself because Murray is a shooting guard, not a point guard. Jokic is basically Denver's point guard, even though he's listed as a center. Murray did suffer a pretty nasty floor burn in Game 3, but on his non-shooting hand.
Jokic to score the game's first field goal (+500); Murray to score the most points in the game (+320); and Jokic to win the tip (-125) are the three most-wagered player props thus far. Jokic is -650 for Finals MVP and Murray is +2000, with 45% of the money (the biggest share) on Jokic and 26% of the bets (also the biggest share) on Murray.
On the updated series line, Denver is -800 (up form -275 entering Game 3) and Miami +is 550 (was +220), with now 66% of the money on the Nuggets. The Heat had been taking a majority lean before Game 3. 
Get more out of your SportsLine subscription! 

Qualifying SportsLine members receive a 30-day free trial of Paramount+ premium. Sync your account right here.