United States vs. Japan World Baseball Classic championship game odds: Merrill Kelly to start on mound for Americans opposite surprise Shota Imanaga
The USA faces Japan in Miami in Tuesday's World Baseball Classic final.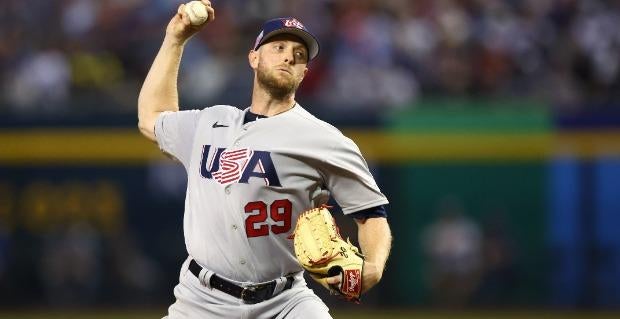 The 2023 World Baseball Classic, which has been a hit in terms of live attendance but also brought seen serious injuries suffered to the likes of Edwin Diaz and Jose Altuve, will come to a close Tuesday night from Miami as Team USA faces Japan in the championship game. The Americans are -125 favorites at Caesars Sportsbook with Manager Mark DeRosa set to start Arizona right-hander Merrill Kelly.
Team USA advanced with a 14-2 win over Team Cuba on Sunday in Miami in front of a raucous sellout crowd, something the Marlins may not see all season. Philadelphia Phillies shortstop Trea Turner, who saved the Americans' bacon with a grand slam to beat Venezuela in the quarterfinals, had two home runs, a second-inning solo shot that gave the U.S. to a 3-1 lead against Cuba and then a three-run blast in the sixth to blow it open. Reigning NL MVP Paul Goldschmidt of the Cardinals also had four RBIs, and Mookie Betts had three hits and two runs scored.
Turner has set a USA record for most homers in a WBC with four and tied the mark for home runs in a WBC game with Ken Griffey Jr., who is serving as Team USA's hitting coach. Turner's 10 RBIs lead the tournament. Dude has been batting ninth in a loaded lineup.
DeRosa's starting lineup in the semifinal was below, which we presume should be the same Tuesday. Note that Nolan Arenado left Sunday's game after a hit by pitch but expects to play.
Mookie Betts RF
Mike Trout CF
Paul Goldschmidt 1B
Nolan Arenado 3B
Kyle Schwarber LF
Will Smith C
Pete Alonso DH
Tim Anderson 2B
Trea Turner SS
The 34-year-old Kelly went 13-8 last season for the Diamondbacks with a 3.37 ERA, 1.14 WHIP and 177 strikeouts in a career-high 33 starts. Kelly has never pitched pitch in a postseason game with the Diamondbacks, but Tuesday should certainly feel like one. Kelly pitched last Wednesday in group play of the WBC vs. Colombia, allowing two runs on four hits with two walks over three innings. He threw 61 pitches. Pitchers in the semifinal and final rounds are allowed to throw up to 95 pitches.
The Americans are defending WBC champions, beating Puerto Rico 8-0 in the 2017 final in Los Angeles. There was no 2020 event due to COVID. Japan won the first two World Baseball Classics, the only team to win consecutive WBC championships. It has never faced Team USA in the final.
The Japanese advanced with a thrilling 6-5 comeback walk-off semifinal win over Mexico on Monday also in Miami to improve 6-0 in this tournament, outscoring opponents 44-13.
Young ace Roki Sasaki, 21, started on the mound Monday so he presumably is not available here. It was thought Japan manager Hideki Kuriyama would turn to Yu Darvish or even Shohei Ohtani as tonight's starter, but it will be lefty Shōta Imanaga. He has appeared in two games in relief this tournament, giving up one run in four innings and striking out five. Imanaga pitched 143 2/3 innings as a starter for Yokohama last season, posting a 2.26 ERA. Both Ohtani and Darvish should be available out of the bullpen. Japan will be the home club Tuesday. 
So which 2023 Fantasy baseball busts, breakouts, and sleepers should you target or fade in your drafts? Visit SportsLine's Fantasy baseball cheat sheets now to get rankings for every single position, all from the model that called Joey Votto's disappointing season, and find out.