2023 AL Cy Young Award odds: Royals' Brady Singer taking unusually heavy early action at sportsbook
An off-the-radar pitcher is taking heavy action to win the AL Cy Young Award.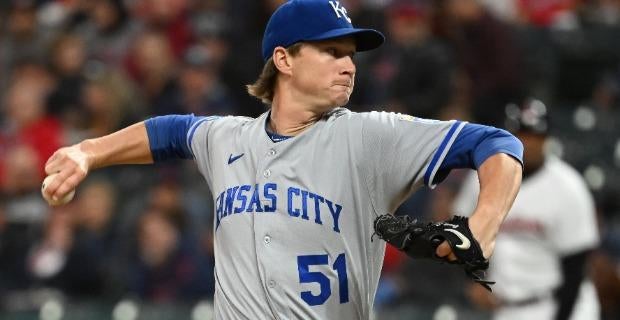 Spring training brings optimism to every team in Major League Baseball and also to bettors on the sport. We will see a lot of unusual futures wagers placed at Caesars Sportsbook over the next month or so, both from a team and individual perspective. Which brings us to Kansas City Royals right-hander Brady Singer, who shockingly is taking among the most action to win the 2023 AL Cy Young Award at Caesars Sportsbook.
The 26-year-old Singer did have a breakout 2022 campaign for a bad Royals squad, finishing 10-5 with a 3.23 ERA, 1.14 WHIP and 150 strikeouts in a career-high 153.1 innings. After the All-Star break, he was 6-2 with 2.53 ERA and 1.05 WHIP in 13 starts.
The No. 18 overall pick in the 2018 MLB Draft out of the University of Florida (who helped lead Gators to 2017 College World Series title) struck out opponents at an above-average 24.2% rate and limited walks to a 5.6% rate. Singer also keeps the ball out of the air as he induced grounders at a 49% clip. Yet he actually lost his arbitration hearing with the team earlier this month, so he will make $2.95 million this year rather than the requested $3.325 million.
When Caesars Sportsbook first released 2023 AL Cy Young futures on Dec. 20, Singer was listed at +50000. Now he's all the way down to +6000 as he leads all pitchers with the most tickets to win the award at 24.4%. Singer has received more than four times as many bets as AL Cy Young co-favorites Gerrit Cole (+600) and Jacob deGrom (+600) combined. Singer also has collected 13.7% of the handle among all AL Cy Young bets, only trailing Houston's Framber Valdez (+1600) at 16.7%.
"Singer had worked on his changeup last season and he closed really strong to finish the year," said Eric Biggio, lead MLB trader at Caesars Sportsbook. "He's our biggest liability in any awards market by a healthy margin. It makes sense that people are looking for value in this market, people haven't been crazy about betting Cole for any market and you always have to worry about deGrom's health. But there are just so many live arms in the American League that it's going to be an uphill climb for him to win the award."
Kansas City has had four Cy Young winners, last Zack Greinke in 2009, but it's hard to see the 2023 Royals winning enough games for Singer to be a legitimate candidate as they were 65-97 last season and have an over/under of just 69.5 victories this year. Singer is one of 10 Royals bound for the upcoming World Baseball Classic; he and shortstop Bobby Witt Jr. will play for Team USA.
So which 2023 Fantasy baseball busts, breakouts, and sleepers should you target or fade in your drafts? Visit SportsLine's Fantasy baseball cheat sheets now to get rankings for every single position, all from the model that called Joey Votto's disappointing season, and find out.