2022 World Series odds: Phillies name Aaron Nola Game 1 starter vs. Astros, Zack Wheeler to pitch Game 2
The Phillies will go with Aaron Nola to open the World Series on Friday in Houston.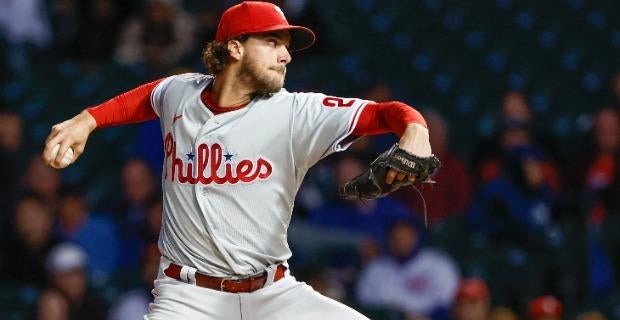 Many thought the Philadelphia Phillies would start 2021 NL Cy Young runner-up Zack Wheeler on normal rest in Game 1 of the World Series in Houston on Friday night, but Manager Rob Thomson instead will go with fellow right-hander Aaron Nola. The Astros haven't officially named their starter -- it would be a stunner if it's not expected 2022 AL Cy Young winner Justin Verlander. The Astros are -170 at Caesars Sportsbook.
There's not much of a difference between Wheeler and Nola from a results perspective. The former was 12-7 with a 2.82 ERA and 1.04 WHIP in 26 regular-season starts – Wheeler missed a few due to injury. In this postseason, he's 1-1 with a 1.78 ERA, surrendering only 10 hits in 25.1 innings. Wheeler didn't face Houston during the regular season.
Nola was 11-13 during the year despite a 3.25 ERA and 0.96 WHIP and was among the big-league leaders with 235 strikeouts. He's 2-1 in these playoffs with a 3.12 ERA and 16 hits allowed in 17.1 innings. He was dominant in the Wild Card series vs. St. Louis and his one NLDS start vs. Atlanta, but was roughed up by San Diego in the NLCS, allowing six runs and seven hits in 4.2 innings – that's the only game the Phillies lost in the series. A handful of those runs were allowed to score by the Philadelphia bullpen after Nola was pulled mid-inning.
Nola's regular-season finale was Oct. 3 in Houston and he blanked the Astros on two hits over 6.2 with zero walks and nine strikeouts in a 3-0 win. Nola took a perfect game into the seventh inning that day. The win clinched a playoff birth for the Phillies. It should be noted that Houston had nothing to play for then, although most of the regular starters were in the lineup before a few were pulled mid-game for pinch-hitters. The Astros have not lost a game since that date, going 7-0 in the playoffs.
Thomson started Wheeler ahead of Nola in each of the first three postseason series, but flipping them in the World Series allows Wheeler to get an extra day instead of pitching on normal rest.
"Any time we give those guys an extra day, we do it," Thomson said Wednesday.
Nola is +1800 to win World Series MVP, while Wheeler is +1600. Verlander is +900. 
Looking for the best picks against the spread, sharp plays on the total and props you can take straight to the pay window? Join Jonathan Coachman on The Early Edge as he speaks with SportsLine's top handicappers to preview the day's biggest games. We promise to keep it short and sweet and to put some green in your pocket. The Early Edge is in your feed every single day by 11 a.m. ET. Subscribe right here on YouTube to watch daily, plus don't miss The Early Edge specials and live shows!