2023 NCAA Tournament odds to win: Bettors on Duke title bandwagon despite curse of No. 5 seed
Duke is taking heavy action at Caesars Sportsbook to win the national title.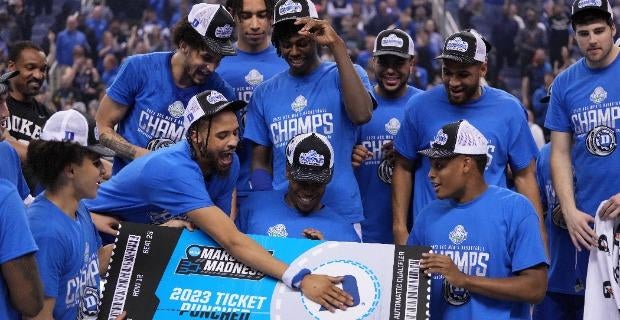 There is no more public team in college basketball than Duke, and not much has changed in the first season without Mike Krzyzewski at the helm. While the Blue Devils were rather inconsistent for a chunk of the season under Jon Scheyer, they are peaking at the right time entering the NCAA Tournament and are taking the third-most action of any team at Caesars Sportsbook to cut down the nets on April 3 at NRG Stadium in Houston. The East Region fifth-seeded Blue Devils are -6 for Thursday's first-round matchup vs. the dangerous No. 12 Oral Roberts.
The Blue Devils were 17-8 overall and 8-6 in the ACC following an overtime loss at Virginia on Feb. 11, but haven't lost since. Their 59-49 win over Virgina in the ACC Tournament title game on Saturday was the team's ninth straight win. They're now poised to potentially make a deep run in the Big Dance. See how SportsLine forecasts Duke's fortunes in our projected brackets.
Simply getting healthy has been a big part of the team's success. Duke enters the Big Dance having played 10 consecutive games with its full complement of scholarship players available and having started the same lineup in 14 consecutive games (12-2 in that span) -- both its longest stretches of continuity this season. Overall, Duke has played 19 games this season with everyone available and is 18-1 in those outings. Seven of Duke's losses came in the 15 games that Blue Devils were injured during the game or did not play due to injury or illness.
Junior Jeremy Roach, the lone returning starter from last year's Final Four team, scored a career-high 23 points in the ACC title game and is averaging 14.6 points per game over his past 16. He missed four games this year. Kyle Filipowski was named ACC Freshman of the Year and ACC Tournament MVP. He leads all freshmen nationally with 16 double-doubles. Scheyer became only the third coach in conference history to win the ACC Tournament in his first season.
One generally thinks of offense when it comes to Duke, but the Blue Devils have held opponents below their season scoring average 30 times and gone 26-4 in those games. Just twice has Duke entered the NCAA Tournament on longer winning streaks than nine straight -- 27 consecutive wins entering the 1999 tournament (lost in title game to UConn) and 16 straight in 1986 (lost in title game to Louisville).
Duke is +2200 to win the school's sixth national title and first since 2015 at Caesars. It has taken the third-most action overall to win the tournament, capturing 9.6% of the handle. Only top seeds Alabama (15.5%) and Houston (13.2%) have taken more.
"A lot of people thought they'd take a little step back with Coach K leaving," said Adam Pullen, Assistant Director of Trading at Caesars Sportsbook. "But Scheyer's done a great job, and they're entering the tournament on a roll. But it wouldn't surprise me if they lost in the first round [to Oral Roberts]. Duke's a household name and people see they're playing well at this time of year, so not a surprise that they're backing them to win the title right now."
Know this: A No. 5 seed has never won the national championship, the only seed in the top 8 yet to do so. Only three 5-seeds have reached the title game: Butler (2010), Indiana (2002), Florida (2000), all of which lost to No. 1 seeds.
Winning tonight is no sure thing as Oral Roberts, led by star and two-time Summit League Player of the Year Max Abmas (22.2 PPG) has won a national-best 17 games in a row. Oral Roberts was the only team in the nation to go undefeated in conference play this season, and the only team to ever go undefeated in conference and tournament play and to win the tournament championship by 30-plus points.
The Golden Eagles' four losses came at Saint Mary's, at Houston, at Utah State and at New Mexico – the first three are in the Big Dance and New Mexico is in the NIT. Oral Roberts had a memorable run to the 2021 Sweet 16, powered by Abmas. 
So which 2023 Fantasy baseball busts, breakouts, and sleepers should you target or fade in your drafts? Visit SportsLine's Fantasy baseball cheat sheets now to get rankings for every single position, all from the model that called Joey Votto's disappointing season, and find out.