SportsLine simulates final 2020 Bracketology from Jerry Palm: And the winner is …
The SportsLine Projection Model simulated a hypothetical 2020 NCAA Tournament bracket, and the national champion may surprise people.

The NCAA Tournament began in 1939 and it had been played without fail ever year since, even through World War II. However, the coronavirus outbreak forced the cancelation of the 2020 Big Dance, along with the suspension of essentially every other major American sports league and even next month's Masters. So, while the NCAA will not crown an official champion in men's basketball for the 2019-20 campaign, the SportsLine Projection Model can.
The Model used a bracket from CBS Sports bracketology expert Jerry Palm to simulate every game in the NCAA Tournament. The top seeds were Kansas in the Midwest – the Jayhawks were expected to be the No. 1 overall seed and were betting favorites to cut down the nets April 6 in Atlanta before everything was shut down – and fellow Big 12 school Baylor in the South, Atlantic 10 regular-season champion Dayton in the East, and West Coast Conference champion Gonzaga in the West.  In the Final Four, it's East vs. Midwest and South vs. West.
Here's a breakdown of each round via the Model.
Round of 64
Since the NCAA Tournament expanded to 64 schools in 1985, there have been just five years where at least one No. 12 seed DIDN'T upset a No. 5, last in 2018. Three No. 12s won in the first round in 2019 and it was nearly all four – New Mexico State was two missed free throws in the final seconds from knocking off No. 5 Auburn.
However, the Model didn't have a single No. 12 winning and only four upsets: No. 11 Richmond over No. 6 Virginia in the South (so much for Wahoos repeating); No. 10 LSU over No. 7 Providence also in the South; No. 9 Florida over No. 8 Arizona State in the Midwest; and No. 9 Colorado over No. 8 Houston in the West.
Then again, a nine seed beating an eight isn't much of an upset. Since 1985, No. 9 seeds have won 72 of 140 games vs. No. 8s, just over half the time at 51.4 percent. Meanwhile, 11 seeds have beaten a No. 6 37.1 percent of the time since the field expanded, and there was one such upset in 2019 (Ohio State over Iowa State). No. 10 seeds are 55-85 all-time against No. 7 seeds, but three No. 10s won in 2019.
Round of 32
An even more chalk round for the Model, which obviously can't project injuries or whether one team might be drained after playing a grueling overtime game in Round 1, etc.
The only upset is No. 6 BYU of the West Coast Conference over No. 3 Seton Hall, a co-Big East regular-season champion, in the West Region. The Cougars showed what they are capable of on Feb. 22 when they upset Associated Press No. 2 Gonzaga 91-78 in Provo. The Bulldogs had won 40 consecutive regular-season conference games and 39 straight road contests against WCC opponents.
BYU, which hadn't been in an NCAA Tournament since 2015, hasn't reached a Sweet 16 since 2011. At No. 6, it would be the highest-seeded team in the 2020 version via the Model.
Sweet 16
East – No. 1 Dayton vs. No. 4 Louisville; No. 3 Michigan State vs. No. 2 Villanova
Midwest – No. 1 Kansas vs. No. 4 Kentucky; No. 3 Duke vs. No. 2 Creighton
South – No. 1 Baylor vs. No. 5 Ohio State; No. 3 Maryland vs. No. 2 Florida State
West – No. 1 Gonzaga vs. No. 4 Oregon; No. 6 BYU vs. No. 2 San Diego State
That BYU-San Diego State game would be a regular-season rematch as the schools met in Provo way back on Nov. 9 and the Aztecs won 76-71.
Interestingly, the only other such rematch in the Sweet 16 is also from the West. On Nov. 28 in the Battle 4 Atlantis Tournament in the Bahamas, Gonzaga beat Oregon 73-72 in overtime. Ducks star Payton Pritchard, the Pac-12 Player of the Year, missed a jumper in the final seconds of OT to win.
The only higher seeds the Model projects to win in this round are Duke and Michigan State.
Elite Eight
East – No. 1 Dayton vs. No. 3 Michigan State
Midwest – No. 1 Kansas vs. No. 3 Duke
South – No. 1 Baylor vs. No. 2 Florida State
West – No. 1 Gonzaga vs. No. 2 San Diego State
The only school among these eight to never make a Final Four is San Diego State, which was the last team in the nation to lose this season. The only regular-season rematch is Kansas-Duke as they played in the season-opening Champions Classic at Madison Square Garden and the Blue Devils won 68-66. KU has won the past two NCAA Tournament matchups between the powerhouses, most recently in the 2018 Elite Eight.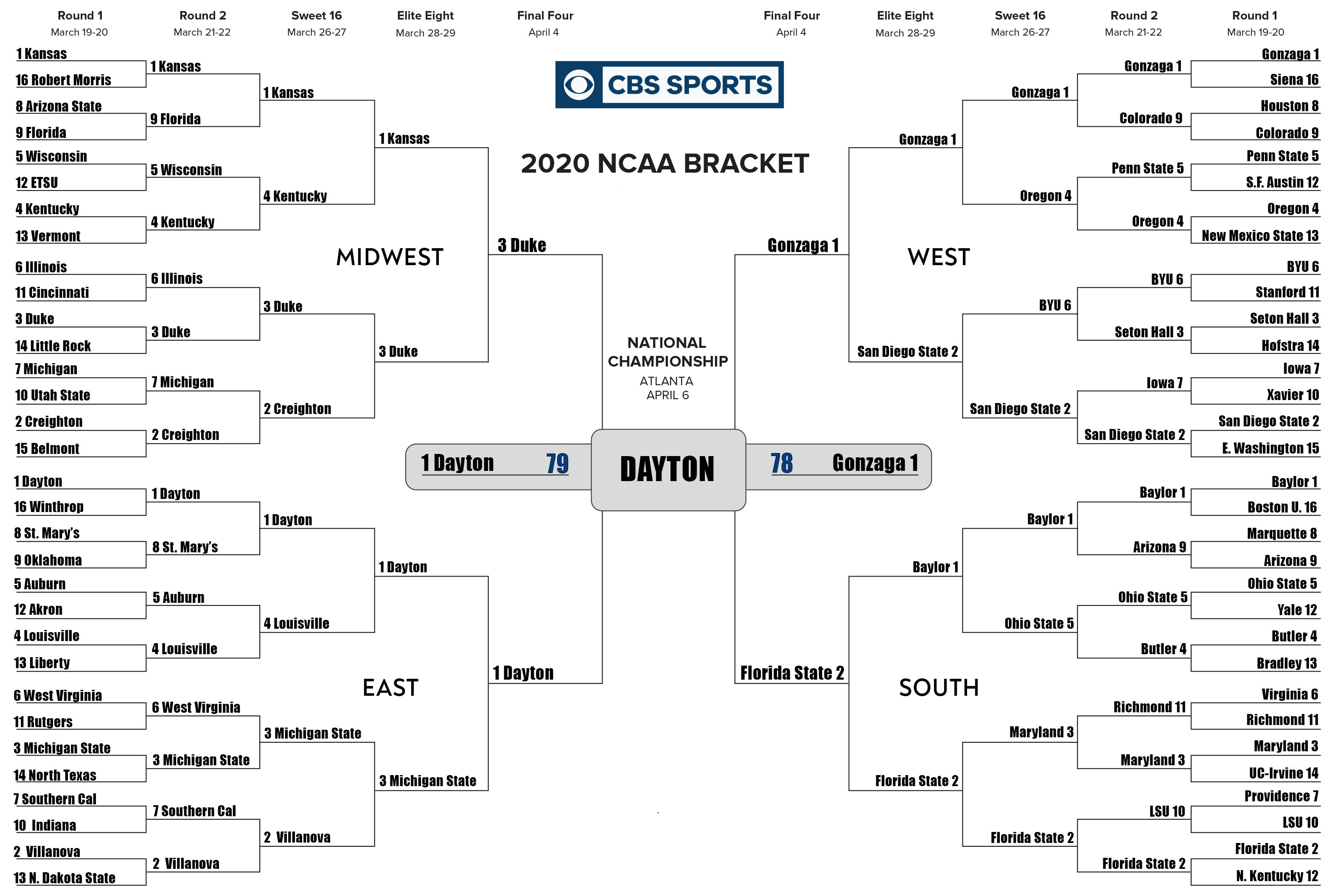 Final Four
No. 1 Dayton vs. No. 3 Duke
No. 1 Gonzaga vs. No. 2 Florida State
Two top seeds making the Final Four is the second-most frequent occurrence since 1985 as it has happened 13 times, a percentage of 37.1. The most frequent is a single top seed 15 times (42.9 percent). A No. 2 seed has made 29 combined Final Four appearances, an average of 0.83 per year. A No. 3 has reached the national semifinals 17 times, an average of 0.49 per year.
All of these schools have reached at least one previous Final Four, but none of them in 2019. The school with the most Final Four appearances since 1985 is Duke with 12.
Dayton has lost the past five meetings vs. Duke, but they haven't played since Dec. 29, 2002. Gonzaga and FSU have played in the past two NCAA Tournaments. In the 2019 Sweet 16, the No. 1 Zags rolled the No. 4 Seminoles 72-58. The year before in the Sweet 16, No. 9 FSU upset No. 4 Gonzaga 75-60.
National Championship Game
No. 1 Dayton vs. No. 1 Gonzaga
The schools have met once previously, on Nov. 25, 2013, in the Maui Invitational with the Flyers winning 84-79.
Gonzaga had been a second-favorite at +800 on the college basketball future odds to win the 2020 tournament, while Dayton was a fifth-favorite at +1200.
This matchup would assure a national champion from outside a current power conference – not including UConn, which has moved from the Big East to the AAC and will go back to the Big East next season – since UNLV in 1990.
It also would be the first 1 vs. 1 national title game since North Carolina beat Gonzaga in 2017. That's the lone time the Zags have reached this game. Dayton also has reached it once, losing in 1967 to one of those powerful John Wooden UCLA teams.
Via the model, Dayton wins 50.3 percent of simulations vs. Gonzaga and the final score is 79-78. PointsBet sportsbook director of communications Patrick Eichner provided SportsLine with a hypothetical spread: "Barring any injuries and subsequent changes to each team leading up to the title game, we'd most likely have Gonzaga as a 2-point favorite over Obi Toppin and the Flyers."