2022 Wimbledon tennis odds: Russian (led by men's world No. 2 Daniil Medvedev) and Belarusian players banned from grass-court major
Players from Russia and Belarus will not be allowed to compete at Wimbledon.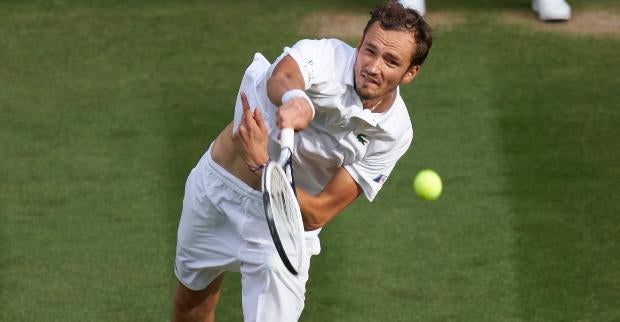 The 2022 Wimbledon field on both the men's and women's side will be down a few contenders each when the grass-court major championship begins in late June from London as players from Russia and Belarus will not be allowed to compete because of the Russian invasion of Ukraine and Belarus' part in it. The biggest-name player this affects is men's No. 2 Daniil Medvedev of Russia, who had been the +600 second favorite to win Wimbledon at Caesars Sportsbook.
Ian Hewitt, Chairman of the All England Club, said in a statement: "We recognize that this is hard on the individuals affected, and it is with sadness that they will suffer for the actions of the leaders of the Russian regime. … We have very carefully considered the alternative measures that might be taken within the UK Government guidance but, given the high-profile environment of The Championships, the importance of not allowing sport to be used to promote the Russian regime and our broader concerns for public and player (including family) safety, we do not believe it is viable to proceed on any other basis at The Championships."
Medvedev, who briefly took over the world No. 1 ranking earlier this year but has since relinquished it back to Novak Djokovic, is the defending US Open champion but hasn't been past the fourth round at Wimbledon. Fellow Russian Andrey Rublev is ranked No. 8 in the world and had been +3000 to win his first Grand Slam tournament. His best result at Wimbledon is also the fourth round. No Russian or Belarusian man has won Wimbledon.
Belarus is a key staging area for the Russian invasion, so that's why players from that country also are banned. Aryna Sabalenka of Belarus is ranked No. 4 and was a Wimbledon semifinalist in 2021. She was a +900 third favorite to win Wimbledon. Her compatriot Victoria Azarenka, a former No. 1, is ranked No. 18 and was +3500 to win. Russia has five women in the Top 40 of the WTA Tour rankings, led by No. 15 Anastasia Pavlyuchenkova (was +5000 to win).
No Belarusian woman has won Wimbledon, but Russian Maria Sharapova did in 2004.
The French Open, the second Grand Slam of the season, begins in less than a month in Paris and previously had said it had no plans to ban Russians or Belarusians but that those players will not have their country or flags identified.
Men's and women's tour events in Moscow later this season already have been canceled, and the Russians and Belarusians have been banned from the Davis Cup and Billie Jean King Cup, both of which were won by Russian teams in 2021. 
Looking for the best picks against the spread, sharp plays on the total, and props you can take straight to the pay window? Join Jonathan Coachman on the Early Edge as he speaks with SportsLine's top handicappers to preview the day's biggest games. We promise to keep it short, sweet and to put some green in your pocket. Early Edge is in your feed every single day by 11 a.m. ET. Subscribe right here on YouTube to watch daily, plus don't miss the Early Edge specials and live shows!