JJ Watt return to Texans odds: Unlikely 3-time NFL Defensive Player of the Year with Houston for 2021 season
Has three-time NFL Defensive Player of the Year JJ Watt's time with the Houston Texans come to an end? SportsLine has odds on Watt's future with the team.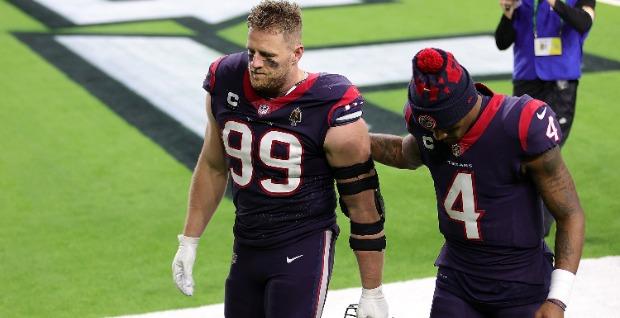 The 2020 season was largely a disaster for the Houston Texans as the team fired general manager/coach Bill O'Brien early in it and finished 4-12 despite having one of the league's best quarterbacks in Deshaun Watson. The immediate future doesn't look much brighter as Houston is hugely over the salary cap for the 2021 campaign as things stand and the team doesn't own its first- or second-round draft pick. Thus, the feeling in the city and around the NFL is that franchise icon J.J. Watt will not be back. SportsLine offers NFL odds on that.
Watt is a three-time NFL Defensive Player of the Year, joining Hall of Famer Lawrence Taylor as the only players to win that award three times. However, Watt's not playing at that level any longer at soon-to-be age 32 (March) and injuries hitting him hard in recent seasons.
He's still a good player, but worth the $17.5 million non-guaranteed salary he's due in 2021 in the final year of his six-year, $100 million contract? The answer is no. This season, Watt finished with 36 tackles, five sacks, two forced fumbles and an interception in playing all 16 games for only the second time in the past five years.
After Sunday's 41-38 home loss to the Titans, Watt admitted the idea that he had played his final season in a Texas uniform crossed his mind:
"Yeah, I mean, I've certainly considered it," Watt said. "Who knows. Like I said this week, there's too many unknowns to really know. But if it is, I really — it's unfortunate that it wasn't in front of a full stadium and all the fans, and it's unfortunate it wasn't a win, it's unfortunate it was in this type of a season. But who knows? Like I said, there's a lot of unknowns. But I think this city knows, I hope they know how I feel about them and how thankful I am. I've tried to do everything I possibly can and give everything I possibly have."
The Texans are going to have to make some tough financial decision as spotrac.com projects them to be nearly $17 million over the 2021 cap. There's also the fact this team isn't going to be contending for a Super Bowl anytime soon, even as good as Watson is. O'Brien simply made too many bad decisions regarding trades and contracts. Back in May, Watt said he wouldn't ask the Texans to extend his contract.
"I know he still has time to play," said Watson of Watt. "I don't know his contract and stuff like that so I'm going to stay away from all that. New head coach, new GM, all that stuff is definitely new to me. … Hopefully he's still here in this organization because I want to be the one that gives him that Super Bowl ring and be that quarterback he continues to talk about that gave him that first one."
As Watt and Watson walked off the field Sunday (which is pictured above), Watt apologized to Watson: "I'm sorry. We wasted one of your years. I mean, we should have 11 wins."
Houston has to hire a general manager and coach surely before making any decision on Watt. He could choose/request to leave and go somewhere where he can contend for a ring next season -- perhaps back to his native Wisconsin to play for the Packers or even to Pittsburgh where he could join brothers TJ, the likely 2020 NFL Defensive Player of the Year, and Derek, a fullback. The Steelers are -4.5 on Sunday in the Wild-Card Round vs. Cleveland. 
Via SportsLine NFL oddsmakers: Will J.J Watt be on the Houston Texans Week 1 of the 2021 season?
The SportsLine Projection Model, which simulates every NFL game 10,000 times, is up almost $7,900 for $100 players on top-rated NFL picks since its inception five-plus years ago. It is a sizzling 23-13 on top-rated NFL picks this season, returning well over $800. The model also enters the 2021 NFL Playoffs on an incredible 119-77 run on top-rated NFL picks that dates back to the 2017 season.