Deshaun Watson trade odds: Dolphins? Patriots? Colts? Lions? Bears? 49ers? Falcons? Eagles? Rumors swirling, but Texans very unlikely to deal star QB
Deshaun Watson trade rumors are blowing up the internet right now due to a mysterious tweet and one report.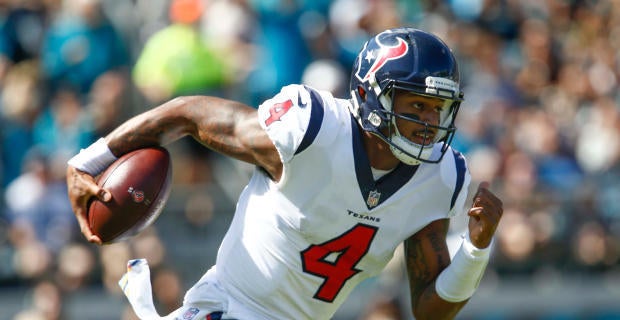 We didn't expect to write stories on the Houston Texans three days in a row this week as Tuesday we looked at the odds superstar JJ Watt would return to the team next season and then the updated odds on the next Texans coach Wednesday. Today, we have to address what is blowing up the internet: A Pro Football Talk report that superstar quarterback Deshaun Watson could ask to be traded with the franchise in a bit of disarray. SportsLine offers odds on his future.
Mike Florio wrote the following: "Rumors already are circulating, and we've already heard them from multiple different people, that Watson has quietly broached with teammates the possibility of requesting a trade. If that's happening, it may just be a strategic effort to ensure his views are respected by ownership. Regardless, it raises the stakes and crosses a bridge and potentially sets the foundation for Watson eventually to decide that he'd like to continue his career elsewhere."
This could be fallout of a tweet Watson posted late Tuesday but has since been deleted: "some things never change …"
Some Texans fans read that as Watson being fed up with the franchise continually trying to become the Patriots South by hiring New England director of player personnel Nick Caserio as their new GM. Jack Easterby is currently Houston's executive VP of football operations, and he spent six seasons as the Patriots' character coach before he was hired by Houston in 2019. Former Texans coach/GM Bill O'Brien spent five seasons as an offensive coach in New England, and interim head coach Romeo Crennel was the Pats' defensive coordinator from 2001-04.
What that tweet could have meant, however, as noted by the Houston Chronicle, was that earlier Tuesday prosecutors in Kenosha, Wisc., decided not to file criminal charges against the police officers in the August shooting of Jacob Blake. Watson has been very active in the Black Lives Matter movement.
Watson did express his frustration on this season early this week by noting the need for "a whole culture shift" in Houston: "We just need new energy. We just need discipline. We need structure. We need a leader so we can follow that leader as players. That's what we need." Texans ownership has said the quarterback would be consulted on any head coaching hire.
Watson just signed a massive contract extension, and trading him would result in a cap charge of $21.6 million for the Texans. Nearly every team in the league would be interested in Watson, who led the NFL in passing this season with 4,823 yards despite playing on a 4-12 team. He became the first player to lead the NFL in passing yards with 12+ losses since Jeff George for the 1997 Raiders.
Would Houston be interested in perhaps a Miami Dolphins offer of Tua Tagovailoa along with the No. 3 overall pick (which ironically was acquired from Houston in the Laremy Tunsil trade) and No. 18 overall in this year's draft? Jimmy Garoppolo and several picks from the 49ers?
The Atlanta Falcons could move on from Matt Ryan this offseason, and ditto the Detroit Lions from Matthew Stafford, and both could offer multiple future first-rounders starting with their 2021 high picks. Wouldn't it be ironic if Watson landed with the Patriots? Don't you think Bears GM Ryan Pace would love a second shot at Watson after taking Mitchell Trubisky over him in the 2017 draft? 
Other than Kansas City with Patrick Mahomes, Baltimore with Lamar Jackson, Buffalo with Josh Allen and perhaps Arizona with Kyler Murray, where wouldn't Watson be an upgrade/desired by a GM? Green Bay we didn't mention only as Aaron Rodgers is getting up there in age. The Chargers probably would prefer to keep Justin Herbert because he's on a much cheaper rookie deal. Same with Cincinnati and Joe Burrow. 
The Texans have to consider a trade if Watson demands a deal and they can get a Herschel Walker-size haul in return, but the very high probability is that Watson is in Houston next season and beyond.
Via SportsLine oddsmakers: Will Deshaun Watson be with the Texans Week 1 of the 2021 season?
The SportsLine Projection Model, which simulates every NFL game 10,000 times, is up almost $7,900 for $100 players on top-rated NFL picks since its inception five-plus years ago. It is a sizzling 23-13 on top-rated NFL picks this season, returning well over $800. The model also enters the 2021 NFL Playoffs on an incredible 119-77 run on top-rated NFL picks that dates back to the 2017 season.